The eruption of the Kilauea volcano within the Halemaumau crater in the summit caldera is underway. Volcano travel has resumed again on the Big Island and we will be heading back there to check it out personally. Read more about volcano viewing below. According to Native Hawaiian tradition, the Halemaumau (with diacriticals, Halema`uma`u)  crater is the home of the volcanic deity Pele.
On Friday morning, Kilauea's summit eruption continued and is confined to the Halemaumau crater.  The volcano observatory hasn't seen activity migrating elsewhere and says it now "expects the eruption to remain confined to the summit region."
USGS said that "There is currently no threat of significant volcanic ash emission into the atmosphere outside of the hazardous closed area within Hawaii Volcanoes National Park. With the eruption currently contained within the caldera area, there is no imminent danger associated with it. We hope that continues to be the case.
USGS said that "The opening phases of eruptions are dynamic. Webcam imagery shows fissures at the base of Halemaʻumaʻu crater generating lava flows on the surface of the crater floor."
Increased earthquake activity and other changes at the Kilauea summit began early on January 5, 2022. That indicated there was the movement of magma at the volcano's subsurface. Both Kilauea and Mauna Loa (which erupted in late November) are now said to be connected under the earth's surface.
Volcano Travel to Big Island resumes: Where to go?
Kilauea volcano last erupted in the fall of 2021. As you'll also recall, there was a huge surge in volcano-related travel to the Big Island when Mauna Loa erupted last year, as there had been for Kilauea previously.
A huge lava lake has been created due to the current eruption at Kilauea volcano's Halemaumau crater. Lava can be seen from many areas and overlooks surrounding the caldera within Volcanoes National Park, according to USGS.
Obviously, visitors must be aware that viewing opportunities are highly changeable for a variety of weather and eruption status reasons. USGS also said to "Consider factors such as viewing experience, long waits and crowds, hiking ability, and available time when selecting where to view the eruption. Check out the park map (below) and download the new NPS mobile app to help you navigate during your visit." Also check out the National Park Service webcam.
USGS also said that "While the lava lake is a powerful and popular sight to behold, avoid the peak time at sunset. If there is no parking where you want to go, visit another area or try again later. The park is open 24 hours a day."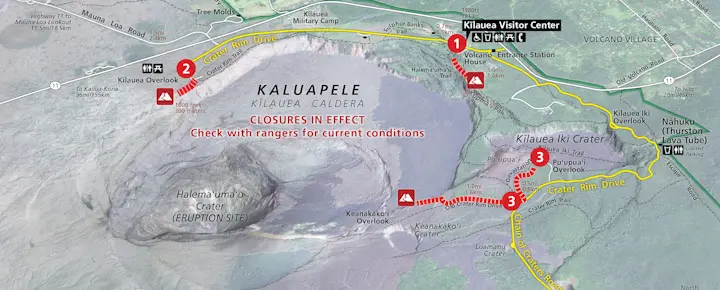 Volcano eruptions and Hawaii flights.
There have been no flight cancelations noted, and none are expected. You'll recall that at the time of Mauna Loa's eruption, there was some initial concern about Hawaii flights. Plumes of volcanic ash occurred near Mauna Loa, which presented the potential for a flight safety hazard.
During Mauna Loa's eruption, Hawaiian paused and then resumed flights to Hilo on the first day, and Southwest canceled all Hilo flights that first day. Flights then resumed without issue. Volcanic is hard and abrasive and can damage jet compressor blades and cockpit windows. It also has the potential to contaminate fuel systems.
Mauna Loa's long-awaited eruption in November 2022.
That eruption was relatively short-lived and is now over, according to USGS. The most recent eruption zone, Mauna Loa's Northeast Rift Zone, erupted eight previous times since the mid-1800s, in 1843, 1852, 1855–1856, 1880–1881, 1899, 1935–1936, 1942, and 1984.
USGS said then, "The eruption of Mauna Loa continues on the Northeast Rift Zone. Three fissures erupted and as of 1:30 PM, only the lowest of the three fissures was active. Estimates of the tallest fountain heights are between 100–200 ft (30 – 60 m), but most are a few yards (meters) tall. The fissures sent lava flows to the northeast and parallel to the rift zone. Lava flows from the two higher fissures moved downslope but stalled about 11 miles (18 km) from Saddle Road. Fissure 3 is currently feeding lava flows moving east parallel to the Northeast Rift Zone. These remain at above 10,000 feet elevation and over 10 miles (16 km) away from Saddle Road. We do not expect upper fissures to reactivate. However, additional fissures could open along the Northeast Rift Zone below the current location, and lava flows can continue to travel downslope. There is no active lava within Moku'āweoweo caldera, and there is no lava erupting from the Southwest Rift Zone. We do not expect any eruptive activity outside the Northeast Rift Zone. No property is at risk currently. There is a visible gas plume from the erupting fissure fountains and lava flows, with the plume primarily being blown to the Northwest."
For information on Hawaii Volcanoes National Park, including any potential closures. https://www.nps.gov/havo/index.htm.
Disclosure: We receive a small commission on purchases from some of the links on Beat of Hawaii. These links cost you nothing and provide income necessary to offer our website to you. Mahalo! Privacy Policy and Disclosures.