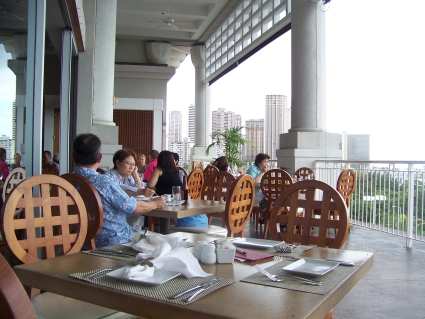 Our top dining pick at Ala Moana Shopping Center is the Mariposa.  It's located on the third level of Neiman Marcus.  We recently had a most pleasant and reasonable lunch there for under twenty dollars per person.
The location is incredible; upstairs and ocean side in the center of the mall.  It's a large restaurant with fabulous views of Ala Moana beach through the park.
Half of the seating is on a covered lanai and the rest is indoors though still facing the ocean.  While still very much in the department store and the mall, the feeling is completely removed from both, and delightfully so.
We still love the warm, freshly baked popovers which arrived together with consomme, soon after we were seated.  Both are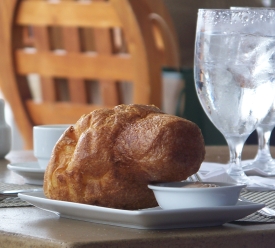 complementary.  Neiman Marcus has been serving those as I recall for at least 30 years, and I still enjoy them just as much.
Mariposa is the 2008 Honolulu Advertiser's pick for best business lunch.
Atmosphere.
Dignified while still island casual.  Great views all day long with spectacular sunsets.
Food.
The menu is traditional Hawaiiana in the fusion sense.  We really enjoyed everything we ate.  So either the food was great or I was starving as I'm not that easy to please.  You can check out the menus on their website.
Service.
The service was okay by Hawaii standards, but not exceptional.  Others have commented similarly.
We made our reservation using Open Table, which was simple and hassle-free.  Within a few minutes of our arrival we were seated.
Details.
Open 11 am-9:30 pm (Sundays-Wednesdays) and 11 am-10 pm (Thursdays-Saturdays). Reservations recommended.  Phone: (808) 951-3420.  Level Three, Ala Moana Shopping Center.
Note:  If you want to try the popovers but can't make it to Neiman Marcus, here's the recipe.
Disclosure: We receive a small commission on purchases from some of the links on Beat of Hawaii. These links cost you nothing and provide income necessary to offer our website to you. Mahalo! Privacy Policy and Disclosures.