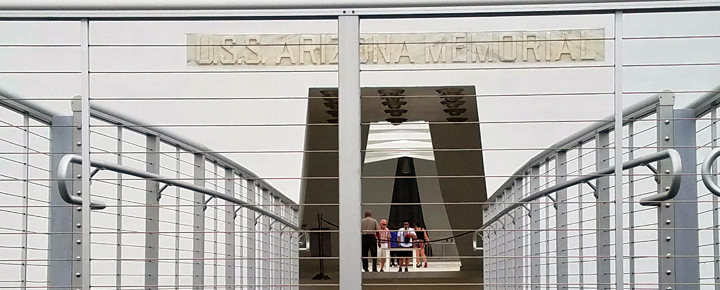 News from Pearl Harbor today. The USS Arizona Memorial remains in a frustrating, year long closure for dock repairs that started in May 2018, and is now slated to go through summer and perhaps beyond. Read on for when you can expect it to reopen, and how to still have a great and memorable visit during repairs.
The memorial is the most iconic part of Pearl Harbor, which is to this day the number one visitor destination in Hawaii. What happened at Pearl Harbor on December 7, 1941, resulted in America's entry into World War II on the following day.
New contract for critical repairs now confirmed
After 11 months of waiting, the $2.1 million contract for the needed repairs has finally just been awarded. We are cautiously hopeful about the reopening date. Unfortunately, as we said before, from everything we hear, NPS is inept and worse.
The delay in reopening has been very disappointing. First, the National Park Service ("NPS") said repairs would be completed for the National Pearl Harbor Remembrance Day on December 7, 2018. Then, NPS announced that repairs on the USS Arizona Memorial would be completed by March 2019, with visits to restart in spring 2019. Today, we're advised the memorial will remain closed through the summer, with opening set to come in time for the December 7, 2019 commemoration.
Earlier this month, Hawaii's senators and US representatives also expressed their extreme frustration, when they wrote to NPS requesting they be provided with monthly written updates until the floating dock at the USS Arizona Memorial is repaired and reopened to the public.
Making reservations – use official websites
If you plan to visit the memorial, be sure to visit the official visitor website. Tickets are sold directly by NPS at their official ticketing website. There is another website which looks official, is selling tours, but is not the actual government website.
The remainder of Pearl Harbor is open, accessible and worthwhile
While the memorial itself will remain closed likely until just before December 7, 2019, visitors can still see the moving 25 minute documentary, which is followed by a harbor tour of Battleship Row nearby (but not docking at) the USS Arizona Memorial. 
Also open are the two free museums, exhibits, bookstore, and the virtual reality center. The Battleship Missouri Memorial, the USS Bowfin Submarine Museum & Park, and the Pacific Aviation Museum Pearl Harbor are open too.
Pearl Harbor is open daily from 7am to 5pm (closed on Thanksgiving, Christmas and New Year's Day). Admission and parking is free to all visitors.
Pearl Harbor: Hawaii's most popular attraction
The USS Arizona Memorial draws more than 1.8 million visitors annually. It was built over remains of sunken battleship USS Arizona, where 1,177 crewmen were killed on December 7, 1941.
Go Oahu Card Includes Pearl Harbor Memorials and More
If you're looking for things to do on Oahu, including Pearl Harbor, read how we used the Go Oahu card and saved $144 each. It includes the Battleship Missouri, USS Bowfin, and Pacific Aviation Museum at Pearl Harbor among its 31 attractions.
Pearl Harbor History: 77 Years Old
We were at Pearl Harbor on its 75th anniversary. In a word, we were very moved. Both of us heard about how this day had impacted our families so many years ago. And how emotional they were when they subsequently were able to visit Pearl Harbor themselves. Jeff's aunt remembered when time stood still on that day as the news struck across the country.
December 7, 1941 was the infamous day that led to the US entry into World War II. The attack started at 7:48 in the morning as 353 Japanese planes launched from 6 aircraft carriers and struck in two waves. Eight US battleships in the harbor were damaged and 4 were sunk in addition to the loss of 188 aircraft. 2,403 Americans were killed and 1,178 injured.
The USS Arizona at Pearl Harbor, was only one of two ships which remained sunk, with the others all raised and six returned to war time service. The Arizona, which had been hit with a nearly 1 ton bomb, exploded and sank with 1,000 sailors aboard. Oil continues to be exuded from the remains clearly visible below the blue Pacific.
The closed memorial was dedicated in 1962, and soon thereafter the National Park Service took over the operations of the historic landmark. Millions of annual visitors are still drawn to this top Hawaii attraction.
For us, the highlight of Pearl Harbor is by far the shuttered USS Arizona memorial. We also enjoyed the half hour documentary film followed by the brief but haunting boat ride out to the eerie memorial itself.
On our last visit, we also liked the new visitor center and the fascinating Pacific Aviation Museum. The museum includes two original hangars replete with not repaired bullet holes and the original control tower. Planes and helicopters on display with their stories provide fascinating insights into a time gone by.
Updated 3/29/19.
Disclosure: We receive a small commission on purchases from some of the links on Beat of Hawaii. These links cost you nothing and provide income necessary to offer our website to you. Mahalo! Privacy Policy and Disclosures.