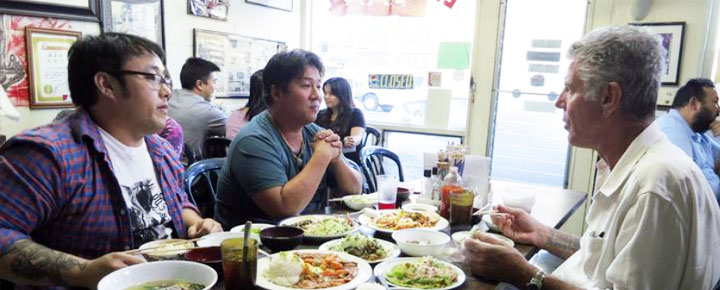 Sad news today about another apparent star suicide. This time Hawaii fan Anthony Bourdain, chef, television star and author who was among the world's most renowned and influential chefs. Tony visited and covered Hawaii with great respect and love, albeit far from his native New York.
"It's Main Street America in so many ways. It's also deliriously, deliciously, not American at all…. people who navigated their way across the Pacific and settled the islands."
Hawaii Fan Anthony Bourdain waxed poetically about Hawaii in a 2015 episode of Anthony Bourdain Parts Unknown. You can watch the CNN clip from the show. Previously he had been in Hawaii in 2008, for an episode of his "No Reservations" show on The Travel Channel. In that episode he shopped at one of our favorites, Bailey's Aloha Shirts on Kapahulu street, ate at Puka Dog, Ono Hawaiian, and enjoyed another BOH dining favorite, Side Street Inn. He also experienced his first luau.
Anthony's favorite place in the islands was Molokai, which is always near and dear to us as well.
"I was treated with enormous kindness and generosity everywhere I went—nowhere more so than Moloka'i. My ignorance and naive preconceptions tolerated with patience and good grace. This is one haole who feels very, very honored, and grateful for the many kindnesses shown me."
Tony recognized and was sensitive to the difficulties of people he encountered in his travels. And specifically for those native to these islands. Nonetheless he exclaimed, "those of us who were not born in Hawaii, who do not live there, can be forgiven, I hope, for imagining it a paradise".
A fond farewell from Paradise Anthony Bourdain. RIP
Photo courtesy of CNN
Disclosure: We receive a small commission on purchases from some of the links on Beat of Hawaii. These links cost you nothing and provide income necessary to offer our website to you. Mahalo! Privacy Policy and Disclosures.