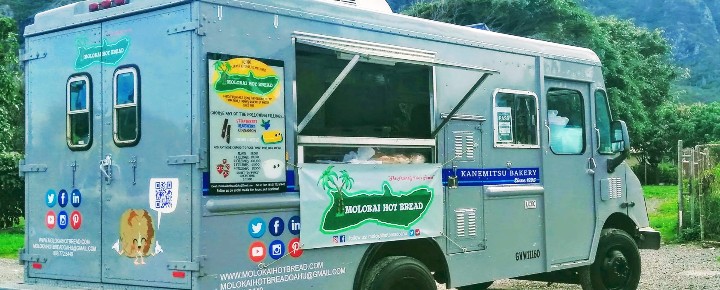 A red door marks one of the hottest nightspots on sleepy Molokai. It rises to the occasion with yeast. You can take some dough with you and get some dough in return. The nightly Hot Bread Run is where locals and (under normal circumstances) visitors intersect every night except Monday. Oh and if you didn't think that the bread run was seriously famous, the late Anthony Bourdain featured it once on Parts Unknown.
Your destination is Kanemitsu Bakery on the main drag in Kaunakakai. The bakery in back is always running full speed. Park your car in front and venture down the dim-lit alley to the right. Follow your nose to the second alley and you have arrived at the Hot Bread Run.
Every so often the red door opens and bread would get handed over. This bread is like a party-size donut with your choice of filling. The night we were last there, the menu offered Strawberry, Blueberry, Cream Cheese, Cinnamon, and Butter. Prices started at $4.75 for plain back then. The bakery uses the same recipe created by Japanese immigrants in 1935.
You can also enjoy the hot bread run via the Molokai Hot Bread food truck that arrived in Honolulu about two years ago. We haven't tried the new format, and honesty half the fun was the original experience, rather than the bread. Totally unique. The truck is pretty successful from what we hear, however, serving up to 1,000 loaves daily.
Baked fresh daily using the original secret recipe passed down from the Kanemitsu Bakery, the truck can be found at varying locations around the island. A monthly schedule is available on the food truck's website or on Facebook.
Kanemitsu Bakery on Molokai is located at 79 Ala Malama Avenue in Kaunakakai.
Disclosure: We receive a small commission on purchases from some of the links on Beat of Hawaii. These links cost you nothing and provide income necessary to offer our website to you. Mahalo! Privacy Policy and Disclosures.