It's been almost a year since an epic Malasada failure happened at Leonard's Bakery in Honolulu last September. That was short-lived thankfully; their equipment was repaired, and malasada aficionados returned like us.
When you arrive at Leonard's Bakery in Honolulu, as your editors just did, don't let the long lines scare you. Just go inside and order, then prepare for about a 10-minute wait outside for your freshly made malasadas. When we say these are fresh, we mean to imply that you will receive your malasadas hot every time. Nothing is sitting around at Leonard's getting cold. And for that reason too, you won't find a display case with malasadas.
The fact people (both locals and visitors) are waiting speaks to the unending popularity of Leonard's Bakery, which has been on Kapahulu since 1952 and at this location since 1957. It is perhaps the most famous of Hawaii's bakeries, and they even have a place now in Yokohama, Japan.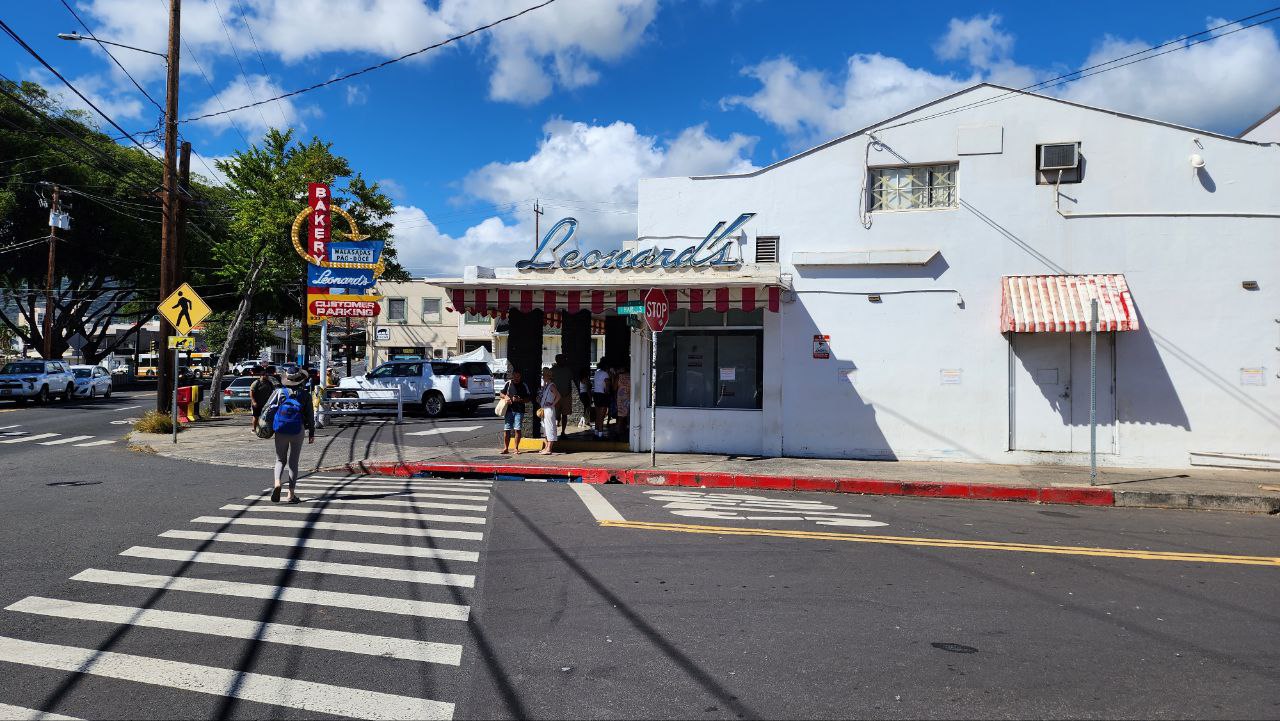 Leonard's Bakery in Honolulu is the undisputed go-to place for malasadas, the most popular Hawaii dessert. Their malasadas are a beautiful golden brown on the outside, soft and fluffy on the inside, and delicious.
This Hawaii tradition for nearly 70 years is still family-owned and going as strong as ever. It is a short drive from Waikiki, and you won't regret it.
What is a Malasada?
If you don't know, you need to find out on your next Hawaii vacation. A malasada is like a deep-fried doughnut but without a hole, rolled in either plain sugar, cinnamon sugar, or Li Hing and oozing a cream custard or other filling or nothing at all. The main difference is the fillings and coating since the dough and the preparation are always the same. The yeast-leavened dough includes eggs and evaporated milk, making malasadas different from doughnuts.
Beat of Hawaii's favorite malasada is always the custard-filled treats. And it seems that is what most people order. Many others are on the menu, including plain, macadamia, lilikoi, and guava fillings. And don't forget the "dobash" chocolate ones and the haupia coconut malasadas. There is always a flavor of the month, so you may not always find the one you have in mind. The custard ones are always on tap, however.
How Leonard's Bakery came to be.
Its history goes back to the island of São Miguel in the Azores. During the 1800s, Portuguese workers came from the Azores to work the sugar cane fields in Hawaii. Two workers who came, Arsenio and Amelia DoRego, brought the recipe for malasadas. It was their grandson, Leonard, who got into the bakery business. In 1946, he and his wife Margaret moved to Honolulu from Maui and worked at Snowflake Bakery.
Leonard then went on to start his own bakery in 1952 called Leonards. At first, there were no malasadas made. But Leonard's mother suggested he make them for Shrove Tuesday (the day before Ash Wednesday). He wasn't sure if there was an appetite for them in Honolulu, but "mom knows best," so he made them. And they ended up being a huge hit loved by many for generations in Hawaii.
Leonard's is open from 5:30 a.m. to 7:00 p.m. and is located at 933 Kapahulu Ave (near the H1 freeway). It isn't too far to wander when staying in Waikiki.
Be careful about parking regulations. We've seen cars ticketed regularly, and parking is a challenge. Look for off-street parking or take The Bus.
Malasadamobiles – Located at Waikele Shoping Center, Pearlridge, Windward Mall and Koko Marina. These started in the 1980s around Oahu and are a great place to satisfy your malasada hunger.
Rob's first Malasada was on the Big Island.
While Leonard's is where it all began, other islands have malasadas, too. Editor Rob's first one in the 1980s was at the Tex Drive Inn on Big Island. It's a famous stop in Honokaa and opened in 1969. They are enormous and prepared right in front of you.
Make your own Malasada back home.
After your Hawaii vacation, you can try making malasadas in your kitchen until your next trip to Leonard's Bakery. We found a malasada recipe that is based on Leonard's. You can have a dozen or more ready to eat in just over an hour. This recipe uses scalded milk instead of evaporated.
You can also watch the video below, filmed at Leonard's Bakery, to get ideas on technique.
What's your favorite malasada coating and filling?
Tell us your Leonard's stories.