Past and future changes in Hawaii's economy caused us to reflect on the Hawaii sugar cane history. We still remember driving to Kauai's westside and seeing the vast fields of sugar, which have since been left empty. And for those of you who grew up on the mainland in the 60s and 70s, you will undoubtedly enjoy the video below of those old C&H commercials about "pure cane sugar from Hawaii."
Alexander & Baldwin (think C&H) was the last major Hawaii sugar cane plantation owners to exit the business. This came following other similar circumstances over a period of years that ended much of Hawaii's agriculture, as many of us still remember. That included sugar cane on Kauai and Maui and pineapples on Lanai. Those were, at one time, the largest employers in the state. In the end, the cost of doing business in Hawaii became such that it was no longer possible to compete globally. Hawaii moved to today's tourism industry plus value-added products.
Read on for the C&H story below and that of the National Historic Landmark at Koloa Sugar Plantation.
Where did sugarcane come from?
Sugarcane may have emanated from New Guinea 10,000 years ago. From there, it spread throughout Southeast Asia, the Middle East, India, and Polynesia. It was ultimately brought to Hawaii, perhaps 1,000 years ago. Hawaiians grew and chewed sugarcane on a small scale but did not refine it to make sugar.
The Hawaii sugar industry dates back to 1835.
Sugarcane started commercially on Maui in 1848 with the Haliimaile Plantation and at Koloa, Kauai, the same year. On Maui, the Spreckelsville Mill (Alexander & Baldwin) was once the world's largest sugar mill and remained in use for 168 years.
The first commercial sugar plantation was established on the island of Kauai, with other plantations sprang up throughout the islands, reaching a peak number of 80 by 1884. Over time, much consolidation caused closures and created larger, more profitable plantations.
The Koloa Mill on Kauai began production and, in 1936, saw its first commercial shipments to the US mainland. South shore Kauai grew around that plantation, whose building is still there today. An earlier plantation actually began limited production on Lanai starting in 1802.
The Hawaii sugar cane expanded starting in the mid-1800s when tariffs were eliminated on sugar imported to the US mainland. The industry to nearly 250,000 acres by the 1940s with labor brought from China, Japan, Puerto Rico, Portugal, and the Philippines. The industry was under the control of five missionary families.  From that industry emerged a common language – Hawaiian Pidgin.
Sugar plantations began running into trouble and were shuttering operations as far back as the 1950s. Far cheap foreign sugar began to dominate the global industry, while Hawaii tourism, based on jet travel, created more land value when used for resorts than for agriculture.
Sugar's painful history.
An 1848 law displaced Hawaiians from their land to allow the plantation economy and foreign ownership to flourish. The California Gold Rush and the Civil War greatly increased the demand for Hawaiian sugar.  Subsequent laws provided for Hawaii to sell sugar to the US without taxes, which also increased production. Plantations wanted to see Hawaii be part of the US to avoid tariffs and provide security through a US military base.
The sugar industry was controlled by five missionary families, including Alexander & Baldwin, Castle & Cooke, C. Brewer & Co., Amfac, and Theo H. Davies. These companies came to control shipping, warehousing, banking, importing, and more in Hawaii. They played an integral and controversial role in the overthrow of the Kingdom and Hawaii becoming a US territory.
With the sugar plantations came the requirements for a large labor force.
Hawaiian natives largely chose to work in the industry. As a result, plantations began importing laborers from abroad starting in 1850, when nearly 50,000 Chinese workers came to work in Hawaii. In the 1870s, Japanese workers began to arrive, with 200,000 coming to Hawaii and returning to Japan. In the early 1900s, Korean workers arrived, followed almost immediately by those from the Philippines.
Hawaii's Pidgin language arose from the globalized sugarcane workforce, which needed a common language.
Much of Hawaii's land was taken over by sugar growing. Plantations were strewn throughout Hawaii, where there was good soil, level ground, and access to much-needed water. Mills were destructive to the environment and originally used wood for fuel, destroying Hawaii forests. While some methods improved, air and water pollution remained problematic to the end.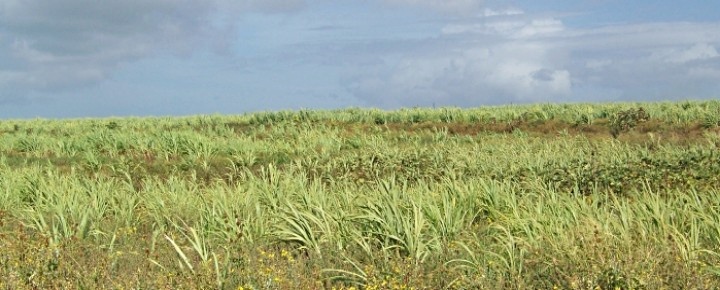 As tourism began to rise, sugarcane receded.
Due to various reasons, including increasing labor costs and unrest, Hawaii's sugar business began a long but steady descent. By 2016, the last working mill, with its iconic belching smoke that many of us still remember, at Puunene Maui, closed permanently.
C&H Sugar "pure cane sugar from Hawaii."
See the C&H video at the bottom of the post. Who doesn't remember the jingles below from the California and Hawaiian Sugar Company (C&H), an American sugar processing and distribution legend? It started as a co-op in 1921 and continued until 1993 when it was sold to Alexander & Baldwin. Not long after, A&B sold a majority to Citicorp which then sold to American Sugar Refining. But in the end, high Hawaii labor prices and low sugar value brought the venture to an end.
Old Koloa Sugar Mill National Landmark | Koloa Plantation Days.
Dating from 1840, the Old Koloa Sugar Mill, and its stone chimney and foundations were designated a National Historic Landmark in 1962. The sleepy Southshore town of Koloa annually celebrates its Koloa Plantation Days. Details of this year's 36th annual event are upcoming. If you visit their Facebook page, you can still see last year's event.