When staying in Waikiki, there's a Saturday morning farmers market we never miss on the beautiful slopes of Diamond Head at Kapiolani Community College. Sponsored by the Hawaii Farm Bureau, it attracts upwards of 10,000 foodies every Saturday between 7:30 am and 11:30 am. This also makes a great stop for breakfast or brunch.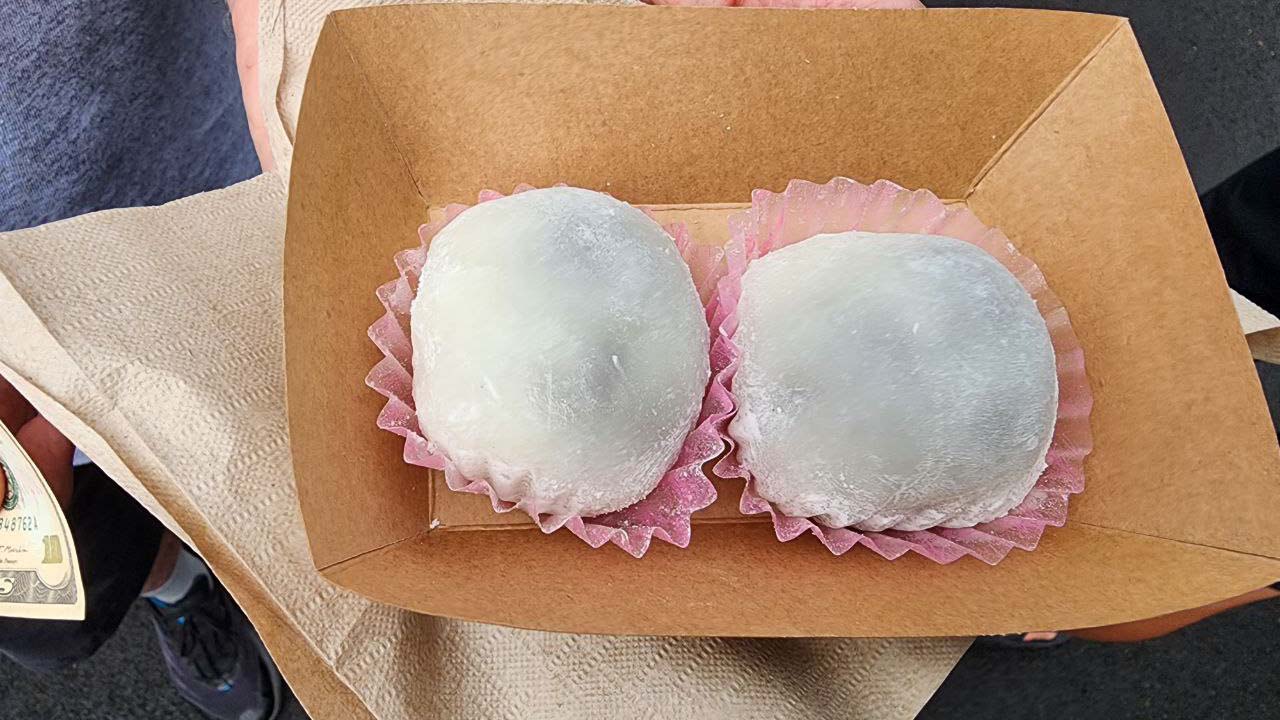 One of the best restaurants in Honolulu, The Pig & the Lady, is at the Market.
If you're not able to get a reservation at The Pig & the Lady, you can taste their food at three Oahu markets weekly, including this one. At the KCC Farmers Market, we always end up here for brunch. Our favorites are Pok Pok Green Papaya Salad with Chinese ling bean, sprouting seeds, roasted kabocha, roasted peanuts, and smoked chili nuoc mam. To that, we'll add any vegetarian options and noodles. So good.
Strawberry Mochi is our next stop for dessert.
Next, after The Pig & the Lady, is something sweet. Our go-to place is for fresh Strawberry Mochi by Daizu-Tei. We get ours with Azuki beans. Their mochi is made fresh, without any preservatives, and completely organic. While their sign shows 4 in a box, we're able to buy two.
Bring a bag to load with produce and other treats.
Enjoy a range of local produce with fruits, vegetables, breads, cookies, coffee, pastries, and prepared foods of all wonderful kinds. Try among the most unusual foods, including abalone from Kona, ghost peppers from Kailua, the most delicious bananas, mango, papaya, pineapple, longan, passion fruit (lilikoi), guava, lychees, rambutan, coconut and more. Also, find natural Hawaiian sea salt, taro chips, and local honey. Other favorites include fried green tomatoes, sugarcane juice, and much more.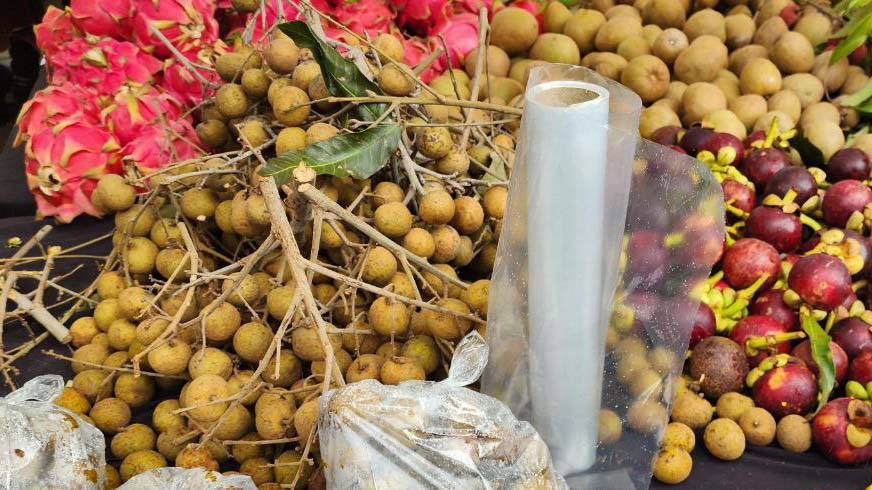 To get there. From Waikiki, you'll head towards the zoo and turn left up Montserrat Avenue to Diamond Head Road. As Diamond Head draws closer, start to envision the best of local Hawaii foods – both prepared and raw, plus great local talk and overall the best products of the islands.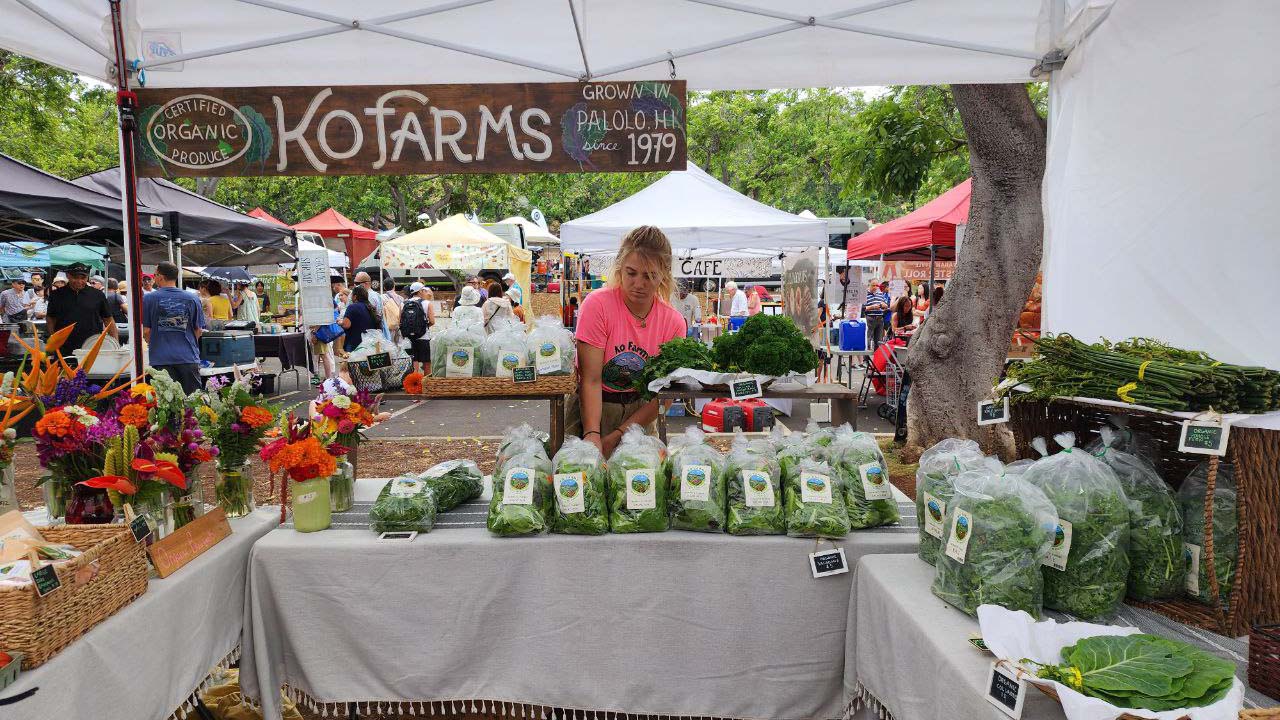 Did you know? KCC Saturday Honolulu Farmers Market is the first in Hawaii to require that all food and products be locally grown and made. This means you'll meet and talk with the people directly responsible for the food you're buying.
Getting started. There's a weekly tip sheet sometimes found at the market entrance. It lists vendors, entertainers, and specials for that day. After that, consider a cup of Hawaiian-grown coffee to drink and a freshly baked breakfast treat to energize your walk through the large venue.
Expect to find 70 or more vendors. There are so many options, and while many vendors have been there for years, others rotate more frequently. A bountiful harvest array of seasonal fruits, vegetables, and flowers make up half of what's on offer. The rest includes fish (both raw, smoked, and cooked), beef, baked goods, handmade pastas, tropical jams and jellies, honey, a plethora of unique snacks, and more.
Beat of Hawaii Tips:
1. Details: Saturdays 7:30 am – 11:30 am, Free Parking, 4303 Diamond Head Road. Instead of going through the main entrance, which is crowded, we turn on Makapu'u Avenue to enter the parking lot.
2. See vendors on the KCC Farmers' Market official website.
3. Arrive early. Parking is an issue, crowds get thick a little later, and products can start disappearing.
4. Take two spins around the market after picking up the weekly tip sheet – first to scope out the choices, then a second round for purchases.
5. Be hungry. This is a great place to eat Saturday breakfast too.
6. Get a jump on popular items. The ever-popular barbecued Big Island abalone fresh from the shell goes quickly. Sometimes the longest line equates to the best of the market products.
7. Some of our other favorites include Nalo Farms' assorted greens and micro-greens, locally made Ono Pops (fresh fruit popsicle), barbecued corn on the cob, and fresh locally baked breads.
8. Flower vendors offer great deals on cut flowers and plants to enjoy during your vacation. Often starting at $3 for flowers and $4 for orchid plants.
9. Bring a shopping bag for your purchases.
10. Don't worry too much about cash. Venmo is popular and used by many.
For more ideas while you're in the area, plan a hike at Diamond Head.