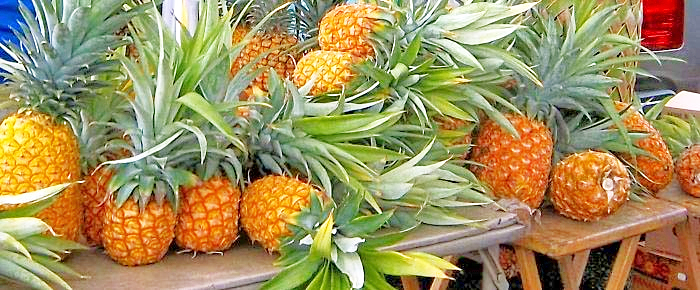 We're waiting for the next round of cheap flights to Hawaii from Hawaiian Airlines, Southwest Airlines, and Alaska Airlines. In the meantime, let's eat Hawaiian pineapple with today's tips. Even on Pizza (read on for that).
How to Bring Hawaiian Pineapple to the Mainland.
If you would like to take pineapples home with you on your Hawaii vacation, which we highly recommend, here's good news and the current official update. You do not need to purchase pineapples at the airport or at the Dole Plantation. Unlike papayas, which require certification and treatment with gas, with pineapples you're free to shop around for the best quality and price and bring them in your carry-on bags.
So long as pineapples are in good condition (no holes, bruises or bugs), agriculture inspectors will not care whether you bought them at an airport store or from a local farmers market (which we personally recommend).
Hawaii Pineapples are not the only Approved Food Items for Exporting.
Coconuts are fine too. Here's the complete and current list of do's and don'ts from the US Department of Agriculture for travelers from Hawaii to the U.S. Mainland.
Peak Season for Hawaii Pineapple is Summer.
With spring now half over, summer isn't far off. And that's the peak of Hawaiian pineapple season. Did you know that to grow pineapple at home, you can simply place the crown on the ground. These make beautiful albeit thorny plants which (at least here in Hawaii) produce pineapples in two years. There are many pineapple varieties with the cayenne type being most common. White reduced acid sugar loaf pineapple is also a popular treat.
Hawaiian Pizza in the News
Pizza with pineapple (fresh from Hawaii or otherwise) and Canadian bacon, is called Hawaiian Pizza. Said to have actually originated from Canada rather than Hawaii, it is apparently a love it or hate it affair. The controversy began with a tweet about it a couple of years ago that resulted in hundreds of thousands of  retweets. Let's just say that pineapple wasn't fresh from Hawaii. Following that, Iceland's pizza-loving president created another internet fire when he indicated he's "fundamentally opposed" to Hawaiian pizza and would outlaw it if he could. Tongue in cheek.
If you didn't know, Hawaii's agriculture protection and quarantine program has been in effect since 1888. King Kalakaua implemented it originally to protect the Hawaii coffee industry.
Updated 5/17/19.
Disclosure: We receive a small commission on purchases from some of the links on Beat of Hawaii. These links cost you nothing and provide income necessary to offer our website to you. Mahalo! Privacy Policy and Disclosures.