There's no doubt about it. The ultimate battle for flights to Hawaii is on, and it is poised to continue and intensify. That between bellwether Hawaiian Airlines, and up and coming Hawaii behemoth Southwest Airlines.
BOH editor Jeff: "Southwest learned every trick in the Hawaii playbook directly from Hawaiian Airlines. This is a fight to the death between Hawaiian and Southwest."
The battle of the flights.
1. The two leading Hawaii airlines are vying across a range of routes.
Southwest is constrained by its limited-range 737 aircraft. While they have broad coverage, their cross-country routes beyond Las Vegas or Phoenix require a connection. Hawaiian is constrained differently by a limited flight network. While they have some codeshare with JetBlue, that still limits how many options they have to distribute passengers beyond those nonstop flights.
Other airlines, including the legacies and Alaska, compete too, but they pale by comparison.
2. Southwest recently pulled back on mainland to Hawaii while doubling down on interisland.
In August they cut Los Angeles to Kauai and Kona, Phoenix to Kauai and Kona, Sacramento to Kauai, Kona and Maui, and San Diego to Kaua, Kona, and Maui. That reduced their mainland service by nearly 40% compared to when they were operating 37 daily flights, instead of the 23 now flying.
At the same time, Southwest increased interisland service and has decided to sell every seat on every flight for just $39 through the end of 2022. If it isn't apparent, that is far below their cost to provide the service. In many cases, Hawaiian has matched that price on their departures that coincide with Southwest.
3. These are the sweet spots where competition means the lowest-priced flights to Hawaii.
Competition is hottest on flights from Las Vegas, Long Beach, Los Angeles, Los Angeles, Oakland, Phoenix, San Diego, and San Jose.
3. The sub-battle of the service.
These airlines offer different things beyond just getting you from Mainland point A to your Hawaii vacation point B.
A week ago, we traveled with Hawaiian and with Southwest to share our review of how the two airlines did on inter-island service. We were completely surprised with the results; if you haven't seen them, you may be too. They each have a unique brand, and there's much to be said about both.
Read: Flight Reviews: Hawaiian vs. Southwest Showdown
You won't be surprised to know that we were in the air again this week, and you'll soon see more surprising reviews from us of flights between the west coast and Hawaii.
The battle of the pilots.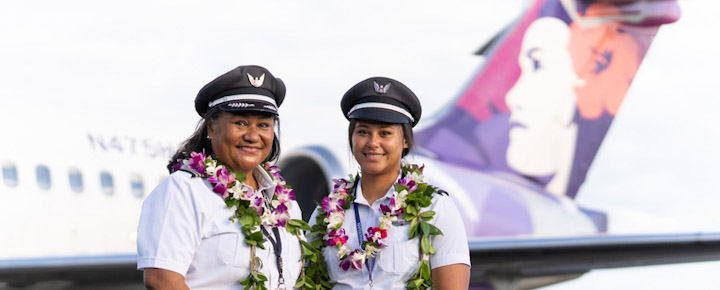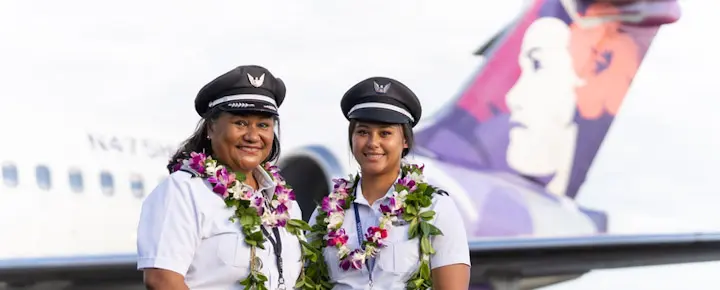 The airlines are now taking to a battle of the female pilot teams, not to be outdone by flights, routes, service, or fuel.
This week Hawaii introduced the first mother-daughter Tongan pilot team. That is an industry long dominated by men. One of the Hawaii flights BOH traveled on with Alaska Airlines this week also featured a female co-pilot coincidentally.
Captain Kamelia Zarka and her First Officer Daughter Maria Zarka pilot the Hawaiian Airlines Boeing 717 flying interisland. The team welcomed guests, posed for selfies, and sought to encourage young girls to follow their dreams.
"Flying for Hawaiian Airlines with my daughter, side-by-side in the cockpit, was a dream come true for me. I always knew Maria would be a fantastic pilot – she's always been brilliant and professional – but sitting next to her as she flew the plane with such skill and ease still blew me away," Kamelia said.
Kamelia has been with Hawaiian as a flight attendant since 1992 and became a pilot in 1999. Maria came to HA from Republic Airlines earlier this year.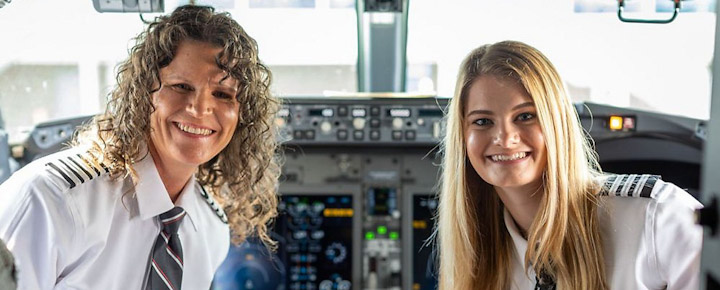 In lockstep with Hawaiian, Captain Holly Petitt and First Officer daughter Keely Petitt just become the first mother-daughter pilot team for Southwest.
Holly Petitt started as a flight attendant before deciding to become a pilot. She has been with SWA for 18 years. Her daughter decided as a teenager that she would follow in her mom's footsteps and become a pilot. Keely was offered a scholarship by Southwest in 2017 and said, "Southwest was always the end goal for me. There was really never any other option."
The two flew as a team from Denver to St. Louis in July for the first time and were the first mother-daughter duo ever at Southwest.
The battle of the power: SAF and electric airliners.
In the past few weeks, Hawaiian Airlines and Southwest Airlines said they are investing in sustainable aviation fuel (SAF). US airlines are quickly moving on this issue. Southwest's CEO said, "SAF is critical for decarbonizing the aviation sector." In contrast, Hawaiian's CEO said, "This is the first step in what we hope will be a long and productive relationship that reflects both parties' unwavering commitment to the environment and to these islands we call home."
The airline industry is obviously a copious consumer of fuel. In 2019, that amounted to 90 billion gallons.
Read: Southwest and Hawaiian Vie For Lead | Game-Changing SAF.
When it comes to electric-powered Hawaii flights, those are on the horizon too, and Hawaiian is moving forward with those. Undoubtedly we'll be hearing from SWA on these, and it probably won't take long.
Read: Hawaiian Air + Mokulele Both Plan 100-Seat Electric SeaGlider.
What's your pick: Hawaiian or Southwest?
They clearly both have distinct cultures and do very well at attracting customers.