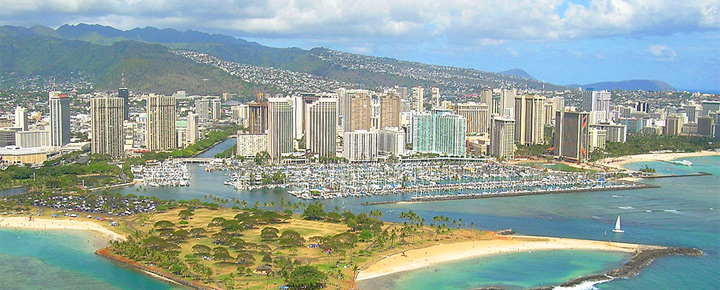 Updated 4/2/20. We learned that the airlines have yet another logistical challenge, and that relates to their Hawaii flight crews.
American Airlines and others continue to fly daily between the mainland and Hawaii (primarily Honolulu). AA has confirmed that all of their Hawaii flights now require two completely redundant crews. One entire team rests en route to Hawaii and then works the reverse direction. In that way, none of their flight crew ever officially enter the State of Hawaii. Employees of other airlines including United and Alaska have said that they have to work both directions instead. So, not all airlines are using double crews on flights to and from Hawaii.
For the Hawaiian Airlines crew, this may be completely different. We reached out to Hawaiian on this, but did not hear back at the time of publication. Their largely Honolulu-based flight crews should be able to re-enter Hawaii so long as they do not get off the plane in Los Angeles, San Francisco, or now Seattle. Hawaiian also maintains a Los Angeles based crew, for which it might work very differently.
It has also been pointed out that it is possible to break the 14 day period by directly leaving the islands. It's all a logistical mess, any way you look at it.
This would not be a time to be a flight attendant on any airline.
What with all of the perks gone, such as some much valued rest time in Hawaii as an example, plus the hazards of flying, dealing with airports, and passengers soon to be wearing masks, etc. Just saying.
Flights to Hawaii are continuing for multiple reasons.
Airlines and airports are exclusively under federal jurisdiction, so the state is not permitted to say that you can't fly to Hawaii, and the airlines are required in many instances to continue to sell tickets and operate Hawaii routes.
Airlines must comply with all government orders on their Hawaii flights. The companies, which are receiving billions of dollars from the government, are required to operate flights, except when exceptions have been authorized. That, even if they are flying empty. Some of the airlines' requests, such as eliminating most flights to neighbor islands, have, however, already been agreed to.
Passengers continue to arrive. 
Even though Hawaii passengers are required, under penalty of jail and/or fine, to isolate on arrival for two entire weeks, nothing can currently prevent visitors and residents from flying here. This is a weird loophole, and presents challenges in multiple ways, to say the least. Some have even later been arrested for violations or returned directly to the mainland.
Hawaii Attorney General Clare Connors said, "It is always our hope that persons coming to our state follow our laws and respect the needs of our community…. Law enforcement has a zero-tolerance attitude…. We're asking everyone flying into the state to respect the emergency rules for their own protection and for the health and well-being of all of Hawaii."
Flights to Hawaii have become a nightmare.
Just in terms of personal protection, as an example, a myriad of permutations existed as recently as yesterday. As of April 1, and soon to be implemented, Alaska Airlines, American Airlines, Delta Air Lines, Hawaiian Airlines, Southwest Airlines and United Airlines indicated passengers and crew will now be required to cover their faces during flights, including those to and from Hawaii. We are within a week to be in a new scenario where all flight crews and passengers will wear masks.
Disclosure: We receive a small commission on purchases from some of the links on Beat of Hawaii. These links cost you nothing and provide income necessary to offer our website to you. Mahalo! Privacy Policy and Disclosures.