Lifeguards advised beachgoers to stay out of the water at renowned Lydate Beach Kauai on Tuesday. That, after a two-foot baby shark was found circling in Lydgate Beach Park's large pond. Shark and no swimming signs (as if we would go in) were posted for the pond, pictured below. The Department of Land and Natural Resources attempted to get the shark out of the pond and return it to the ocean.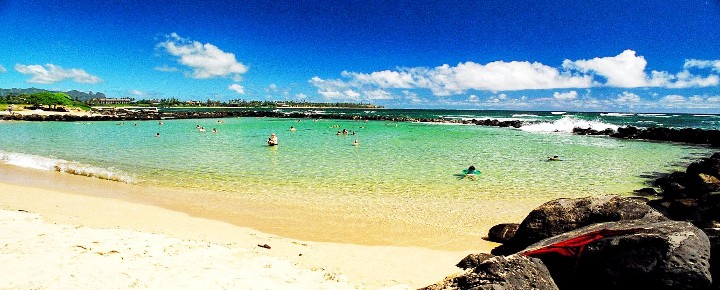 Earlier this summer, lifeguards advised beachgoers to stay out of the water at renowned Poipu Beach Kauai. That happened when a 6 to 8-foot shark was sighted at Nukumoi Point near the Tombolo. Then too, shark warning signs were immediately posted, and the beach was closed.
Our own experiences.
Your Beat of Hawaii editors are regular distance swimmers, especially at Hanalei during the summer months – like now. We have both been fortunate never to have encountered a shark in the water while having seen them more than once from the shoreline. Once Rob felt something grab his foot and thought that it was a shark. It turned out to be another swimmer who got too close. He really freaked out at first, however, although he reported staying calm.
What you need to know about sharks in Hawaii.
Should you fear shark attacks here in Hawaii? It's unlikely you will experience a shark attack on your Hawaii vacation, and in fact, the statistical odds are 1 in 11.5 million. And, while rare at Hawaii Beaches, it's good to remember that shark sightings can occur anywhere in Hawaii.
How to follow Hawaii tiger shark tagging.
At UH Manoa, marine biologists track the movement of Hawaii tiger sharks that are fitted with satellite tags on their dorsal fins. Signals are received each time a shark surfaces. Marine biologists have been working on this for the past four years. They seek insights into the behavior and habitat of these revered creatures. Scientists are utilizing the latest in satellite tagging systems.
On their website, you can see various sightings of sharks in the Hawaiian Islands.
Sharks' important role in healthy marine environments.
Sharks are known as apex predators. And one-third of all shark species are threatened or near-threatened. They play a key role in maintaining the species below them in the food chain and serve as an indicator of ocean health. Sharks help remove the weak and sick and keep a balance with competitors to help ensure diversity of species.
Sharks figure prominently in Hawaiian mythology.
Culturally, sharks have been held in high reverence by generations of Hawaiians as aumakua (family guardians); ancestors reincarnated as animals and sent to protect the family.
Please share your sharks in Hawaii story.
Beat of Hawaii photo at Poipu Beach Kauai.
Updated August 11, 2021.
Disclosure: We receive a small commission on purchases from some of the links on Beat of Hawaii. These links cost you nothing and provide income necessary to offer our website to you. Mahalo! Privacy Policy and Disclosures.