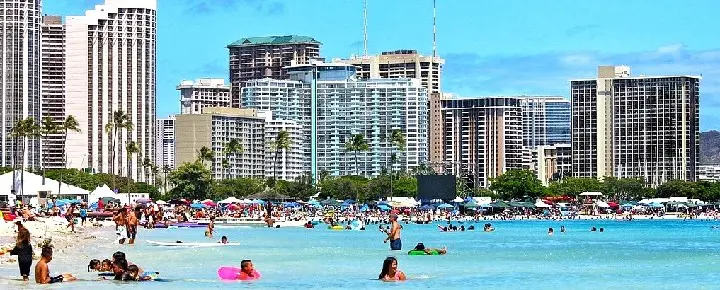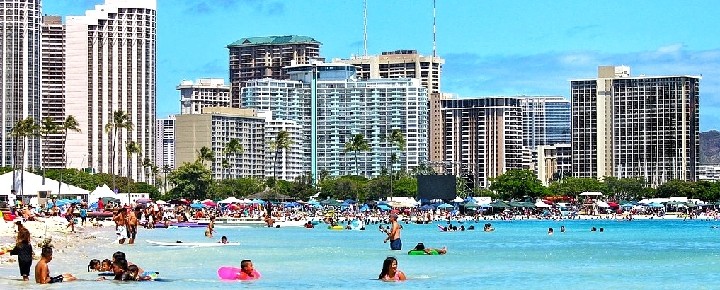 A shark was seen recently swimming with visitors at the famed Waikiki Beach. You can see it yourself below. We've written about sharks in Hawaii and shark attacks in Hawaii multiple times, but this isn't that. These sharks just cruised by.
While sharks in Hawaii are common, shark attacks are not. As you can see here, people largely continued to enjoy swimming, snorkeling, and surfing when the video was filmed. Interesting comments on TikTok included, "WHAT….you spotted a shark in the OCEAN where it lives…Holy moly, call the press…lol."
There have been just 152 shark attacks in Hawaii in nearly 200 years.
That is according to the International Shark Attack File, which maintains the only comprehensive global shark attack database that includes Hawaii.
Larger tiger sharks are the ones that have caused the majority of shark attacks in Hawaii. These tend to be more aggressive and curious omnivores and are considered among the world's three most dangerous sharks.
Hawaii State DLNR says to keep rare shark attack incidents in perspective since "The chances of being bitten by a shark are less than one in a million. And the chances of a serious injury are much less."
With almost 40 shark species in Hawaii, it isn't entirely unlikely, however, that you will see one.
Reef sharks in Hawaii.
Grey reef sharks are one of the most common reef sharks in the Indo-Pacific, and these are found from Easter Island to South Africa. They are most often found in shallow water near coral reef drop-offs. These are distinguished from similar reef sharks by the plain dorsal fin, among other things. They can be up to six feet long.
Grey reef sharks are fast swimmers that feed primarily on bony fishes and cephalopods. They can make homes in specific reef areas to which they return. These are social beings and can swim in groups of up to 20. They can live up to 25 years. Adult females, in particular, are known to form groups in very shallow water.
Grey reef sharks can be aggressive when followed by divers. The International Union for Conservation of Nature has deemed grey reef sharks endangered.
The International Shark Attack File listed seven unprovoked and six provoked attacks (none fatal) attributed to this shark species.
To avoid Hawaii shark attacks, begin with some basic safety guidelines.
First, avoid swimming or surfing near river mouths, as sharks are attracted to areas where there is an influx of nutrients from freshwater sources.
Second, avoid swimming or surfing at dawn, dusk, or night, as these are the times when sharks are most active.
Third, avoid wearing shiny jewelry or brightly colored clothing, as these can confuse and attract sharks.
Finally, leave the water immediately if you see a shark (no problem!) and notify lifeguards or other authorities.
Read more about the real danger of sharks in Hawaii. Have you ever seen one during your Hawaii vacation?
Disclosure: We receive a small commission on purchases from some of the links on Beat of Hawaii. These links cost you nothing and provide income necessary to offer our website to you. Mahalo! Privacy Policy and Disclosures.