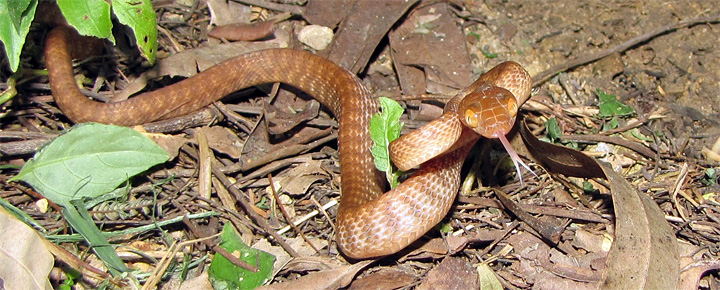 Snakes in Hawaii are a big concern, and USDA said that a 20 year old man brought a live snake in his backpack to Hawaii. The snake wasn't noticed until he checked into his vacation rental and the snake slithered out to enjoy the islands.
The young snake, one foot long, was a black racer snake, which is not venomous, and is widely seen in Florida. USDA said, "the brown-colored snake appears to be a newborn, measuring about a foot long and 1/4 inch in diameter." When full grown, the snake could have reached up to 6 feet long, and could have caused significant damage.
Officials said the man was not aware of the snake until it emerged at a vacation rental property. Okay?
DNLR was notified and captured the snake, and it was being transported to Honolulu. Hawaii Department of Agriculture said, "it is fortunate that the owner of the rental was aware of the seriousness of the snake being transported to Hawaii and took appropriate action and reported it. Visitors to our islands may not fully understand the threat that snakes pose to our community and our unique environment."
No land snakes in Hawaii.
There are no native snakes here, and it is illegal to possess snakes in Hawaii. Recently, Hawaii Agriculture intentionally imported four brown tree snakes for a special purpose. The snakes are used to help four specially trained dogs detect snakes that could enter the state via passengers or cargo.
Brown tree snakes were responsible for decimating Guam's bird population when they invaded that island.
Hawaii does have one native snake, the yellow bellied sea snake. It does not come on land and it is rare to see in Hawaii. Somehow with our focus on cheap flights to Hawaii, we've just never seen one. They have a bright yellow bottom and a dark colored top. It is reclusive by nature.
Disclosure: We receive a small commission on purchases from some of the links on Beat of Hawaii. These links cost you nothing and provide income necessary to offer our website to you. Mahalo! Privacy Policy and Disclosures.