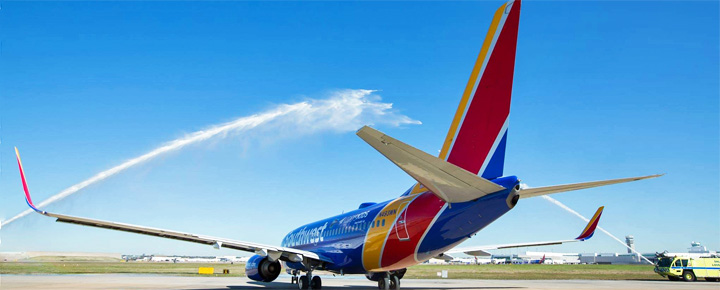 Updated 3/12/20. The company today extended their flight schedule through October 31. Also, Southwest Hawaii summer travel is priced from just $139. Max aircraft return may be delayed once again. And lastly, Southwest has no change or cancellation fees ever.
Summer from $139 + no change or cancellation fees.
We are seeing summer prices, starting from $139 on some routes from the west coast. That's a great price and represents a savings of over 60% off traditional prices! Will prices go even lower? It is possible, but there are no guarantees. Remember too that fares change up to 5 times daily, so the best prices may come and go repeatedly. Check back.
Hawaiian Airlines has been releasing on-again, off-again competitive airfares for peak summer travel!
Flights through October are now open. Spring from $99.
As of today, Southwest's flights can be booked through October 31, with many spring dates (April/May) priced at just $99.
If you plan to book travel starting November 1, you'll now need to wait until April 23. Southwest only allows reservations up to about six months in advance of travel. Other airlines permit reservations up to 11 months in advance.
When will Holiday 2020 travel be available for reservations.
Southwest has indicated that on April 23 reservations will be open through January 4, 2021. That date is subject to change.
Will Max return be delayed again?
Southwest Hawaii expansion remains limited due to the ongoing grounding of their Max 8 fleet consisting of 34 planes. That problem will eventually come to an end, and those planes may return to service later this year. At this point, Southwest has cancelled the return of Max on their schedule through August 10. Until those planes return, Southwest is using 737-800 planes for Hawaii flights.
The latest problem relates to critical component wiring. Boeing just indicated that it will be modifying certain wiring of the Max fleet. The FAA and the aircraft manufacturer began reviewing a potential issue which might have led to a short circuit or worse. Earlier this week, the FAA said it had rejected Boeing's suggestion to leave those suspect wiring bundles in place.
When will Southwest Hawaii expansion resume and what cities do we expect to see added.
As you know, Andy Watterson, SWA Executive VP and the brains of their Hawaii service recently noted that they are running about a year behind where they originally expected to be. And that even before coronavirus threw a wrench into travel. He also said, "We are very bullish in Hawaii." The company is clearly pleased with how existing and new customers are responding to their Hawaii flights. Trans-Pacific has exceeded their expectations to date and flights are flying full. The length of time typically required to achieve market penetration that has been greatly reduced due to the pent up demand for Cheap Flights to Hawaii.
When Hawaii expansion resumes, following is our list of possible expansion cities, in the order of likelihood:
Los Angeles
Phoenix
Las Vegas
Denver
Burbank
Salt Lake City
Spokane
Albuquerque
Complete schedule of Southwest Hawaii routes and frequencies effective April 2020:
OAKLAND: Honolulu (2 daily); Maui (2 daily); Kona (1 daily); Kauai (1 daily).
SAN JOSE: Honolulu (1 daily); Maui (1 daily); Kona (1 daily); Lihue (1 daily).
SACRAMENTO: Honolulu (1 daily); Maui (1 daily).
SAN DIEGO: Honolulu (1 daily); Maui (1 daily).
HONOLULU: Oakland (2 daily); San Jose (1 daily) Sacramento (1 daily); San Diego (1 daily); Interisland: Maui, Kona, Lihue, Hilo (each 4 daily).
MAUI: Oakland (2 daily); San Jose (1 daily); Sacramento (1 daily); San Diego (1 daily); Interisland: Honolulu (4 daily), Kona (1 daily).
KONA: Oakland (1 daily); San Jose (1 daily); Interisland: Honolulu (4 daily); Maui (1 daily).
KAUAI: Oakland (1 daily); San Jose (1 daily); Interisland: Honolulu (4 daily).
HILO: Interisland: Honolulu (4 daily).
More Southwest Hawaii deals are clearly just ahead!
Note 1. Why aren't flights bookable from points further east than Denver and when will they be?
That is because Southwest doesn't have red-eye (overnight) flights. While the airline has talked about changing that, it could be many months to years away. There are logistical and staffing issues, although the airline's reservation system has been updated to allow for them. When overnight flights start, that should make Hawaii accessible (without multiple tickets and a layover) from points further east across the U.S. CEO Gary Kelly said, "we don't really desire to fly red-eyes right now…. for our style of operation, it would complicate things." Red eye flights are used by other airlines flying from Hawaii to enable the long flights and up to 6 time zones between Hawaii and the eastern US.
When you attempt to book city pairs that require two separate SW tickets to Hawaii, you'll get a message that looks something like this: "Sorry, we found some errors… Flights from Minneapolis/St. Paul to Honolulu (Oahu) are not scheduled to operate on mm/dd/yy. Please select an alternate date or choose another origination/destination." That is your cue that two tickets are needed for now.
Note 2. All Southwest Hawaii flights can be changed at no cost.
At this time, SWA has no change fees or cancellation fees. Also, if fares drop, you can re-book and credit the difference back to your account for future travel.
Note 3. Always check Southwest to see if fare gets better.
Remember that with Southwest, you can get a credit for any fare difference should the price go down once you've booked.
Updated March 12, 2020.
Disclosure: We receive a small commission on purchases from some of the links on Beat of Hawaii. These links cost you nothing and provide income necessary to offer our website to you. Mahalo! Privacy Policy and Disclosures.