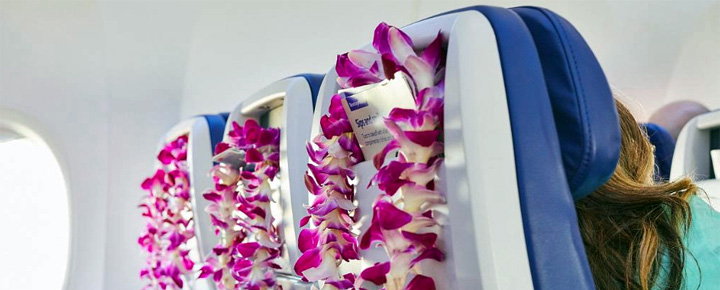 Southwest Hawaii tickets are more accessible thanks to a deal struck between them and payment plan provider Uplift. We're curious to hear if this is of any "interest" to our visitors, so please let us know. Read on for the fine print as the devil is in the details and we have questions.
Zero interest for flights purchased through January 24.
When you buy Southwest Hawaii flights through January 24 for travel dates through August, the airline is offering a new interest-free payment option through Uplift. This is valid on all flights to the Hawaiian islands only. You can travel from anywhere in Southwest's route system. The Uplift payment option is not new at Southwest, but this interest-free offer is.
No interest for either three or six months, with no late fees or prepayment penalties.
Southwest's financial partner in the deal, Uplift, said, "customers can book today and fly as soon as tomorrow – even before they are finished making their payments. Travelers can also book now, and begin easy monthly installments and daydream about their spring break getaway or upcoming summer vacation trip."
The new buy now/pay later plan gives travelers "the freedom to book trips when they are ready and divide the cost over a series of affordable monthly payments," according to Uplift, which says it is offering a "frictionless customer experience. Customers will see the total cost of their trip at the time of booking along with the monthly payment amount, letting them take control of their budget and create lasting travel memories."
Then there's the small print and our questions.
"Down payment may be required. Terms are based on the Customer's credit score and other factors and may vary. Not everyone is eligible, and some states are not served including Iowa and West Virginia. APR may range from 0% to 36%. The offer is available between Jan. 10 through Jan. 24 on 3 to 6-month loans. A minimum $49 purchase is required. Most loans offered through Uplift are issued by CBW Bank, Member of FDIC. Loans made in Colorado may be issued by Uplift, Inc."
If you can pay off the loan in their interest-free period, it sounds like something to consider. But that APR up 36% for those who don't, or based on credit, is something to consider too.
Do you want a "hard credit pull" for the cost of an airline ticket?
When you apply for new credit, such as this, it typically means that the creditor will look at your credit file to determine the risk you pose. Hard inquiries like this show up on your credit report and can impact your credit score.
On the other hand, Southwest is a highly reputable company and the last thing they want is for users to have bad experiences using this offer.
Your thoughts?
Disclosure: We receive a small commission on purchases from some of the links on Beat of Hawaii. These links cost you nothing and provide income necessary to offer our website to you. Mahalo! Privacy Policy and Disclosures.