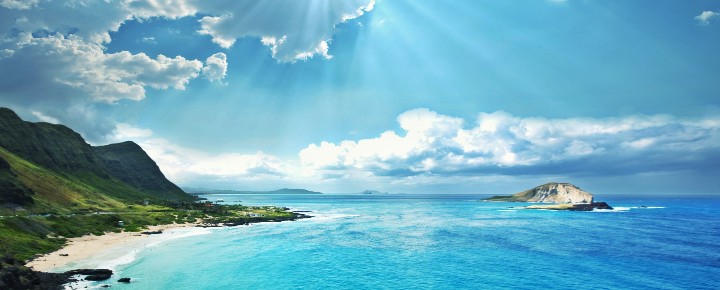 Last week, three days after we published Get Ready For Yet Another Dramatic Change In Hawaii Travel, the University of Hawaii Economic Research Organization chimed in. UHERO "provides access to many economic and social indicators for the State of Hawaii, the four counties, and key external economies." It's interesting to see what they had to say and our comments, as these may impact your Hawaii travel planning.
The current slowdown in Hawaii travel.
UHERO: "We are in for a period of weakness before growth resumes late in the year… In July, visitors from the US mainland reached an all-time high, driven by healthy US incomes and pent-up demand. Occupancy rates across all accommodations reached 80%. But after the surge in Covid-19 cases, the number of visitors fell sharply, prompted by virus concerns, new preventive measures, and Governor Ige's request for visitors to delay Hawaii vacations."
BOH: Last week, before the above was released, we said, "Other factors included the typical seasonal slowdown from the end of summer until the end of year holidays, not to mention the governor's warning to pause Hawaii vacations." Add to that the nationwide and Hawaii-specific concerns about the Delta variant. With the decline in COVID cases, we expect Hawaii travel to pick up significantly, starting with Thanksgiving and beyond. With the resumption in demand, prices will be escalating again, so this is an excellent time to consider locking in plans.
What about the Hawaii labor market and its current and future impact on hotels, restaurants, etc.
UHERO: "The (Hawaii) labor market faces pandemic-induced weakness and structural challenges. Hiring has been slow despite many job openings… and ongoing virus concerns have discouraged re-employment. As a result, there are significant shortages of workers in a number of sectors."
BOH: Where are the workers? While travel returned, the employees who power Hawaii travel did not. Many people chose not to return to their prior jobs. That has been especially true at Hawaii restaurants. With the continuation of unemployment benefits, many had time to reassess life and make alternate plans. A good number left Hawaii entirely, with the state estimating that workforce reduction at 16,000. It is believed that more than 40,000 positions are unfilled in the travel sector, and it shows. Those workers who have returned feel the stress and are being asked to work as much overtime as is humanly possible. So when you don't get the same Aloha as you would usually, please keep that in mind. In the future, we hear that restaurants and others are having to pay extraordinary rates to retain employees. That will result in higher costs ahead at restaurants and throughout the vacation sector. Service issues will continue to present some hindrances to normal travel.
What's next following the Delta variant?
UHERO: "The pessimistic scenario considers the possibility that persistent restrictions due to Covid-19 could weigh more heavily on economic activity in Hawaii, on the US mainland, and globally. The optimistic scenario envisions a faster recovery from the Delta variant and a return of pent-up demand leading to a strong winter season."
BOH: While the escalation in Delta Variant Covid cases locally and globally put a massive dent in Hawaii travel, that is waning at this point. California's decline in cases is also a good bellwether for Hawaii since more visitors arrive from there than anywhere else.
The whiplash of 2021 Hawaii travel.
UHERO: "Tourism this year has been a mix of two very different stories. Before July, the industry enjoyed a stronger-than-expected rebound, powered by robust demand from US residents, fueled in part by Hawaii's special appeal at a time when international travel remained difficult. As a result, the number of mainland visitors soared to an all-time high in July. But progress was then abruptly reversed. By the end of August, the weekly number of deplaning visitors had fallen by 45% from the first week of July. While some of this decline is typical seasonal behavior, in 2019, passenger counts (which include returning and intended residents) fell by only 20% over the same period. Hawaii's high case counts and hospital capacity constraints have made front-page news nationally, and potential travelers must decide whether to postpone their planned vacations to avoid health risks and renewed restrictions on local activities. Governor Ige's request that visitors delay travel until after October also weighs on the industry."
BOH: We really do have whiplash from it. Hawaii travel has swung back and forth so many times in the past six months or so that it is exhausting. Hawaii went from record tourism in 2019 to no tourism and then back and forth since resuming. This year's epic rollercoaster started in March when an unexpectedly high demand for Hawaii travel began.
Impact of COVID on Hawaii travel varied by island.
UHERO: "At the outset of the pandemic, Kauai and Maui took the biggest hits from the tourism slowdown due to their heavy dependence on the visitor industry. But by July, the Neighbor Islands had recovered much of their losses, with Maui County seeing only an 8% shortfall in visitor arrivals relative to July 2019. Arrivals to Honolulu County, which relies more heavily on international markets, remained about 24% below their pre-pandemic level. Hotels and transient vacation rentals (TVRs) fared well in the first part of the year. The easing of travel restrictions in mid-June—travelers with a negative COVID-19 test were no longer required to quarantine, and inter-county travel restrictions were removed—lifted occupancy rates above 80% across all accommodation types in July. And strong demand permitted both hoteliers and TVR hosts to make substantial hikes to prices. In July, the statewide average daily rate for TVRs was $250, 21% higher than the pre-pandemic level, while the ADR for hotels at $356 was also up 21%. Current dollar daily spending by US visitors had fully recovered, exceeding its pre-pandemic level by 5% in July."
BOH:
Other aspects of Hawaii travel's return have been both sticker shock price increases and lack of availability. Vacation rentals went up in price, especially on the neighbor islands, as UHERO said, and became sold out quickly as arriving visitors wanted more space and less interaction. Hotels jumped in price too. Hawaii car rentals experienced the same issues of being priced dramatically high or being entirely unavailable, and again that was worse on the neighbor islands. A whole new industry was spawned as people created their own fleets of Turo vehicles to rent.
Delta variant struck Hawaii far more than anticipated. 
UHERO: "The rapidly-spreading Delta variant has now caused an abrupt—but hopefully temporary—about-face. Although vaccination rates have climbed substantially across most major visitor markets, the resurgent pandemic has dented visitor arrivals across the board. As we noted above, the number of deplaning visitors has now dropped by almost 45%, and airline capacity utilization has dropped sharply, despite a 22% reduction in seat capacity in August. Hoteliers report sharp increases in canceled bookings through October, with the rate remaining somewhat higher than normal through the winter travel season. Of course, that could change on a dime if virus conditions improve. In the meantime, unused accommodations capacity will put downward pressure on room rates and industry employment. The visitor industry stands at a difficult crossroads. Aside from visitors' concerns about virus exposure, restrictive measures to address the Delta wave are likely restraining visitor numbers. Balancing safety requirements and convenience will not be easy. Visitors can now use Clear and CommonPass Hawaii to digitally upload their vaccination records to the Safe Travels website, expediting the verification process upon arrival and facilitating entry to local establishments. Several hotels have announced that they will require their guests and employees to be fully vaccinated, and the new federal mandate to vaccinate all workers will apply to large tourism businesses. At the end of the day, only widespread vaccination and a reduction of COVID-19 cases and hospitalizations will permit full reopening and recovery of Hawaii tourism."
BOH:
There's no doubt that Delta hit everyone, including Hawaii, by surprise. After all, Hawaii had weathered COVID better than most places until Delta. Also, tourism had just rebounded, perhaps too much so. With Delta came new concerns from the governor and mayors that gave residents and visitors pause. No one knew what to expect next. As that phase appears to be settling down, we expect some normalcy to return both in life here and in vacation travel to the islands. Hawaii travel will still be characterized by surges, and those will continue for the next six to nine months. After that, with the anticipated resumption in international travel, we expect some decline in Hawaii demand to a somewhat more manageable set of circumstances.
Disclosure: We receive a small commission on purchases from some of the links on Beat of Hawaii. These links cost you nothing and provide income necessary to offer our website to you. Mahalo! Privacy Policy and Disclosures.