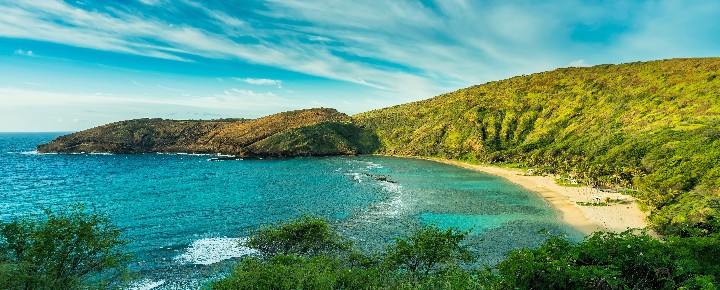 The Hawaii Department of Transportation has just released its tips for Hawaii travel this summer. We know it will be very busy, with more than 150 flights a day on average heading to the islands.
See the state's tips below, and we'll add many of ours as well. However, this is not the usual season. Due to the pent-up demand, combined with a lack of rental cars, it's time for some innovative strategies and planning to keep your cool under the hot Hawaii summer sun.
Also read our Summer Guide to 2021 Hawaii Travel During COVID for all details, tips, and tricks.
And: Hawaii Summer 2021 By The Numbers | How Busy Will It Be?
The DOT wants "anyone flying into or out of Hawaii airports to expect a busy summer travel season. Preliminary visitor statistics show 23,423 passengers arrived in Hawaii on May 23, which is approximately 70-percent of pre-COVID numbers." And that's well before the peak season even begins.
What Hawaii DOT says:
1. "Plan for peak travel time. Peak time for arrivals at Hawaii airports is between 10 a.m. and 3 p.m. If your flight time is within that window, plan and prepare using the tips below."
2. "Consider getting a ride to the airport." Airport parking lots are filling up fast.
3. " Arrive at the airport ahead of time." TSA and DOT recommend "arriving more than two hours before departure and checking baggage to save time at security checkpoints."
4. "Make sure you're aware of COVID-19 travel recommendations or restrictions." It's critical to know all the rules beforehand. Don't get caught by surprise on pre-travel testing and post-travel testing on Maui and the Big Island, among other things. Interisland travel has separate rules too.
Beat of Hawaii Suggestions for TSA Screening.
TSA lines in Hawaii are hard to predict. Be prepared for a long wait, and be happily surprised when there isn't one. Don't miss a flight as we did.
Arrive at the airport early. TSA is recommending travelers arrive well in advance, especially when flying from HNL. At other Hawaii airports, 2 hours is probably adequate, although as we said, that isn't always reliable.
Look for other checkpoints. Check to see if a line in another area of the airport is much shorter. That is a trick we've used frequently.
Avoid prohibited carry-on items like liquids. "Just keep that in mind with prohibited items, they do cut down on the efficiency and speed of people making it through the security checkpoint." — TSA.
TSA PreCheck. That frequently saves time, but not always.
Avoid TSA's busiest hours. Those are Thursdays through Sundays, and 9 am – 1 pm and 7 pm – 11 pm. That is when the majority of Hawaii departures occur (both inter-island and trans-Pacific).
Keep carry-ons organized. Make it easy to remove electronic devices and food not to hold up the line.
Easy on and off shoes. Anything hard to take off is bulky or cumbersome, inevitably slows down the process.
Contact TSA with your questions. They can be reached under the handle AskTSA on Facebook and Twitter.
Disclosure: We receive a small commission on purchases from some of the links on Beat of Hawaii. These links cost you nothing and provide income necessary to offer our website to you. Mahalo! Privacy Policy and Disclosures.