The economic research division of the state of Hawaii, UHERO, has just provided its forecast for the state following the Maui wildfires. And the news isn't great, nor is it entirely unexpected.
All of Hawaii shares the deep pain and loss on Maui.
UHERO pointed out that not only Maui will bear the economic costs, but the entire state will, too, and well into the future.
In its report, "UHERO assesses the implications of the fires' aftermath for the path of the Maui economy throughout the next several years, and what that will mean for the state's economy."
Maui is suffering "a severe economic disruption in the wake of the wildfires. Travelers responded to the fires' horror and early appeals to stay away.
"Visitor arrivals plunged by nearly three-quarters."
That occurred both as a result of the fire, the Lieutenant Governor's reaction ushering all visitors off the island, and other factors. "Maui lost more than $13M of visitor spending each day in the weeks following the fire," according to UHERO.
Where will Maui be by January 1, 2024?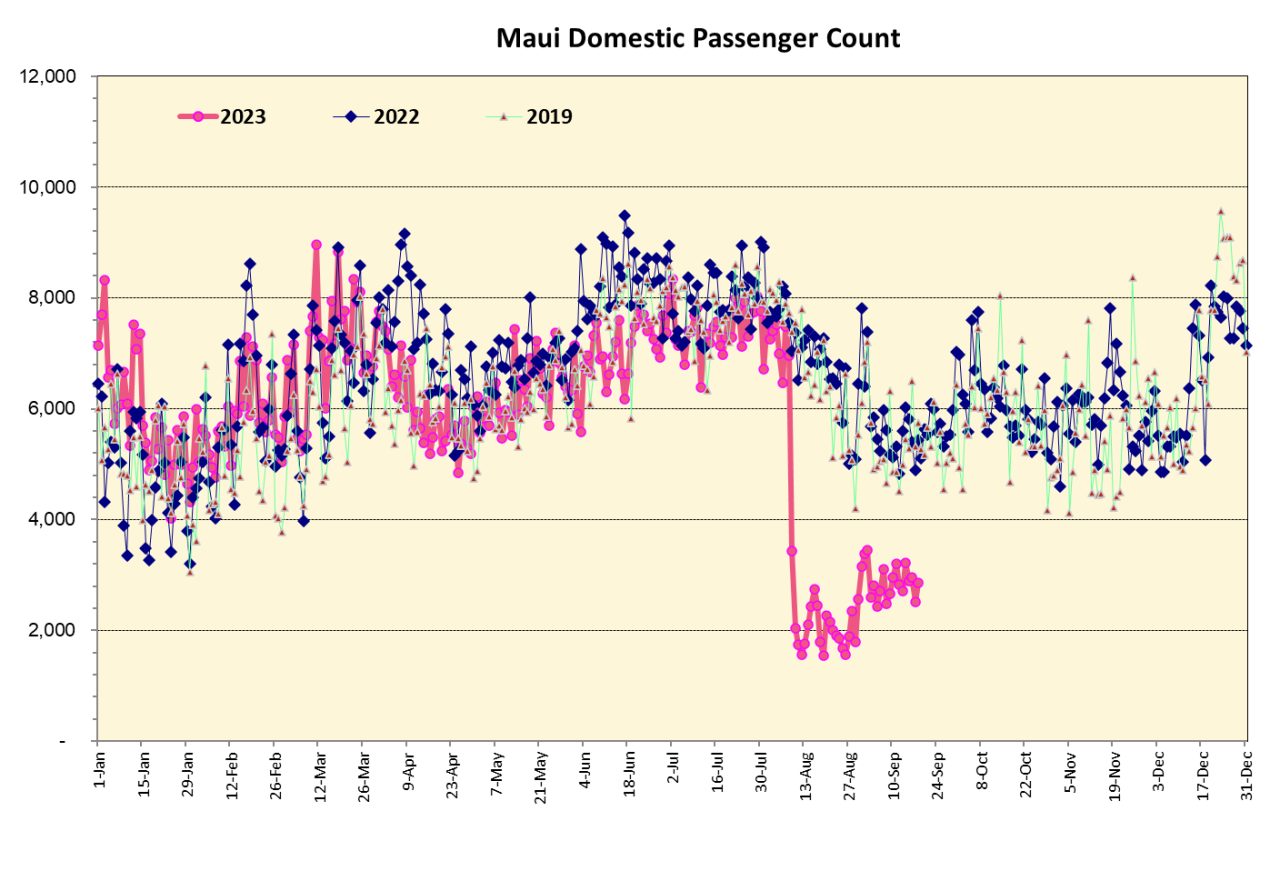 UHERO said, "By the end of this year, Maui visitor arrivals are expected to reach more than 50% of their 2022 level, rising to 80% by the end of 2024.
The beginnings of Maui tourism's recovery.
UHERO said albeit slow, a recovery is beginning, although from what we see, it isn't yet significant. Instead, visitor arrivals, for example, started to recover and then have largely stalled out, at least for now.
Headwinds are multi-faceted on Maui and also in Hawaii.
UHERO notes reluctance among visitors to Hawaii, which we confirm. Visitors to all the islands, especially Maui, remain to some degree uncertain about how well they will be received, among other issues. That is largely given outspoken social media posts by some in the islands. Add to that the exorbitant costs of Hawaii vacations. Those include, first and foremost, the cost of accommodations, plus fees, taxes, and all other expenses.
Starting in 2024, on Maui, "Gains will be gradual."
UHERO said that trouble on Maui will continue due to the issues post-fire, including temporary housing requirements and a persistent reluctance of visitors to return to Maui travel. "Tourism businesses will remain under considerable economic pressure," said UHERO.
A complete recovery will not be reached within this (multi-year) forecast period."
Unemployment on Maui will rise to more than 11% in the fourth quarter and that problem, according to UHERO, will be slow to recover.
Spillover effect on the rest of Hawaii tourism.
UHERO said, "Because Maui represents a significant share of Hawaiʻi tourism, aggregate visitor industry measures will, of course, fall." Furthermore, they acknowledge what we all know, which is that multiple "Conditions that underpin Hawaii tourism remain unsettled."
The state hypothesizes that "some would-be Maui visitors will substitute a vacation on another island, predominantly Kauai and the Big Island." That would help mitigate some of the state's overall financial hit.
We are not convinced that's the case, however. Regular visitors to Maui have a distinct preference for that island, and the Big Island and Kauai are very different in nature, especially in their minds.
Tax revenues will dip despite the upcoming Maui tax surcharge.
Starting January 1, 2024, Maui will implement an additional .5% GET (sales) tax surcharge. Visitors and residents will all pay that on everything from groceries to accommodations.
An inadvertent typo incorrectly reflected the GET tax surcharge amount, which was corrected.
23Q3_Forecast