An unmarked fountain on the quieter side of Waikiki across from Kapiolani Park caught our attention and spawned an article about a unique neighborhood. Located in the center of a roundabout, in the shadow of Diamond Head, on Kalakaua Avenue, it seems an unusual place to find a fountain, for starters.
There had to be a story here, so we did some research. We found that if the attack on Pearl Harbor had never happened, the story of where this fountain is could have ended differently.
Twenty-five years before the bombing of Pearl Harbor, another fountain was placed here to mark the importance of the Japanese people to Hawaii. That was back in 1919. What happened next and the fountain you see now is a part of Waikiki history you may not know.
Phoenix Fountain came first but was later destroyed after Pearl Harbor.
Dedicated in 1919 to commemorate the coronation of Emperor Yoshito of Japan, it was a replica of a fountain at Hibiya Park in Tokyo. The Japanese people of Hawaii gifted the Phoenix fountain. Had the bombing of Pearl Harbor and WWII not happened, it might still be there. By 1943, the fountain was destroyed, and a simpler one was built. But that fountain did not last either. A grander fountain came next.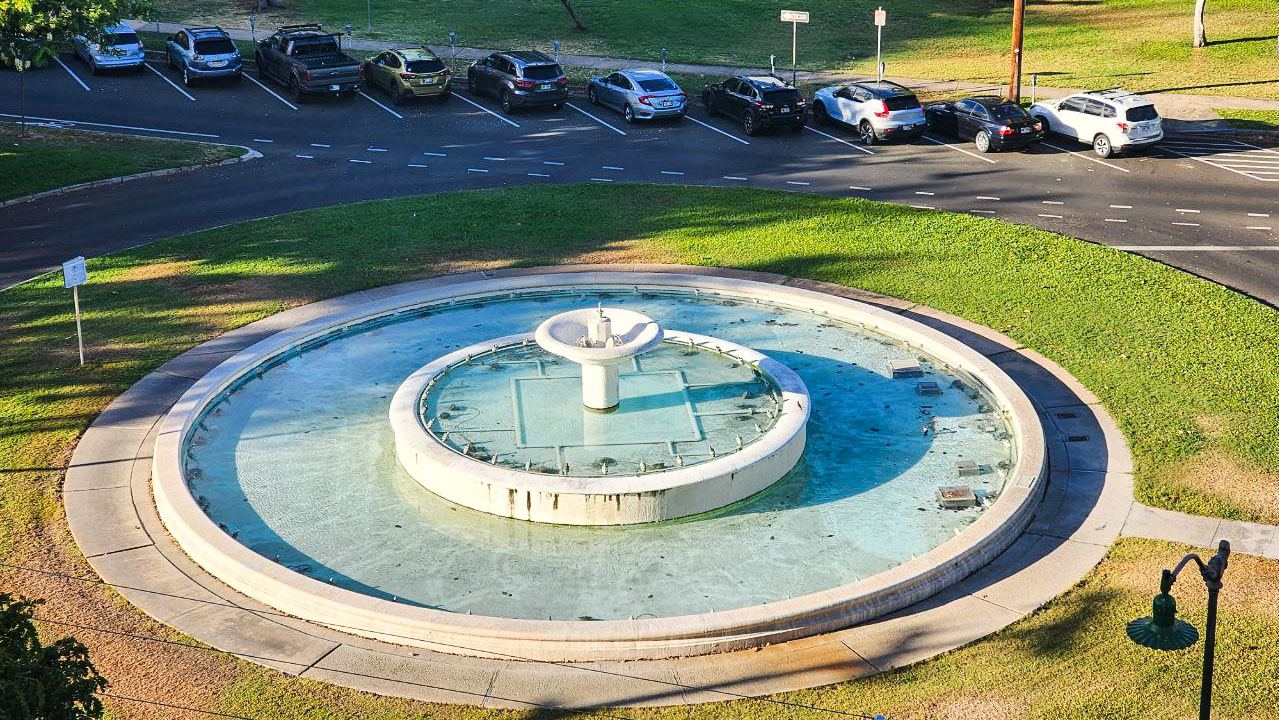 Dillingham Fountain took its spot on the site in 1967.
Now 56 years later, the Dillingham Fountain is the longest to remain on this spot that was to be a "testimonial of friendship and equality of the Japanese residing in the Hawaiian Islands." The current fountain has no plaque or historical marker of the history here.
Instead of trying to reconstruct the original fountain as a sign of goodwill, a new fountain was built. It cost $60,000, and the money was raised by private donations to honor the memory of Lousie Dillingham, who was very active in the Honolulu community.
Lousie was married to Walter, the son of Benjamin Dillingham, who owned sugar plantations. Walter was the founder of Hawaiian Dredging and was behind many of the shoreline modifications in the 19th and 20th centuries. He was also well known for dredging the Ala Wai Canal.
Dillingham Fountain is active every day at 6:00 p.m.
It initially seems odd to see a fountain here until you know its history. Some of you may have seen the fountain, too, on the older Hawaii Five-0 and Magnum P.I. shows. Because of water conservation, the Dillingham fountain only comes to life daily at 6:00 p.m. with Diamond Head standing guard in the distance.
Things To Do Near Dillingham Fountain
It's worth a visit and a great escape from busy Waikiki. On the way there on Kalakaua Avenue, you'll walk past the Waikiki Aquarium, followed by Kaimana Beach, a favorite of ours, just beyond the Waikiki Natatorium. If you decide to go into the ocean at Kaimana, you can swim out to a buoy and back. Just stay in the channel, or you'll find yourself on coral. Dry off, then continue your walk towards Diamond Head.
After you pass the famous Outrigger Canoe Club, where Duke Kahanamoku was a member, you'll see the fountain ahead of you. There's no need to turn back once you reach it. The historic neighborhood ahead on Diamond Head Road and Kalakaua Avenueis a treat to walk through and will lead to an oceanfront walk and more beach areas.
Don't feel like walking? You can also drive to the fountain and park close to it for 25 cents per half hour between 10:00 a.m. and 6:00 pm. (currently coin meters only). If you arrive at 6:00 p.m. or later, there's no charge, and you'll see water in the fountain.