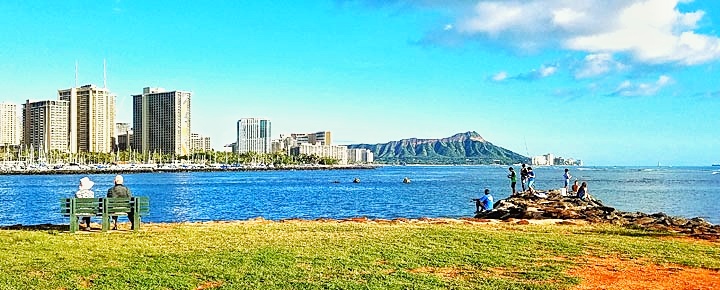 Here is a novel concept during this novel virus pandemic to bring you to Hawaii with free* airfare. It's a new organization called Movers and Shakas, that is sponsored by the State of Hawaii and local businesses. To qualify you will need to be employed full-time on the mainland and be able to work remotely from Hawaii. In exchange for the free airfare and discounts on accommodations and more, you are asked to contribute your skills and knowledge to the local community during your stay of at least 30 days.
*Update: While many news outlets have reported free airfare as the Washington Post did, the Movers and Shakas website shows that the airfare is discounted and not free. 
If this sounds good, read on for more details and go to the online application. There will be 50 people chosen in the first cohort and currently, only Oahu is participating. You must apply by December 15, 2020. Your spouse can join you and your children. By coming here you will also be helping the local economy during the downturn in tourism.
As COVID has created the new norm of working remotely for so many, the group is looking to draw "World-class talent" to complement that which is already in Hawaii. By doing so, the company aspires to incent "both new and returning talent to build a better Hawaii." You'll be able to leave a footprint on Hawaii by sharing your expertise while you are here.
While this all sounds good, there are currently only two non-profit organizations participating in the business matching program. They are the Girl Scouts of Hawaii and KUPU Hawaii. Specific flight and hotel deals have not been announced although the participating hotels are listed. This is obviously an interesting work in process.
How the program works.
The all-volunteer organization will handpick people in order to "earn a free flight to Hawaii and perks, and will also give back to our islands through community-building activities." In return, those selected must remain in Hawaii for a minimum of one month. If you are selected you must start the program within 30 days of acceptance.
Free (or discounted) transportation is provided, and those selected will also be able to obtain discounts on accommodations, have access to working space, and will participate in community activities.
The criteria for being selected is not yet finalized. Each application is reviewed and video interviews are part of the final process.
Thus far, it is believed that nearly 1,000 people have submitted applications. Of those, however, just 50 will be selected initially.
Disclosure: We receive a small commission on purchases from some of the links on Beat of Hawaii. These links cost you nothing and provide income necessary to offer our website to you. Mahalo! Privacy Policy and Disclosures.