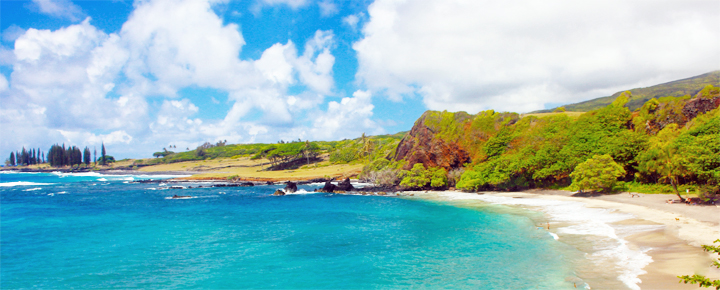 It might be early for New Year resolutions, but our crystal ball is already becoming quite clear. And even better news is that you won't need to wait until the end of 2017 as these deals should start even sooner. Sign up for our free email updates, as you'll hear about these here first.
Beat of Hawaii has been talking about 2018 Hawaii airfare deals and what is about to happen for a very long time. In recent months many other media outlets have joined that conversation. You've probably seen other headlines saying that Hawaii airfare deals are going to be the cheapest ever. That's exactly what we've been saying would happen for years. Following are more specific predictions of what you can expect and why you definitely want to come to Hawaii in 2018!
A huge paradigm shift is underway.
It comes as a result of a shakeup in competition as new airplane fleets arrive on our Hawaii shores. First and foremost, Hawaiian Airlines is about to begin delivery of 18 Airbus A321neo planes. That starts in just a few months and three new routes on these planes have already been announced. The new planes allow Hawaiian to compete head on with Alaska Airlines, United Airlines and others on many routes for the first time. The other airlines already use efficient, narrow body aircraft for all but the heaviest traveled routes to Honolulu and Maui. Hawaiian has not had similar planes until now. The new Hawaiian fleet will replace both the legacy wide-body Boeing 767 aircraft and the current generation wide-body A330 planes on these "thin" routes.
Southwest Airlines is also re-fleeting with 737MAX beginning this year, which will be followed by the Alaska Airlines 737MAX fleet, arriving starting early in 2018.
Prediction 1: Hawaii airfare deals in the $200's round trip to four islands.
We expect to see airfares at or near all-time lows. $149 or less each way is the number we're predicting will prevail in key markets. Cities with heavily discounted fares could include the entire west coast from San Diego, Los Angeles, and Bay area airports, to Portland and Seattle in the Pacific Northwest. There should be sales to all islands, as this re-fleeting in many ways benefits the neighbor islands more than Honolulu. On the other side of the country we expect an easing of fares. Thus east coast to Hawaii could be down in the $600's. We also anticipate some routes will not be served daily by Hawaiian, but rather will use a model similar to Alaska, wherein certain Hawaii flights only operate 3 to 4 days each week. Hawaiian currently operates their JFK nonstop four days a week.
Prediction 2: New Hawaii routes coming in 2018.
West coast. A wide range of new routes is possible from Hawaiian Airlines, as well as from Alaska, United and others. New routes on Hawaiian Airlines will include flights from the Pacific Northwest, Western Canada, Bay Area, Southern California, Las Vegas, and Phoenix, to name a few.
Further east. There is the likelihood of new flights from Denver, Salt Lake City, Albuquerque and/or Dallas. Chicago is always talked about as a future route for Hawaiian.
East coast. By removing the need for wide-body planes on the west coast, there are more planes to consider additional flights to the east coast. New York was a very challenging route to crack for Hawaiian, however, so we'll see if they make a run for any of these.
International. The A321neo fleet will surely replace the A330 wide-body on flights between Tahiti and Hawaii. We won't be surprised to see some new international routes as well, including someone finally flying between Hawaii and UK/Europe nonstop.
Prediction 3: Southwest Hawaii flights will be announced.
Remember that that Southwest CEO was recently quoted as saying "We're deciding what our plans are for 2018 and Hawaii is important to us." 
That pretty much sums it up for Southwest. It certainly won't be the best time for them to enter the market, as ticket prices will already be facing downward pressure due to re-fleeting based competition at the other carriers. But that's what they've said, and Southwest can certainly afford to jump in. We're looking for flights from the Bay Area and Southern California to start.
Prediction 4: Food will be complimentary on all flights to Hawaii.
Hawaiian has always included free meals. Delta recently starting returning to complimentary meals in coach. We expect to see United and American do the same, at least on flights to Hawaii. We'll keep packing our own food, but that's another story.
Prediction 5: We'll still be waiting for WiFi on-board.
While Hawaiian announced a new Panasonic based streaming entertainment system for their new fleet, there was no mention of WiFi. That means that it won't be happening, at least for now. Other carriers however are starting to add WiFI to Hawaii, most notably United Airlines.