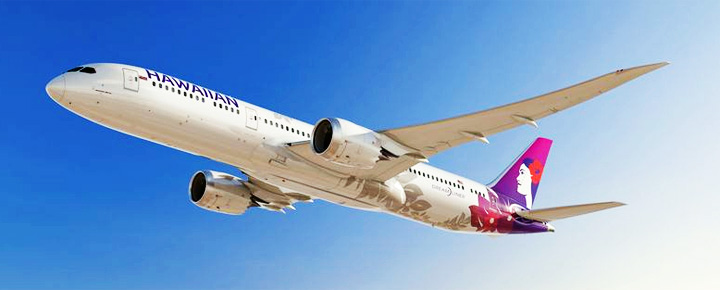 Hawaiian Airlines announced that it has agreed to purchase a new fleet of long-range Boeing 787-9 Dreamliner. This plane will become the Hawaiian Airlines flagship. The company executed a letter of intent with additional purchase rights for up to 10 more planes, creating a potential new fleet of 20 787 Dreamliner! This follows our early rumor from February 21, that this purchase would be upcoming.
Delivery of Beat of Hawaii's favorite long-range aircraft will begin in early 2021. We love Dreamliner for the spacious feel, larger electronic control windows, lower altitude pressurization and much more.
Theses planes also bring Europe, Southeast Asia, and Western Australia into range to and from Hawaii for the first time.
"The Dreamliner combines excellent comfort for our guests with fantastic operational performance and will allow us to continue modernizing our fleet into the next decade. It has more seating capacity than Hawaiian's current wide-body fleet, which will allow us to further build upon our successful growth in Asia." — Peter Ingram, Hawaiian Airlines President/CEO.
These planes will be in addition to the current Hawaiian Airlines fleet of 54 aircraft. Those include 24 Airbus A330-200, 8 Boeing 767, 2 Airbus A321neo (with 14 more on the way) and 20 Boeing 717 aircraft. This order is totally unrelated to the 16 plane narrow-body Airbus A321neo Hawaiian Airlines fleet which is currently in delivery. The Dreamliner provides Hawaiian with future flexibility it sought in determining an optimal fleet mix.
"We were in the enviable position of choosing between two outstanding models for our flagship aircraft of the future and I couldn't be more excited about the prospect of adding the Dreamliner to Hawaiian's fleet." — Peter Ingram.
The company also said it anticipates finalizing purchase agreements with Boeing and GE (for the engines) shortly. Hawaiian Airlines will also need to begin the process of negotiating the new planes into the flight attendant and pilot contracts. Those are required prior to final approval.
The Boeing 787 Dreamliner is a wide body, long-haul, twin-engine plane, which is ultra light in construction since 80% of the plane is composite rather than metal. It also has all LED lighting and far larger windows than on any other aircraft. The plane can be equipped with up to 290 seats, although Hawaiian's configuration isn't yet known. It is also capable of flying up to 7,635 nautical miles. As a point of reference, London is 6,289 natical miles from Honolulu.
Boeing has already added Hawaiian Airlines to its list of 787 Dreamliner customers.
Disclosure: We receive a small commission on purchases from some of the links on Beat of Hawaii. These links cost you nothing and provide income necessary to offer our website to you. Mahalo! Privacy Policy and Disclosures.