Here's good news for those waiting for the next generation of widebody planes from bellwether Hawaiian Airlines. We are among those looking forward to this flight. Augmenting Hawaiian's already nearly decade-old fleet of 24 A330-200 planes, the planes will add a new level of comfort and luxury, better fuel economy, and the potential for longer distance flights. Not to mention blazing-fast, free Starlink satellite WiFi.
It was 2018 when Hawaiian surprised everyone with this non-Airbus long-distance fleet addition. They announced the arrival of the first planes would take place early in this decade. Then the world went upside down, including aviation manufacturing. Following two deadly Boeing 737 Max crashes, the FAA began to pull back on Boeing aircraft certifications, including that of the 787. Furthermore, production flaws were discovered on the Dreamliner that potentially impacted 1,000 planes. That has led to multiple delays in deliveries that are now expected to end this week.
Hawaiian has firm orders for 10 planes with flatbeds and the purchase rights for 10 more. Earlier this year, company CEO Peter Ingram said, "Our two 787s that were scheduled to be delivered in 2022 are delayed and we now expect to receive them no earlier than the first half of 2023."
Beat of Hawaii: One plane, pictured above at the Boeing plant in South Carolina, appears to have already flown and should be available for delivery sooner than later. We don't know when subsequent aircraft might be delivered or how Hawaiian will deploy a more limited fleet than they'd envisioned.
Here's why Hawaiian Airlines' Dreamliner is a big deal.
The new Boeing Dreamliner offers significantly greater fuel efficiency and range. This new product is intended to be an addition to the existing A330 widebody fleet on long-haul routes, including those premium markets in the US, such as New York, and international destinations, like Sydney, Australia. It isn't clear whether dense west coast markets such as San Francisco and Los Angeles could also be added to the company's plans for the Dreamliner.
Previously, Ingram said of the new Boeing two-aisle jets, "the 787 remains the most advanced generation of new aircraft, incredibly fuel-efficient and environmentally efficient, and it is destined to be the flagship of our network. We are still very excited to get it." Hawaiian COO Jon Snook said this is the plane for Japan, Australia, and New York.
Could this open a new Europe-to-Hawaii route as well?
The company has repeatedly expressed interest in Southeast Asia routes, including Singapore. Dreamliner will also be used for domestic premium markets, with JFK being a certainty.
We have thought for years that Hawaiian will use this ideal aircraft to enter and succeed in a new Europe-to-Hawaii market via London. The airline said, however, that it was not on their immediate wish list of markets. The 787-9 variant, which Hawaiian will receive, can range up to 7,635 miles from Hawaii. On the Dreamliner, you can expect these new routes to bring flight times up to about 14+ hours.
Honestly, 14 hours is manageable on that plane, and on the even longer range, Airbus A350-900 used by other carriers. You may recall that Hawaiian was heading towards a acquisition of (shorter range) Airbus A350-800 then A330neo planes before dropping those and entering their surprise Dreamliner agreement.  
Hawaiian Airlines will offer a more luxurious, premium configuration for Hawaii visitors.
Hawaiian is betting on the importance of premium cabins in the carrier's leisure markets to the Hawaiian islands. This is a dramatic change to their prior philosophy, which saw far less importance in premium offerings, and is a commitment to Hawaii's new luxury visitor paradigm. You may recall that when Hawaiian deployed their lie-flat seating on the current A330 fleet, they did not provide aisle access from every seat, as was becoming standard in the industry at that time.
The Dreamliner, first introduced by former CEO Mark Dunkerley, will launch Hawaiian's new premium lie-flat business class private pod/suite. It was designed by Adient Aerospace, a joint venture part-owned by Boeing. Hawaiian was to be the launch customer in the marketplace for these new Adient business class suites, vastly different from the comfortable yet more basic lay-flat product that Hawaiian offers on the Airbus A330s.
Cabana suites for two are on tap.
These follow a new industry-wide trending feature of a "cabana suite" wherein the two center seats can be joined as one for a meal or a movie and is ideal for honeymoons. Qatar Airways recently introduced these on their Dreamliners in business class (pictured below).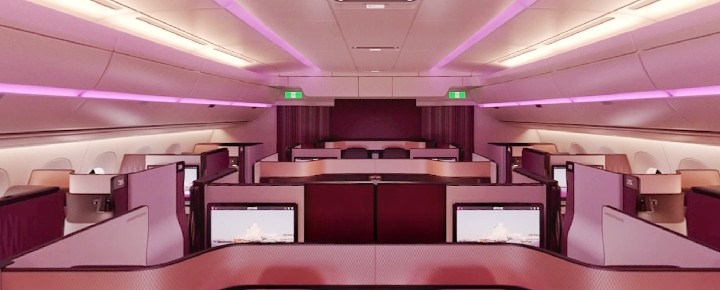 Economy seating (the same used in both regular and premium economy) will be by Ascent, with the significant differences being extra legroom and an amenity kit. Details to be announced. Many US airlines don't sell a true and separate premium economy to Hawaii, although that is becoming more popular and could later be retrofitted to the Dreamliner fleet.
Our take on the 787 Dreamliner.
We both enjoy the Dreamliner on long-haul flights for its pleasant and spacious feeling cabin, larger but awkward electronic shade control windows, lower altitude pressurization, and general widebody comfort. From a business perspective, it allows Hawaiian a competitive upgrade relative to international competitors, including United Airlines, Qantas, JAL, and Nippon Airways.
See details of the new Hawaiian Airlines Dreamliner interior here.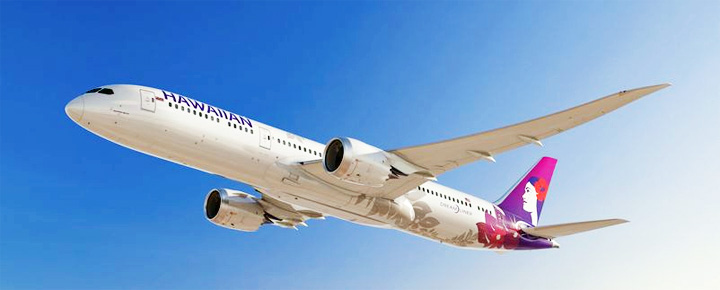 Are you looking forward to the arrival of the new Dreamliner fleet?
Photo Credit: Jetphotos. Hawaiian Airlines Dreamliner test flight at North Charleston, South Carolina.