Competition continues to heat up on Hawaii flights as American, Hawaiian, and United all focus more on premium cabins consistent with the current Hawaii travel environment. Last week Hawaiian Airlines revealed how their Dreamliner fleet will look. The first plane is on-schedule to arrive this year and enter service by early in 2024. We won't have long to wait, and Beat of Hawaii will be traveling on and independently reviewing the Dreamliner as soon as it starts flying.
Let's start with what we like before devolving into the things that didn't turn out quite in the way we had hoped.
An elegant new 787 Dreamliner flagship for Hawaiian.
There are no two ways about it; this will be a massive uplift for the Hawaii bellwether carrier. Following eight years with its current premium cabin on the 10-year-old A330 fleet, a change was needed to come current with other airlines. Everything looks new and spiffy, and the Dreamliner is a comfortable plane on which to fly long distances, as is intended for this new fleet.
Starting from the back of the plane and moving forward, here's how each of the service offerings looks to be panning out.
Hawaiian Airlines Dreamliner vs. current A330-200 widebody.
Contrasting the new and current widebody fleets, there are substantial differences no matter which class of service you fly in. From a customer standpoint, the Dreamliner will feature larger windows, electronically controllable by guests and crew, better and more exciting cabin lighting, and a lower altitude environment. The internal cabin pressure on the Dreamliner is equivalent to 6,000 ft., which offers significant improvement in passenger comfort.
The new Dreamliner variant that Hawaiian is receiving has been in service for almost 9-years since the product launch with airline partner ANA. By comparison, the A330-200 typeHawaiian flies have been in service for over twenty-five years.
The Dreamliners are renowned for long-distance routes, and it does make possible nonstop flights to Southeast Asia, and London, among other places. Some of the biggest U.S. Dreamliner customers are United Airlines and American Airlines.
Hawaiian Airlines Dreamliner economy.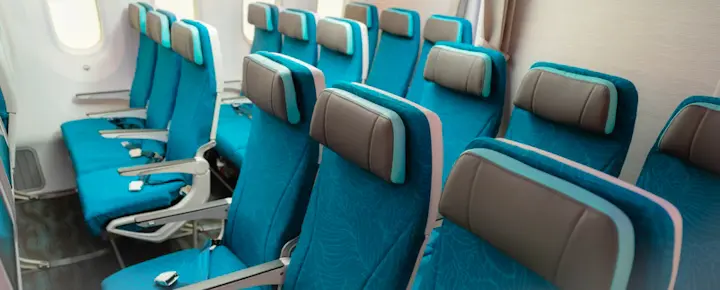 New colors and a cushy headrest are the primary changes evident in the economy section of the Dreamliner. Seating appears otherwise relatively unchanged, and our experience with the comfort of their current economy product is not particularly good. When he flew on the A330 economy product recently, BOH editor Jeff said, "On the negative side is the terrible legroom in economy and the relatively poor value for more legroom in ExtraComfort." Based on news from Hawaiian about the new fleet, we do not expect the comfort or the legroom to increase.
The 266 Collins Aerospace Aspire seats fitted for economy and extra legroom feature "ergonomically contoured back and arm rests. Guests will enjoy a lightweight, modern design that maximizes seat space, offers more shoulder and hip room, and features a 12-inch seatback monitor with USB-A and USB-C charging ports." That is according to Hawaiian.
Hawaiian Airlines Dreamliner extra legroom economy – up to $279 more.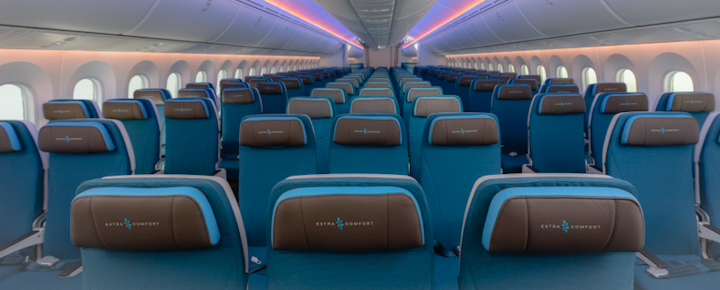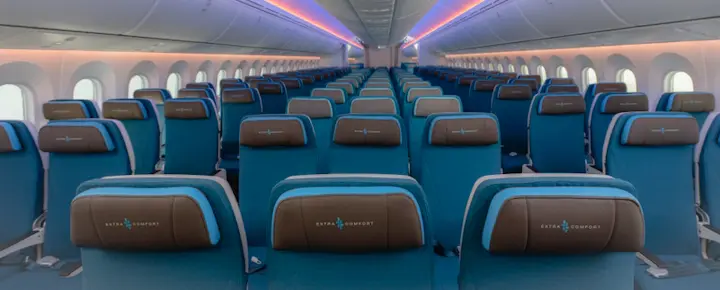 Nothing appears dramatically different in terms of the now 9-year-old extra legroom ("Extra Comfort") product we have become very familiar with. It offers from generous to very generous legroom at a variable cost throughout the plane. Editor Jeff recently flew in the extra legroom product on the A330 and was overall very comfortable. The cost was less satisfying, as he paid an additional $142 over his economy ticket on the flight from Honolulu to Los Angeles.
Remember that the extra legroom product here isn't "premium economy." That means the only extra amenity you'll find, "at least at rollout," is an electric socket. While all the seats have USB power in economy, only the Extra Comfort seats will include 110 power. Describing the difference between economy and extra legroom, Hawaiian said during the announcement, "Seventy-nine Extra Comfort seats offer the added legroom and access to AC outlets.
Don't expect to find any additional offerings or better meals on the Dreamliner at this time. We do still expect some form of premium economy to evolve at Hawaiian Airlines, simply due to industry competitive pressure.
American, Delta and United Airlines offer true premium economy cabins on wide-body flights to and from Hawaii. Those typically include different seats and seating configurations, upgraded meal service, dedicated flight attendants, and more. Beat of Hawaii will be checking out all of the United Airlines' Hawaii products this summer.
Here's what Jeff said previously about the Hawaiian extra legroom product:
"Seating in ExtraComfort can vary from 35-36 inches or even more (compared to 31 inches in regular economy). In row 34, where Jeff sat, the legroom was perhaps close to 72″ due to the flight attendant's jump seat and the emergency exit doors. As a side note, when considering that row, keep in mind it gets very cold. The reason is that the door leaks air, and it is like having freezing cold air conditioning blowing on you throughout the flight. Despite the legroom, the seats feel very narrow."
The cost of the extra legroom varies by seat, flight, and, most importantly, demand. Checking today on the JFK-HNL route operated by the A330 (for July travel), where you will definitely see the Dreamliner, extra legroom will cost from $239 to $279 one-way.
Review Of Hawaiian Airlines Economy + ExtraComfort on A330 Wide-Body.
Hawaiian Airlines Dreamliner business class – up to $4,500+.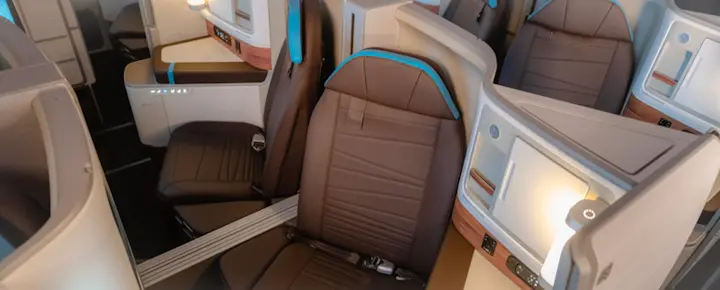 At the expensive front end of the aircraft, there is a large 34 "Leihōkū suite" business section that occupies the aircraft clean up to the second boarding door. That is up from 18 business suites on the A330 aircraft. These are arranged in a 1-2-1 configuration, with every seat having direct aisle access, as is now the industry standard. The current A330 business seats do not have that ability which is cumbersome. As you can see in the photos, the new window seats are angled outwards, and the middle seats face each aisle.
When Hawaiian previewed the Dreamliner business class, we got a very different impression of how that was going to look. Last week we spoke with Avi Mannis, Hawaiian's senior vice president and chief marketing and communications officer, about the Dreamliner. The business seating is from Adient Aerospace, which announced the new product in 2019, and Hawaiian was to be the launch customer for the new company. Ultimately due to delays, Qatar became the launch airline for the product.
What changed with business-class suites, especially for couples?
The "cabana suites," representing the two seats together section in the middle of the cabin, are designed specifically for couples. Hawaiian has touted that, understandably, since Hawaii is such a couples-oriented premium leisure destination. The seats were shown for the first time at the 2019 Aircraft Interiors Expo in Hamburg, Germany.
The first image we received of the suites is below, and it appears to show a double bed, similar to products on airlines such as Qatar and Singapore. When we spoke with Avi about the product, he pointed out that the double comforter in the photo below may have caused our confusion about the very nature of the product. Therefore it wasn't clear that these aren't at all double-bed type suites since the two seats clearly face outward from each other, as you'll see in the second photo.
For one person, however, with the privacy screen raised, it is an excellent single business-class suite. It's interesting to note that this configuration will be identical to the already flying Qatar Airways Dreamliner suites.
Beat of Hawaii will be flying and independently reviewing United Polaris business class this summer.
Original design rendition Hawaiian Airlines business double-suite: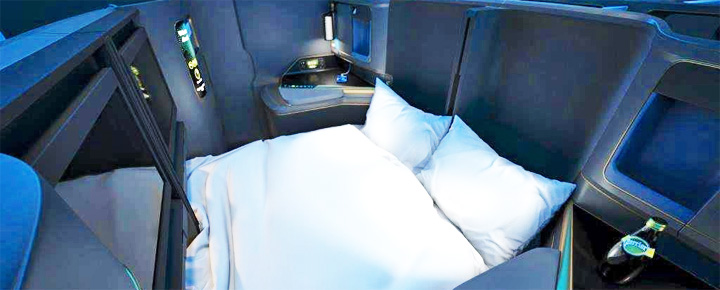 Actual Hawaiian Airlines business double-suite: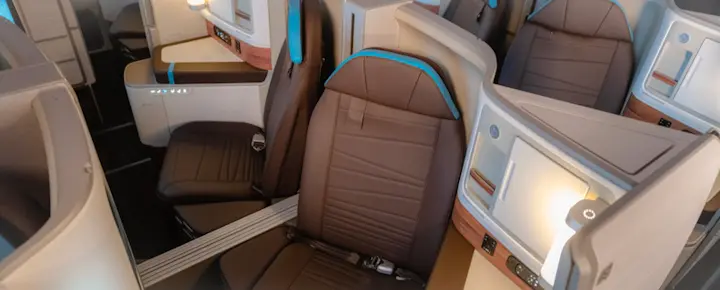 Hawaiian, at the time we first wrote about it, was still developing the precise suite configuration, which may also include doors before it is all done. We should see more images soon.
The new Adient seats replace the controversial Optimare lie-flat first/business seats in the current A330 fleet.  Many have complained about those seats, their comfort, design and layout. Among other concerns, those don't have direct aisle access and are in a sub-optimal 2-2-2 configuration.
Beat of Hawaii on current A330 business.
We said and still affirm, "We have flown on the lie flat A330 seats and enjoyed them thoroughly. While they are now somewhat dated and are in a tight 2/2/2 configuration instead of the Dreamliner 1/2/1, they are still comfortable and even have some advantages over other business-class seats. Specifically, they do not feature the foot cubby-hole jail that has become customary in business."
Hawaiian's promotional video about the Dreamliner:
Additional note on the Hawaiian Dreamliners.
These will not be delivered with Wi-Fi. Those will be retrofitted subsequently, and we'll update you subsequently on that.
What are you looking forward to on the new Hawaiian Airlines Dreamliners?