Beat of Hawaii is continuing to bring you more Hawaii flight reviews from our unique Hawaii-based perspective. Today we're reviewing Hawaiian Airlines' economy and ExtraComfort offerings. This was our outbound flight from Hawaii to Los Angeles. On the return flight, we authored a Hawaiian Airlines First Class Lie-Flat Review, which has already proven to be one of our most popular articles and has already been seen more than 100k times with many interesting comments.
By introduction, the Beat of Hawaii team, and editor Jeff, in particular, has flown on Hawaiian Airlines hundreds of times over decades. Many of those flights were onboard this same A330 aircraft in all classes (economy, ExtraComfort, and business/first). What's different is that we're reviewing airlines that fly to and from Hawaii, and so we approached these Hawaiian Airlines flight reviews, the recent Alaska Airlines review, and our Southwest Airlines review with a more critical eye.
Beat of Hawaii paid in full for this trip, and Hawaiian Airlines was unaware that we would be onboard. Yes, Hawaiian could have looked him up by name, but honestly, they couldn't have changed the flight's overall service. The flight cost from Lihue to Los Angeles via Honolulu was $310. Jeff also purchased an ExtraComfort seat upgrade for a jaw-dropping additional $142, which you'll read more about below. The total amount we paid was $452, one-way.
What worked and what didn't on Hawaiian Airlines' economy and ExtraComfort.
On the negative side is the terrible legroom in economy and the relatively poor value for more legroom in ExtraComfort. Add to that the "food," which has been going downhill for a long time but has achieved new lows.
On the plus side, we still love the aging A330 fleet for its spacious, clean, modern, and oversized feel. The Hawaiian Airlines product is very consistent, and they've done an excellent job of delivering that in a truly unique way. There's no doubt that there is a "Hawaii" feel to flying with the airlines that no one else can offer.
The airline is known for superb on-time performance, and they did not disappoint. If we ignore the cost of the extra legroom of ExtraComfort, it makes the flight infinitely more enjoyable. Seat-back entertainment is a nice touch, too that's been disappearing from most new planes.
Why Economy and ExtraComfort reviews are combined.
Jeff originally intended to fly regular economy and not review the ExtraComfort product on this flight. Unfortunately, the flight he booked was almost entirely full, and the only seat available to him was a middle seat in the 4-across center section. Having been tormented for many hours previously in middle seats on multiple airlines, Jeff didn't want to experience that again.
For that reason, Jeff purchased a costly ExtraComfort upgrade to his economy ticket, which will now be part of this review. That's the most he's ever paid for ExtraComfort. He also was able to move to a regular economy seat later in the flight, so he actually "killed two birds with one stone." As a result, you're getting reviews for both Hawaiian's regular economy and ExtraComfort products. It was a fascinating contrast for us here, and we hope it will be for you as well.
Cost: Economy 10/10.
We won't fault Hawaiian for the cost much here. We paid more because we booked the trip just a couple of days before flying. If we had planned a little further ahead, the $310 fare could have instead been just $129.
Cost: ExtraComfort 7/10.
Despite the excellent legroom it provided, we couldn't get a good feeling about the value offered for the ExtraComfort seat price. Some additional offerings, perhaps upgraded food, a checked bag, blanket (Jeff froze), amenity kit, or something else, might have tipped the scale regarding the perceived value we received. When Jeff spoke with his seatmate, who had also paid the extra $142, they shared the same feelings.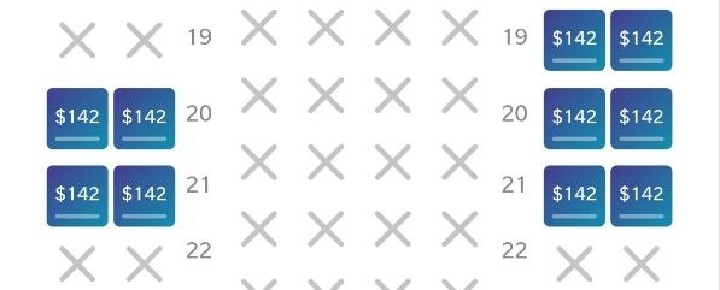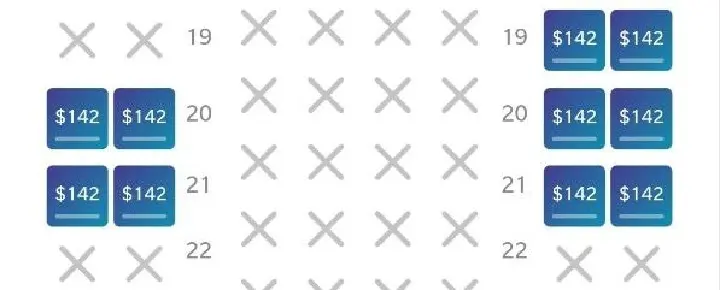 Jeff is not proud of paying that $142, but in the end, it was far more comfortable and less stressful for him at 6′ tall. That ExtraComfort seat more than doubled the typical flight cost. Besides the legroom, ExtraComfort doesn't come with anything other than early boarding and a 110-outlet. One thing worth noting is that Hawaiian has spread the ExtraComfort seats around the plane, making it more challenging to provide a differentiated soft product. Hard product, for those who don't know, is the physical and fixed aspects of what is being offered, whereas soft product relates more to the service elements.
Customer service: 7/10.
Due to an error we made in booking his flight, Jeff inadvertently ended up with one of the flights being reserved for the wrong day. Our bad. Changing the reservation with Hawaiian Airlines required a call to their Philippine-based call center, even though the reservation was clearly cancelable within 24 hours of booking. It is not possible to cancel online.
While the process was reasonably easy once we got someone on the phone, it frankly isn't appropriate to require a phone call in 2022. Furthermore, using low-paid foreign call center employees receives a very low score in our opinion compared with Alaska, Southwest, and others, who answer the phone with airline employees based in the US. In countless comments, BOH visitors have also complained about this.
Check-in: 9/10.
The online check-in process was easy, and Jeff was checked in within one minute. Changes in seats once selected, and bag checking didn't seem intuitive, but that may just have been us. These were found after check-in was completed.
No problem either when checking in at the airport. The kiosk-based service was easy to use. The only thing Jeff couldn't figure out was how to attach his printed baggage check to his luggage. There was someone there to help.
Checked baggage. As a Hawaiian credit card holder, Jeff was entitled to one free bag, which he brought for overnight shopping in California. Otherwise, the cost of his checked bag, even after the $142 seat, would have been an additional $35.
Boarding: 10/10.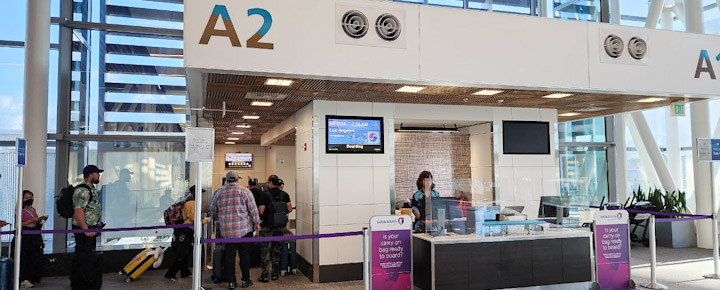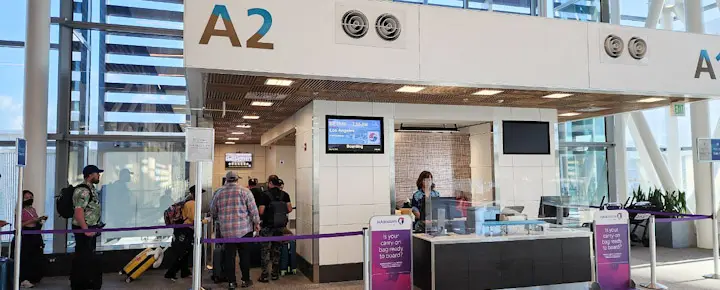 We will skip the Lihue boarding as being largely irrelevant to this review and only address boarding in Honolulu. Because Jeff was getting onto the LA-bound flight from the Lihue flight, which was late due to an inoperative jet bridge at HNL, he arrived at the gate well after his premium boarding group had been called.
Since we'd paid a whopping $142 more for Jeff's ExtraComfort seat, he approached the gate podium and mentioned that he had missed his boarding zone due to his flight's late arrival. He was allowed to enter without going to the back of the line. Nice service touch.
On-time Performance: 10/10.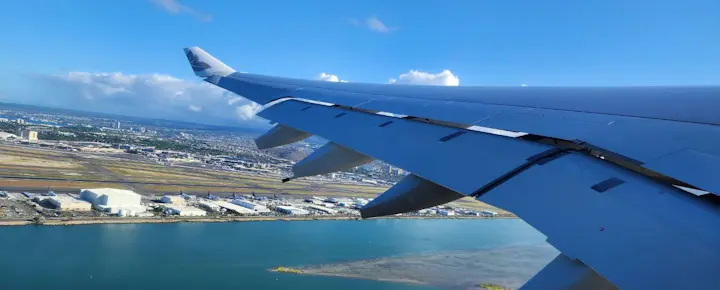 Everything went exactly as scheduled, which is what we expect from Hawaiian. Boarding started about 30 minutes before flight time. The boarding door was closed 5 minutes beforehand, and the flight departed the gate precisely on time. After a 10-minute taxi out to the Reef runway, the plane was airborne.
Food and beverage: 2/10.
Carts were in the aisles within 15 minutes of departure. The first offering is their Pau Hana "purchase-only" snack cart. It had a variety of unhealthy chips and similar options and the infamous Mananalu Pure Water by Jason Momoa for sale. A complimentary beverage service followed that.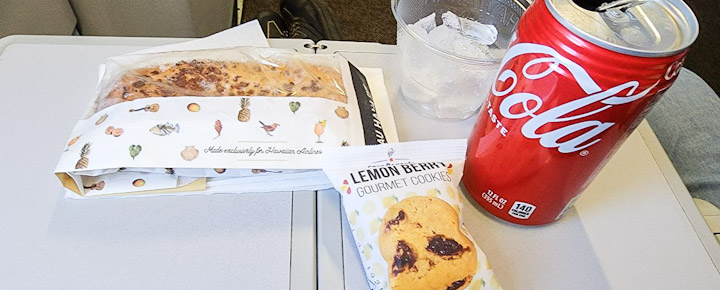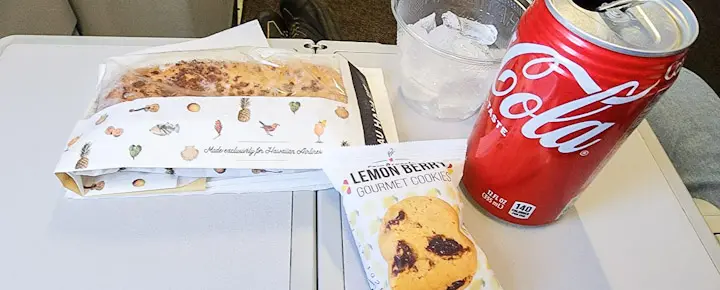 "Meals" would be an overly generous term to describe the economy/ExtraComfort food offerings regarding nutrition, aesthetics, and dietary choice. Given that Hawaiian considers itself to be a full-service airline and promotes "meals" as a fundamental aspect of its service offerings, we would rate the food inferior to Southwest, which doesn't pretend to offer anything more than its own relatively unconscious snack pack.
Read: Classless Southwest Hawaii Review SJC to LIH: Quirky, Unique
Even then, Southwest offered a delicious bespoke cookie and beverage service toward the end of the flight. Hawaiian instead provided a single piece of Hawaiian Host candy one hour before landing, which was the only included offering that spoke "Hawaii" at all.
Furthermore, Hawaiian has no other options for food, so if their mystery "Cheddar Cheese and Chicken Sausage Parmesan" bagel roll (photo below) isn't to your liking, no other food is even available for purchase. Contrast this with full-service Alaska Airlines to Hawaii, which offers a variety of food for sale. To us, Hawaiian Airlines fared much worse.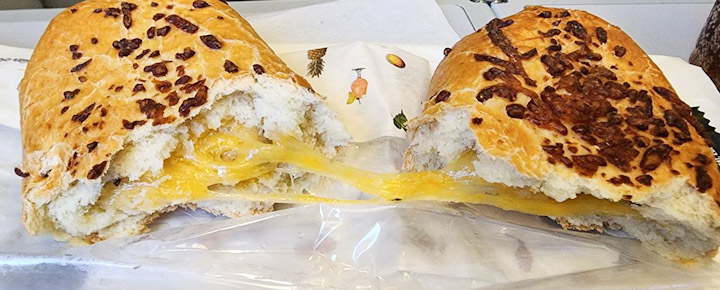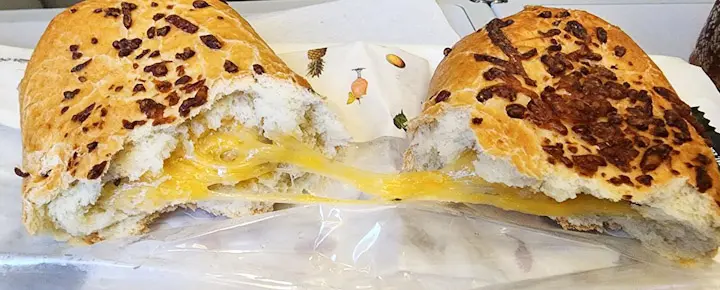 Beverages were offered in full cans, with cups and ice. There was no recycling of the aluminum cans, with everything placed in trash bags, which struck us as odd compared with other airlines. After the beverage service, guests were invited to avail themselves of other beverages by visiting the flight attendants at the rear of the plane.
Aircraft condition: 10/10.
The plane, an Airbus A330-200 widebody with twin aisles and 278 seats, was about nine years old. It is still an elegant plane, feels modern and up to date, and there were no signs of any wear and tear.
Wifi/texting: 0/10.
There is still no WiFi or texting on Hawaiian Airlines. However, they intend to finally have free high-speed satellite WiFi starting in 2023. That will be a vast improvement as they are the only airline flying to Hawaii entirely without connectivity at this time.
Flight attendants: 7/10.
The ratio of flight attendants to passengers in economy was very low, appearing to typically be 3 flight attendants actively working with the 260 passengers. As a result, the interaction is limited. We'd also add that the flight attendants weren't particularly engaged with the passengers, and they didn't stand out in any way.
As an aside, the flight attendants' most popular place on the plane by far was the crew rest area adjacent to Jeff's row 34 seat. With steps downstairs, the area features six cots. Flight attendants reported they could rest for up to 90 minutes on this flight.
Jeff's overall impression of the flight attendants was that they were lackluster. That was interestingly juxtaposed to his experience the following day in first class.
Cockpit crew interaction: 10/10.
There were several well-timed, courteous, and professional announcements from the flight crew.
Seating and comfort (economy): 7/10.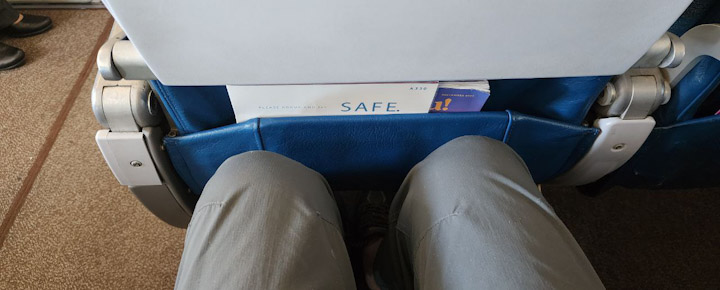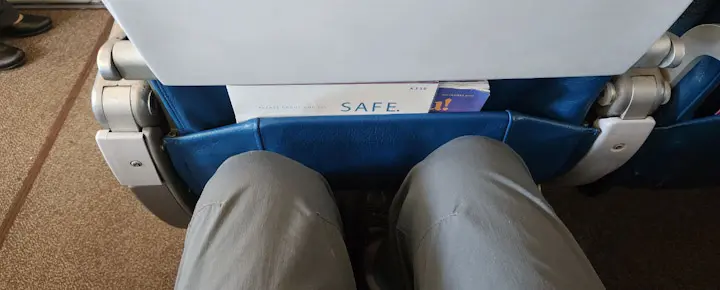 Overall, the spaciousness of the A330 aircraft compared with any B737 plane is profound. Even if the personal space is the same or less than on other aircraft, there's something that just feels so much better about flying on a wide body, especially on long flights across the ocean. It can even make up for the lack of personal space in some ways.
Economy is configured as 2-4-2, which is typical for that plane type. Seats are 18 inches wide and provide a mere 31-inch pitch. That amount of legroom provided in regular economy is noticeably less than Southwest Airlines, which has a 32-inch pitch. Editor Jeff reported that Hawaiian's legroom feels even tighter than the inches indicate. It is simply claustrophobic unless you are an incredibly petite person. As a result, people splay their legs out into the aisle, making getting to the restroom challenging.
Seating and comfort (ExtraComfort): 10/10.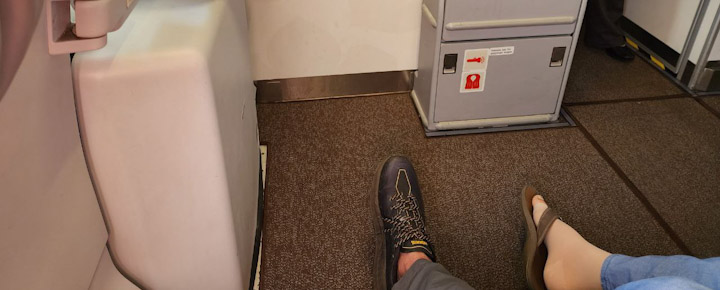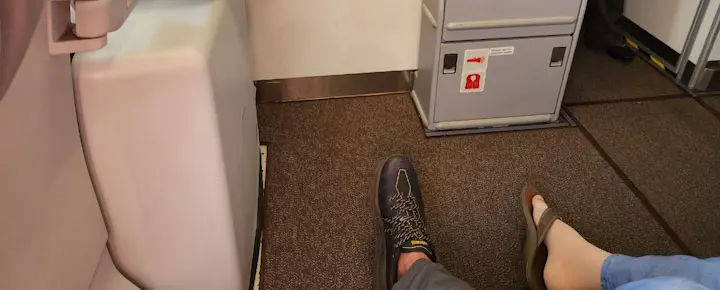 Seating in ExtraComfort can vary from 35-36 inches or even more (compare to 31 inches in regular economy). In row 34, where Jeff sat, the legroom was perhaps close to 72″ due to the flight attendant's jump seat and the emergency exit doors. As a side note, when considering that row, keep in mind it gets very cold. The reason is that the door leaks air, and it is like having freezing cold air conditioning blowing on you throughout the flight.
Despite the legroom, the seats feel very narrow. That is partly due to how A330 planes are configured with 2-4-2 seating. We aren't sure if there's anything different that is even possible.
Hawaiian's ExtraComfort is not an actual "premium economy" product.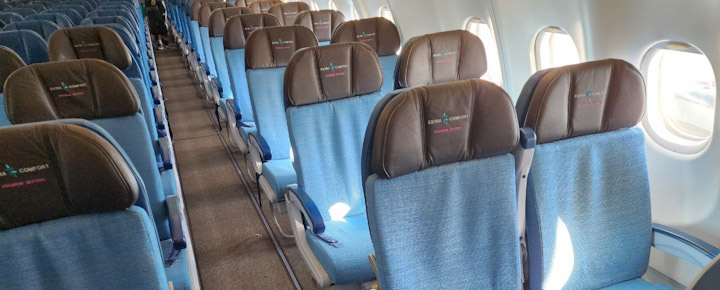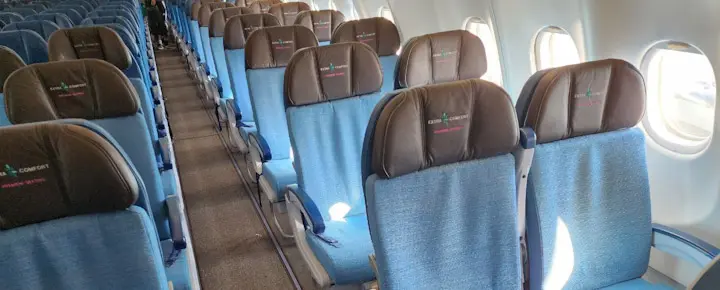 Premium economy is becoming more of a standard offering on full-service airlines. ExtraComfort, however, is merely more legroom and a power outlet, plus early boarding. Having said that, the amount of additional legroom is between very good and extraordinary. But the cost is a significant consideration, and the value proposition in our minds is not great.
By comparison, Delta's Premium Select actual premium economy (which is available to Hawaii on some routes) offers a wider seat, more recline, and an adjustable footrest and leg rest. They also provide an upgraded amenity kit, noise-canceling headsets, a blanket made from recycled materials, and a memory-foam pillow.
Power: AC/USB 9/10.
All guests are provided USB power which is great, except for laptop computers. Only ExtraComfort and first class have AC power.
Entertainment 10/10.
The A330 features seat-back entertainment screens. That's still a nice touch when you tire of using your phone for entertainment, which has become the only option on many planes, including Hawaiian's own narrow-body A321 fleet, on Alaska, Southwest, and others.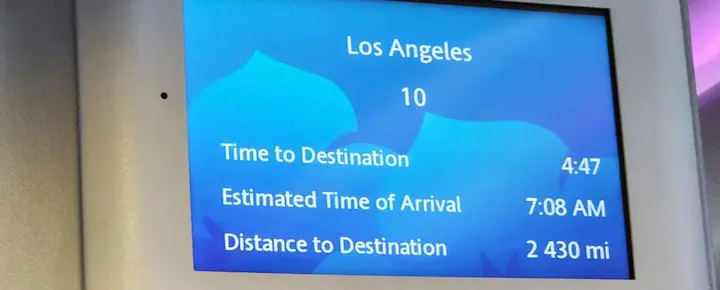 Cabin monitors played flight maps and time to destination throughout the flight. The times were off, however, and it displayed 6 AM In LA when it was actually 3 PM.
Score (economy): 101 out of 130.
Score (ExtraComfort): 101 out of 130.
The differences in score are based on less value in ExtraComfort but more legroom.
What's your take on Hawaiian Airlines' economy or ExtraComfort?