"Hawaiian Airlines puts its stake in the ground and shakes up Hawaii air travel with their new Airbus A321neo." — Beat of Hawaii.
(Just updated with more details on cabin comfort, seat map and entertainment). We were on board the inaugural flight yesterday between Maui and Oakland. Their new plane hits all the high notes, except on food, and will have other carriers running to catch up. Look for new routes coming soon, more competition and better Hawaii travel deals ahead.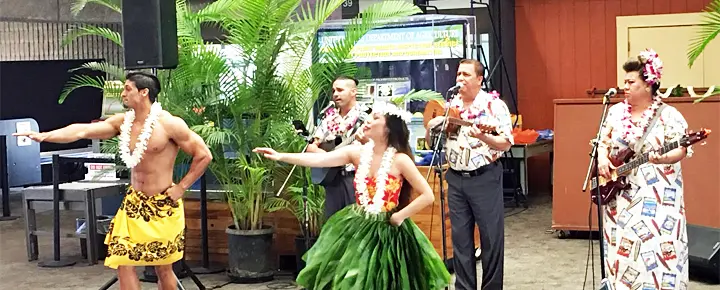 The future has arrived in style with a single aisle plane that is more economical on fuel and can travel nonstop between the mainland and neighbor islands. Here's the inside scoop and our objective opinion after flying Extra Comfort (premium economy) yesterday.
A321neo Seats are Among the Best.
While we didn't fly first class, those 16 seats looked nicer than expected (image below) and modern, with a sleek new hard shell slide forward format. Our economy seats were some of the most comfortable we have ever experienced, albeit narrow. While not thickly padded either, they are well designed and we were never uncomfortable, even after five hours. This is a plus for us because normally we're sore halfway through. Economy seat recline was approximately 3-4 inches and headrests are not adjustable. Standard economy pitch seems similar to what other airlines offer on Hawaii flights.
A321neo Aircraft Interior Showcases a New Look for Hawaiian.
Beautifully styled in earth tones and ocean blues, the interior has an elegant fit and finish. A Hawaii theme is carried throughout the plane in large and small places and signage, both unexpected and not. Updated lighting has modes for boarding, in-flight and arrival, similar to Boeing's Dreamliner.
A321neo Seat Features/Controls are Well Placed.
Individual lighting and air controls are easy to access and use. Pull down trays in addition to built in phone and tablet holders are at each seat to watch movies easily plus have extra storage.
A321neo Overhead Luggage Bins Feature Something New.
Large, recessed luggage bins feature unique mid-height controls. That makes it ideal for shorter people with the pull handle located just part way up instead of near the bin tops.
A321 Extra Comfort (Premium Economy) Great For Long Haul.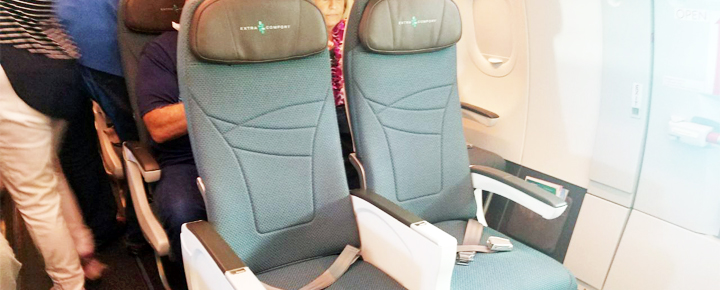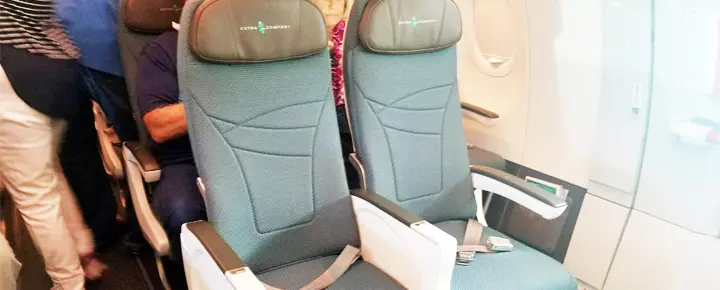 We opted for Extra Comfort seats. That's Hawaiian's version of premium economy, which has an additional cost of $80. While these are the standard economy seats in every other sense, they offer significant additional space, plus some of these seats (8 to be exact) have two across seating. All other rows in the aircraft have three across seats, similar to other narrow body planes. The four pairs of two across Extra Comfort seats are located near the front, at mid-cabin and at the rear.
We can highly recommend these (as we do the two-across Extra Comfort seats on Hawaiian's larger A330). The only drawback we found was that our seats did not have a normal window because they were located at an emergency exit. Speaking of which, you will need to be able to qualify as an emergency exit passenger. There are a total of 45 Extra Comfort seats in addition to 128 economy seats. See the A321 seat map.
Food Needs Rethinking.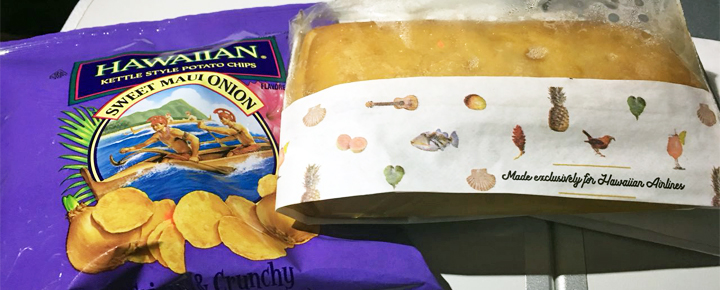 The lunch offered yesterday was a chicken teriyaki sandwich and chips. There are currently no vegetarian options. The sandwich looked unhealthy and was largely bread. A paid snack cart came first, followed by cold drinks and lunch, then hot beverages and small cookie plus water. Flight attendants did a good job hydrating us. Others on board also mentioned their concerns with this new food offering. The "Pau Hana" lunch and dinner services are identical. Breakfast is reported as yoghurt, muffin and grapes. There are no food trays and everything is disposable. We did note recycling.
Hawaiian Airlines was recently ranked poorly for their food by Diet Detective. Unfortunately we also were not impressed by the food, which stood at sharp contrast to the otherwise excellent experience.
Hawaiian Airlines A321neo Entertainment App. Unique to This Plane
This is a new offering only for this aircraft, which does not offer traditional seatback entertainment.
First, you must remember to download this before takeoff, then activate Hawaiian WiFi once on the plane. Signs and announcements so indicated. The entertainment begins once the engines start, so there is no waiting to reach cruising altitude. Nice touch. There was a good selection of movies and audio. In addition there is a flight status tracker where you can see where your plane is, the flight duration, and time remaining.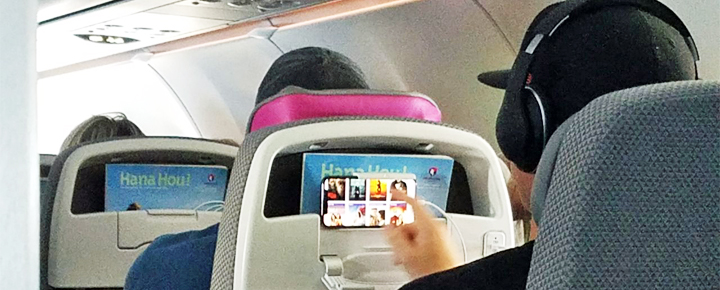 The entertainment is complimentary right now, but there will be a charge later. When paid, the selection might be even better. It looks like the entertainment app may expand further in the future and it has a great deal of potential.
There is still no WiFi on Hawaiian at this time. We hope to see that coming now that these planes have the infrastructure to support it.
A321neo Flight Crew Outstanding.
Our flight attendants were both excellent and helpful. They were out of the ordinary in terms of their cordiality. We felt most welcomed with aloha spirit that created the experience of Hawaii better than anyone else can do. Kudos to Hawaiian Air in this regard.
Noise in Cabin was Average.
It has been reported that the A321neo is up to 40% quieter than other aircraft. In row 33, however, noise levels felt that same as most planes and noisier than the 787 Dreamliner (our standard bearer).
First Class Seating Looks Really Nice.
It was more spacious, modern and comfortable than we were expecting. That, specially since the seats do not lie flat as they do in the A330. We look forward to trying it on another flight. We bid on first class for the flight home and will write about that.
Cabin Comfort Just Right
We found the temperature during the flight to be very even and neither too warm nor too cold. Just right, and better than we've experienced on other aircraft. As someone noted in a comment, there is a $10 charge if you want to purchase a pillow and  blanket. We did not find those to be necessary, however.