Beat of Hawaii editors had the opportunity to fly three times recently on new planes Delta received from Airbus late last year. It would have been stellar if we had written our review after the first flight. But Delta botched it with how they handled the next two flights, which were somewhat new lows in Hawaii air travel for us.
The plane we flew is their new A321neo narrow-body. This is primarily the replacement for other planes Delta previously used for Hawaii, including the old Boeing 757. It is the only single aisle plane Delta flies to Hawaii, so unless you catch a widebody from one of their further afield cities, this review is on the plane you will be traveling on.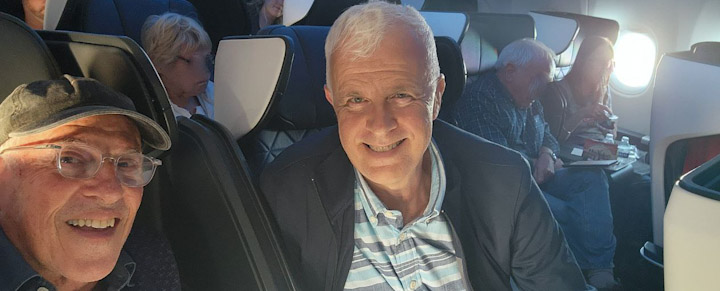 We had the opportunity to fly three times on the aircraft; the first segment was in their first class, the second was in economy, and the third segment was again in their first class. The results were surprising even to us, as these reviews frequently are.
Note: We paid for our own way on each of these flights, as is always the case.
Delta A321neo economy review (75/80).
The economy segment was from Nashville to Seattle where we connected to their Lihue flight. That flight was 3.5 hours in duration.
Check-in online (10/10) . This worked perfectly and the Delta app was robust and easy to use.
Airport check-in (10/10): We used the outdoor porter in Nashville when checking in and again, it was flawless and let us skip what looked like a significant line indoors.
Baggage handling (10/10): The baggage handling notification works great on the Delta app. They text you when your luggage has been loaded on the plane and removed. Getting the luggage on the plane was great, but as you'll see below, getting it off was another matter.
Boarding (10/10): The process was orderly and problem-free. The agents were fast and professional. And since we paid for extra legroom, we were in one of the early boarding groups.
Seating (8/10): We were in the first row of what Delta calls extra comfort, row 10. There are 42 such seats. There is no difference in the seats other than the additional legroom. There are 132 economy seats in a 3-3 configuration. While on board, Jeff tried a regular economy seat to contrast the big difference in legroom.
Rob on the other hand who is tall, found it hard to work from his seat. Because it was bulkhead, the tray table was in the armrest. When he lifted it into position, the tray table was neither level nor wide enough for his small laptop and the tray did not extend forward for him to see what was on his screen.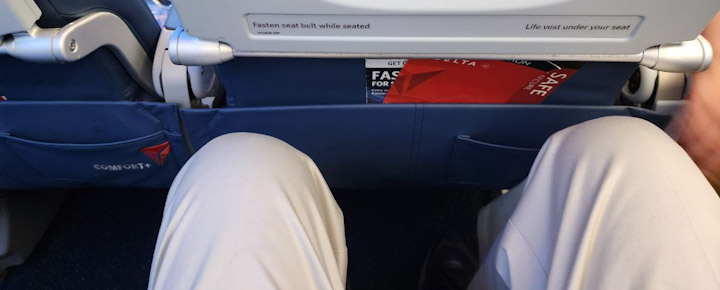 Service on-board (8/10). Nothing stood out, either good or bad, regarding the service provided or the flight attendants.
Food and beverage (9/10): We were provided drinks and minimal snacks (chip/cookie choice). Several rounds of beverages were offered.
Wi-Fi/Entertainment (10/10). The free WiFi started working while we were still at the gate. It was slightly tricky to figure it out, but once we did, it worked fine. So that you know, this was our connecting flight leading to the flight to Hawaii. When you read the next flight segment, you'll see that WiFi still needs to be fixed on the Delta A321neo flights to Hawaii. The entertainment is on seat-back screens with Bluetooth connectivity.
Delta A321neo first class reviews – two flights (62/80).
We had two experiences recently in First Class. Once was in May when we flew from Seattle to Lihue when returning from the United Kingdom where we reflected on the British influence on Hawaii during the coronation. The next flight was also from Seattle to Lihue. This one was in June, and our connecting flight from Nashville.
Check-in online (10/10). On our first flight, that went great. On our second flight, since we'd already checked in for the connecting flight, there was no additional check-in.
Airport check-in (10/10): In Seattle we reclaimed our luggage from another airline's international flight and then went to the Delta check-in counter. Since we were in first class, there was no wait. On the next trip from Nashville, the luggage was transferred since we were flying Delta all the way.
Lounge access (no rating): Delta does not provide lounge access, even for paid domestic first-class passengers like we were. That is available only for their lounge members or if you have one of the qualifying Delta American Express or Centurion cards.
Baggage handling (8/10): Good and bad experiences here. The baggage handling notification works well on the Delta app, with notifications of when the luggage is taken from you, when it is on-boarded to the aircraft, and when it is removed from the plane. Having lost luggage on Delta previously, it was very reassuring to get these notifications.
Unfortunately, when our first flight arrived at Lihue, Kauai, there was more than 40 minutes delay before the bags were delivered. If you have ever flown into Lihue, you'll wonder why it was delayed at a small airport as we did. Delta did provide an immediate 2,500 point credit for the delay, although we'd have preferred to have gotten our luggage timely than receive the points. When we flew their flight in June, the luggage was released timely.
Boarding (7/10): The first flight was organized, professional and timely. The second flight, however, the process could have been far better. The only announcement was for pre-boarding. After that, nothing was announced, and while those in the separate first-class line boarded early, it became a free-for-all, and everyone rushed forward to the boarding door.
Seating (9/10): We were both seated in the second row of the plane. The twenty new Recaro-brand first-class seats, in a 2-2 configuration, are, for a narrow-body aircraft, the nicest we've experienced in all but one way. The cushioning is, for the most part, adequate, so it doesn't feel like you're sitting on a board. The location of the power and USB outlets is convenient, and there's a handy storage nook on the side of the seat. Recline is adequate, and the comfort is surprisingly good. We also liked the privacy provided by the wing headrests.
Now for what we don't like enough to show you a photo of it. Due largely to the seat design the amount of space provided for the window passenger to get out is only 9 inches, or the width of Rob's hand. Jeff was in the window seat and he is rather tall and thin. So it wasn't a severe problem, albeit weird. For anyone larger, this could present a real problem both getting into and out of the window seat. We've not encountered such a strange issue on any plane in any class.
Service on-board (7/10): The service was, to say the least, uninspired. Our flight attendant's name was Eisha, and the lead attendant was Dylan. When taking pre-departure drink orders, Eisha completely overlooked some passengers, including us, while serving some passengers. They never introduce themselves or called passengers by name, which again, in first class, is a nice and frequent touch-point. Both provided the required modicum of service and nothing more. If you wanted water, you needed to keep calling them over. Strangely too, Dylan told passengers in the 1st row to watch out for people getting locked in the forward lavatory. He said it has a magnetic lock that sometimes will lock itself with someone stuck inside. Dylan suggested that the people keep an eye out for anyone who appears to have been in the lavatory too long.
The first flight was great in terms of greeting. The second flight was entirely different. While we don't expect to be greeted in economy, we do when paying extra for first class, where that is a long-standing tradition on all airlines. There was no greeting at all. In fact, there was no flight attendant to be seen at the entrance or in first-class at all. In all of our years flying, that's the first time it's happened.
Honestly, the economy service on other airlines we've recently reviewed was superior to even the first-class service on the second Delta flight. That in spite of a great hard product. The flight attendants were so much worse than what we've experienced on Alaska Airlines, Hawaiian Airlines, and Southwest Airlines, and that was both surprising and disappointing. We admit this is highly subjective. On a prior flight on the same route, the first-class flight attendant, whose name was coincidentally Jeff, provided superb service throughout the flight. He was exemplary of good airline service. The lack of consistency, however, remains concerning, and will definitely impact our own future use of Delta Hawaii flights.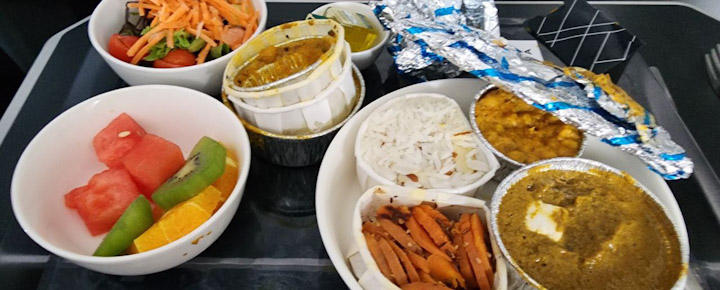 Food/Beverage (5/10): Having already experienced Delta's sub-par first-class food on a prior A321neo Hawaii flight (pictured below), we opted to pre-select meals. No menus are provided, and since there is no WiFi, the flight attendant took a screenshot of the menu and passed around his cell phone. Pre-select special meals are to us somewhat better than the in-flight options that Delta provides. Their standard food choices, typically three, are highly-caloric and dated. They are, as editor Jeff said, something akin to "old-fashioned diner food" in a mediocre restaurant. We'd suggest they take a lesson from Alaska Airlines, that is a standout when it comes to airline food. This is, overall, an area where huge improvement is possible for Delta. In addition, Delta offered no pre-ordering of regular meals for the A321neo flights to Hawaii.
In the photo above, you'll see that the flight attendants did not know how to serve the meal. They should have emptied those containers onto the plate before serving us. We think they needed to understand better how the entree was to look on the plate; so they gave us the metal and paper containers instead to deal with. More training on first-class service is our suggestion.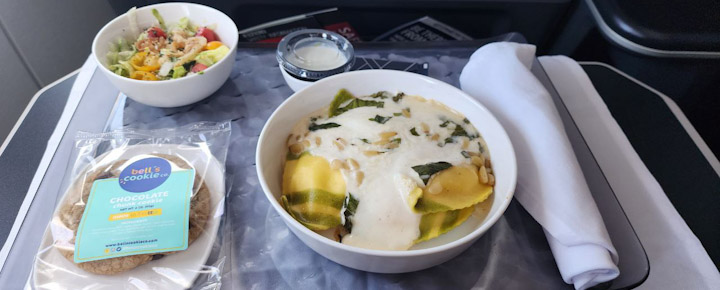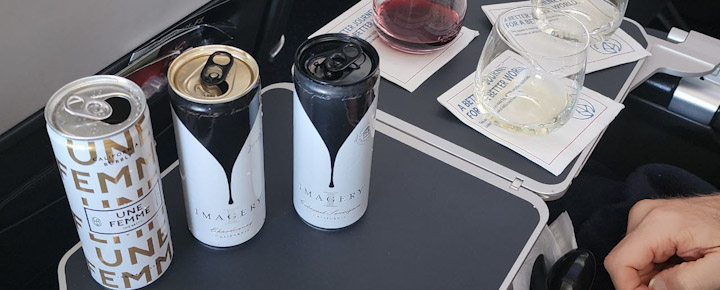 Wi-Fi/Entertainment (6/10). As stated above, the free WiFi still needs to be fixed between the U.S. mainland and Hawaii on the A321neo fleet. That is said to be from a lack of satellite coverage on the WiFi system used on that fleet. The other aircraft Delta uses to Hawaii has a different WiFi system, and that does work to and from Hawaii.
The entertainment is provided in first class with a lovely articulating screen with Bluetooth connectivity for wireless headsets. Nice touch. The entertainment options themselves are vast and impressive. The "Delta Studio" says it offers "1,000+ hours of free entertainment. Some of that, however, like their " including up to 18 channels of live satellite TV," aren't yet available due to the lack of connectivity on the A321neo fleet over the Pacific.
Delta does not tell passengers that there is no WiFi on their Hawaii (A321neo) flights. That offering may or may not be coming to those flights later this summer. But Delta has made clear that free WiFi is a universal domestic offering and thus it is an intrinsic part of Delta's contract with its customers.
Summary: Delta has a great hard product (the seats, new plane, and fresh cabin's appearance). However, the soft product, which is incredibly important in any airline's premium offerings, is not nearly as good or as consistent and could be far better. In addition, Delta is a technology-forward company that scores highly in entertainment, WiFi (when it works), baggage handling/notifications, and its app.