Beat of Hawaii is traveling frequently between Hawaii and the mainland right now, with more to come. Those will include United Airlines Hawaii economy and Economy Plus reviews, a United Hawaii Premium Plus review (true premium economy) on a 5k mile flight to Hawaii, and an updated Alaska Airlines Hawaii first class review. We're excited to share how we are able to fly and make all of these affordable, too, through various hacks, which for us is half the challenge and fun. As always, BOH pays its own way.
We never know ourselves how these reviews will go and are often surprised. By way of history, decades ago, editor Rob, when he graduated college, worked several years for United Airlines in Seattle. Jeff was years ago a 1K (frequent flyer) of United. But those were a long time. It had been nearly a decade since either editor flew United to or from Hawaii and so time to see how things changed.
Before this flight, and putting these articles slightly out of order, editors flew twice on United Hawaii flights in their Polaris business class. See:
United Airlines Hawaii Polaris Review: Excellent!
On this United Boeing 737-800 flight from Los Angeles to Lihue, the choices were First Class, Economy Plus, or Economy. Jeff bought this flight as part of an international itinerary, and the total cost in United First was surprisingly low. Read on for those details, too.
In the future, if we knew that this was the United plane we would be flying on, we would not choose to fly first class.
WiFi/texting. 0/10
We diligently checked both the United app and asked United representatives both in the Los Angeles Polaris lounge and on the phone whether there would be satellite WiFi. In each instance, we were told there would be, and the United App in fact sold it to us for $8 for the flight.
Feeling confident that there would indeed be WiFi, Jeff and Rob both planned to draft BOH articles in flight. But that was not to be. Instead, as Wi-Fi became available at 10,000 feet, we received the message above from United. The flight attendant said she thought it was strange that others at UAL had confirmed the presence of Wi-Fi on the flight, which she indicated is not present in that particular fleet. Check with us on how that works on the next flight, which is on a United 737 MAX. The airline is replacing this older plane with the far newer aircraft in the next two weeks.
Seating and comfort. 6/10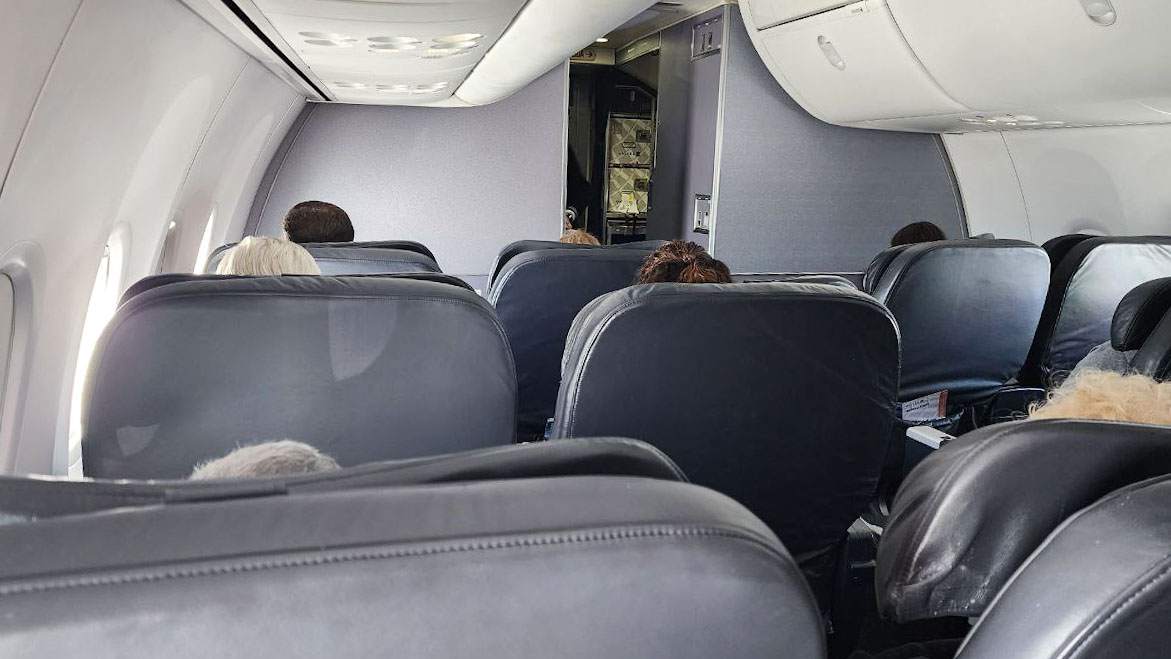 The First-Class seats were extremely dated on this 16 year old aircraft. United's does have an ongoing retrofit program for these planes.
Compared with the other narrow body offerings we've recently written about in our Hawaiian Airlines A321 first class review, and Delta A321 first class review, however, the space provided, including the legroom, was adequate and reasonably comfortable. That's true even when compared with their newest planes. Also, narrow-body offerings in no way compare with widebody planes which generally have lie-flat First-Class seating on flights to Hawaii and are dramatically better. One side note here: the United Boeing 757-200, which flies to and from Hawaii, does offer lie-flat seating, and we recently reviewed it very favorably.
The first-class cabin on United does not share its restroom with economy as we've seen on Alaska Airlines. And flight attendants asked economy passengers not to use it. The size of the restrooms is standard for this era aircraft, but not as tight and uncomfortable as on the A321neo.
There was an electrical outlet and USB power at every seat. There were no blankets or pillows provided, which did seem odd. We've since learned that United has removed these from most domestic flights. But we did receive the Hawaii branded first class amenity kit.
Let's start with some of the things that didn't go as expected, before we get to some things that went very well.
Food and beverage. 5/10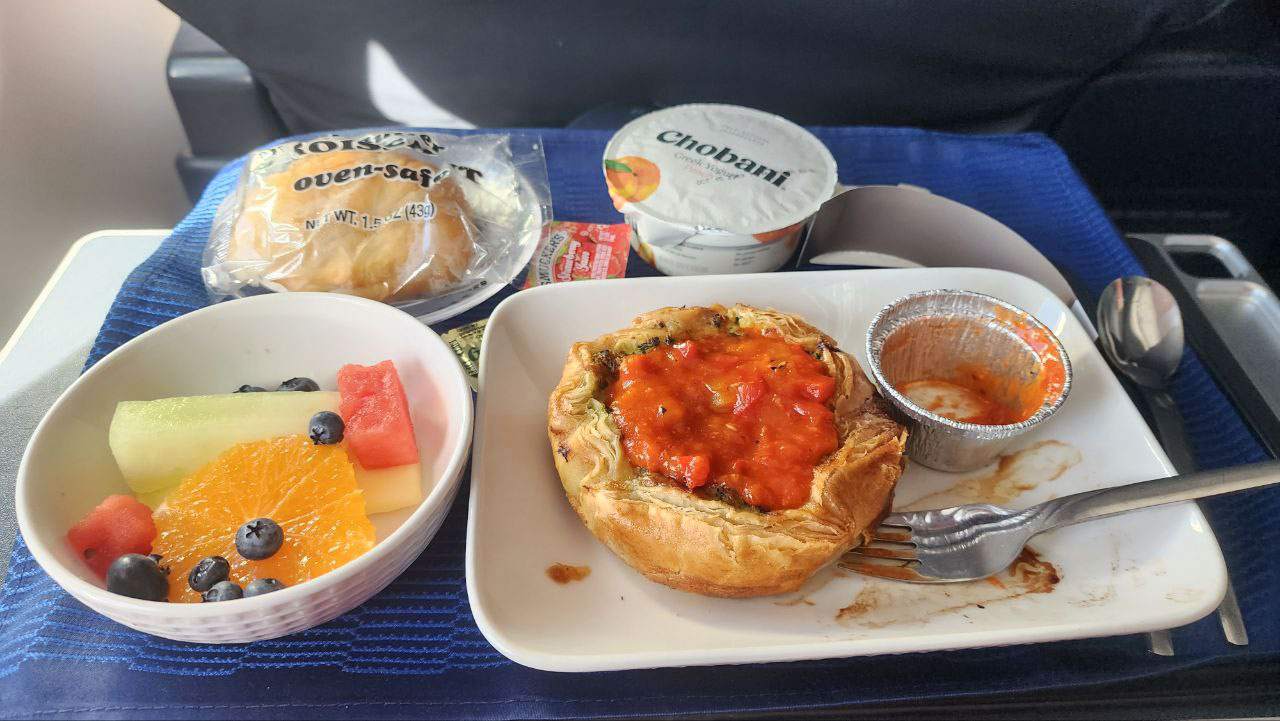 The meal pictured here was actually one of the worst we've encountered on any recent business/first-class Hawaii flight. While the service was okay, the meal was not. First, there were five entrees offered for this breakfast service, which could be pre-ordered. Both of us ordered the same dish. But were served something entirely different than what was ordered. The entree, even smothered in the sauce that came with it, was inedible. So was the croissant. Only the fruit was okay.
The flight attendant took note that the breakfasts ordered and the ones delivered were not the same. As a result, both editors were offered $100 in flight credits on United. That was a surprisingly generous offer in our minds and actually improved our rating.
The entire meal was served on one tray. That is a Covid holdover, and we prefer the meals being served in courses as is traditional. The entree followed a traditional beverage and warm nuts service. Real silverware and a cloth napkin were provided. United is in the process of returning to courses being served separately.  
Aircraft condition. 7/10
The 737-800 appeared both well-maintained but worn. The luggage bins were relatively new, modern, and capacious. We wouldn't choose to fly this plane again due to its appearance, age, and lack of retrofit to a better interior, but there was nothing notably wrong with it either.
The company said earlier this year that due to dreaded supply chain issues, it is running behind in its effort to upgrade old fleets, including the 737. A significant part of the program is implementing seat-back entertainment, which these first-class seats did not have. The company said that only perhaps 1/3 of these old planes will get the retrofit this year.
Entertainment. 7/10
Entertainment on board this flight was via personal devices in conjunction with the United Airlines app. There was no holder for devices, so it was all hand-held. The variety offered was substantial, but Rob could never get movies to play. Every time an advertisement prior to the title selected stopped, he received an error message that the title was not available.
Greeting on Board. 10/10
BOH editors walked on soon after boarding commenced. There were two flight attendants in the forward galley. We were to learn later that they were actually married! Both of them greeted us, which was a nice and welcome touch.
Cost. 10/10
BOH purchased a round-trip from Hawaii to Europe when it was on sale. The amount paid for this flight was $362. That is extremely well-priced for any first or business-class flight to Hawaii and the least that we have ever paid.
Read: Upgrades on Flights to Hawaii | Tips and Tricks That Work.
Flight attendants. 10/10
There were two first-class flight attendants for the entire flight. They were pleasant, attentive, and hard-working during the flight. For us, when traveling in a premium class, service is a signature component of the service. The only thing we found odd, albeit not objectionable, was that neither of the flight attendants had ever been to Kauai before. In fact, we offered them some suggestions of things to do and places to go.
Cockpit crew interaction 10/10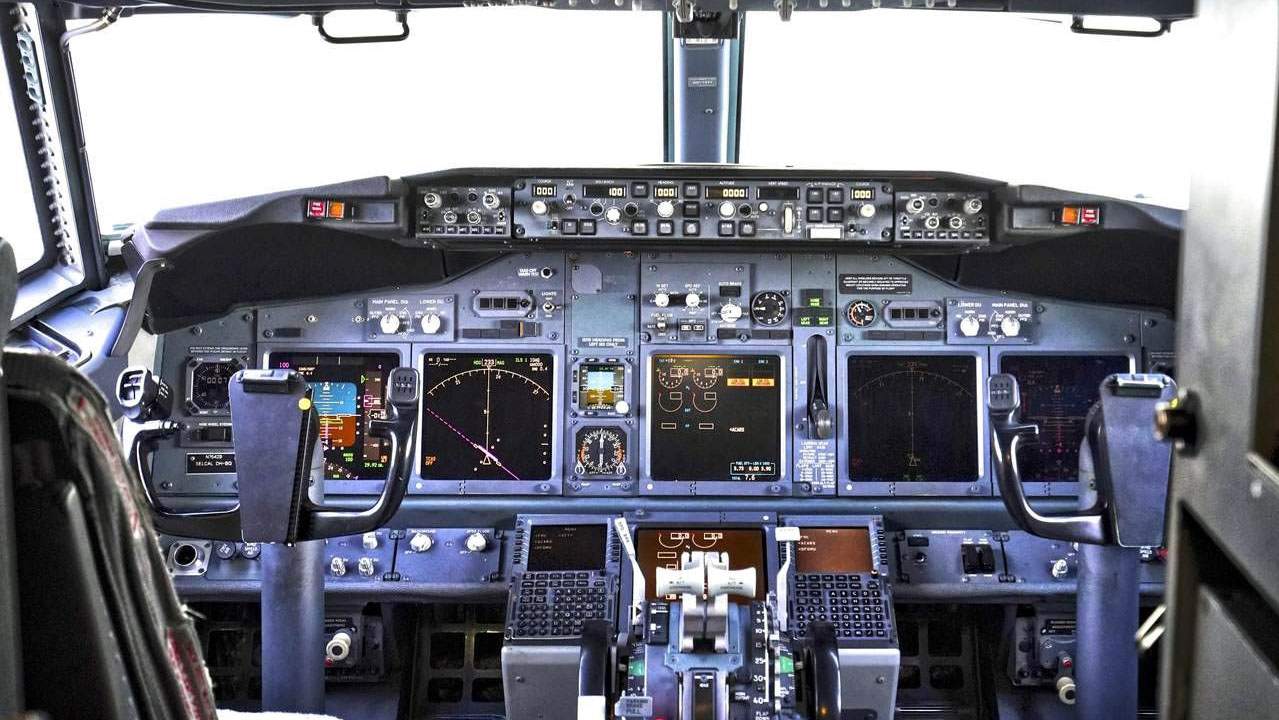 There was a traditional welcome announcement from either the pilot. There was also an announcement by the flight crew that followed departure. There then an announcement with last call, arrival information and a weather update that came about ten minutes prior to the beginning of our flight's descent.
Reservation and online experience. 10/10
Purchasing tickets online on United is very easy and is becoming quickly familiar to the editors. So was selecting and changing seat assignments and even changing the date of the flight. Everything worked fast and flawlessly. Meals can be ordered online in advance from the app.
On a side note, it does seem that when pre-ordering meals, better choices might be included. Jeff checked seats and meal options several times between the day of booking and the flight but made no changes.
Check-in online and at the airport. 10/10
This was smooth and seamless using the United Airlines app for the boarding pass. A reminder to check in was sent exactly 24 hours before flight time.
At the airport, there was a separate First-Class line with no one waiting. The person working, who was a contractor rather than a United employee, was excellent. There was really no line for economy passengers either.
On-time. 10/10
We've heard reports about flight delays. But on the four United flights we flew on this itinerary, all had on-time departure and arrival.
Baggage claim. 10/10
The baggage claim in Lihue was extremely fast – in the range of 10 to 15 minutes.
Total review score: 105 out of a possible 130.