Beat of Hawaii editors recently traveled to Europe from Hawaii. On this trip, it all started with a 7-hour nonstop flight from Kauai to Denver. It was onboard a United Airlines 757-200 in Polaris Business class, which is the only airline and route from Kauai that offers lie-flat seating.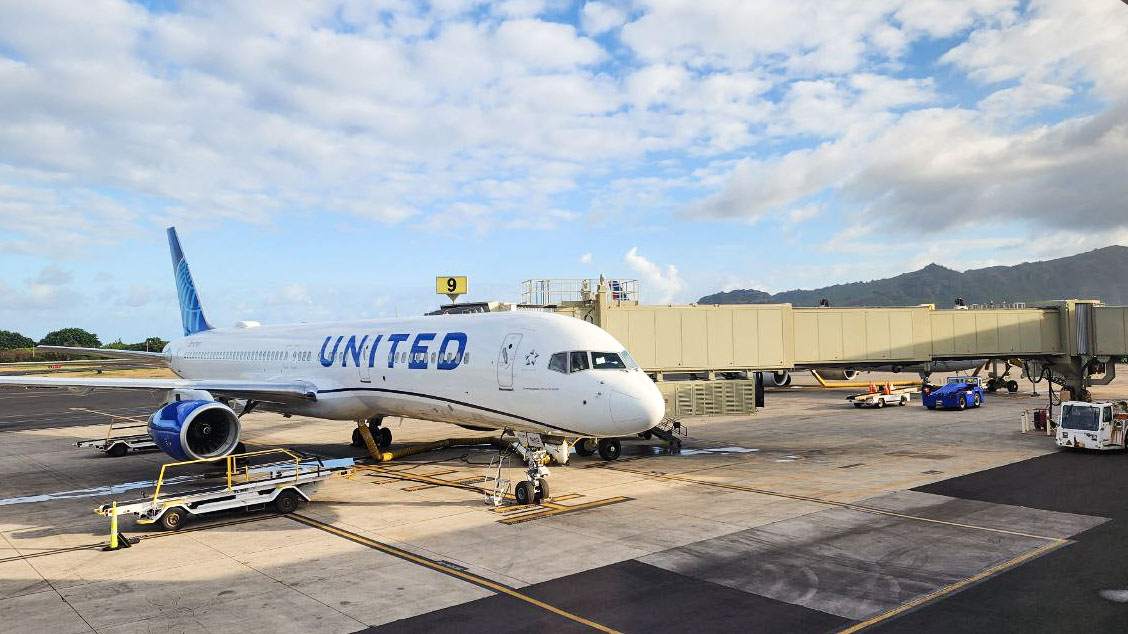 The "flying pencil" workhorse, as it is known, was 29 years old. And yet it appeared to be in very nice condition both inside and out, which was, in fact, a pleasant surprise given its age. Editor Jeff hadn't flown on this aircraft for nearly 20 years, and the entire experience was better than he had predicted.
The cost of the flight, which was purchased as part of a brief deal editor Jeff found from Hawaii to Europe, was a mere $415 per passenger, which BOH paid. The normal first-class/Polaris fare on this route starts at $1300 each way.
On the flight, the choices were Polaris Business, Economy Plus, or Economy.
We use the term Fauxlaris, instead of Polaris, as others have used it to describe this not-quite-Polaris, but better than United first-class product. You'll see what we mean below. On this 757, the same product is sometimes called Polaris, first class, or business.
Boarding. 10/10.
Boarding was on time and as expected. First-class guests boarded right after those using wheelchairs and others needing assistance. The process was quick and orderly. On arrival at seats, there were Saks Fifth Avenue bedding, blankets, and pillows that are reviewed as some of the nicest in the industry.
WiFi/texting. 10/10.
The United App confirmed that we would have WiFi both across the Pacific and over the mainland. We bought the $8 day pass. The WiFi worked consistently throughout the entire flight. Sometimes, it was faster and at other times slower, as seems to be normal for all airline WiFi.
Flight Attendant Greeting on Board. 10/10.
BOH editors were the first to walk into the cabin after boarding was announced. There were two flight attendants in the forward galley. Both of them greeted us, which was a nice and welcome touch. After we were seated, we were offered a pre-departure beverage.
Cockpit crew interaction 10/10.
United has been consistent in this regard, with welcome announcements prior to departure. There was also an announcement that followed departure with more details about the flight and its duration. Pre-arrival information was provided before we began our approach to Denver.
Flight attendants. 10/10.
There were two first-class flight attendants for the entire flight. They were extremely pleasant, attentive, and hard-working throughout the 7+ hours. For us, when traveling in a premium class, service is a signature component of the service.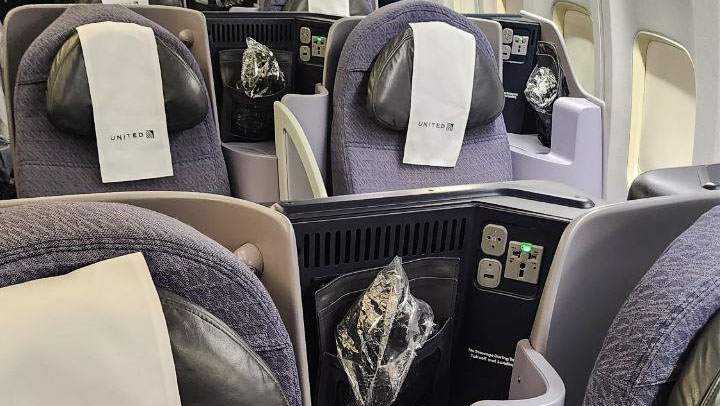 Seating and comfort. 8/10.
This is a mixed bag on the 757, and in part, why it is called Fauxlaris. It is an old plane that was originally fitted with traditional lounger-type first-class seats. Those were replaced by an unusually narrow and short Polaris-like seat.
The seats are a variety called Collins Diamond. They are configured as four rows of 2×2 for a total of 16 seats.
United sells this as "Polaris" on transatlantic and Hawaii flights. It is the only United long-haul plane that doesn't have direct aisle access. Also, what you give up compared with the United Dreamliner, for example, is about a half-foot of legroom, critical in the lie-flat position. If you are short, that won't be an issue.
For BOH editors, however, it was a problem and made the seats less than comfortable. Only the aisle seats provide entry and exit without climbing over another passenger. This won't be an issue soon when the United A321XLR soon takes to the sky as those will be outfitted with 1×1 premium seating instead of 2×2. It also won't be an issue on the Hawaiian Airlines Dreamliner, which will also offer direct aisle access in their business cabin, whereas their A330 does not.
A convenient electrical outlet and USB power were at every seat. There was, however, a lack of storage areas at the seat, perhaps again due to the narrowness of the cabin and layout.
Bedding is among our favorites and is top-rated. It features Saks Fifth Avenue blanket and two pillows. The new Hawaii amenity kits we previously wrote about were on each seat.
Aircraft condition. 9/10.
The 29-year old 757 was in surprisingly nice condition, from the standpoint of what a passenger can see. The luggage bins were relatively new, modern, and large. We didn't at all have the sense we were flying on a very old aircraft, other than perhaps the bathrooms, which still featured metal basins.
Cost. 10/10.
BOH purchased this flight as part of a round-trip from Hawaii to Europe when it was on sale. The amount paid for this flight from Lihue to Denver was $415. That is a great far for any Hawaii first or business class flight, and even better since it got us all the way to Denver.
Reservations/online experience. 10/10.
Purchasing tickets online every time on United has been easy for us and is now familiar after several trips. Everything about the United Airlines App worked fast and flawlessly. Meals can be ordered online in advance from their app.
Five days before the flight, we received notice that we could then pre-order meals. There were three dinner meals provided as options, and there were three breakfast options for the second meal.
Check-in online and at the airport. 10/10.
This was smooth and went without a hitch using the United Airlines app to check in and for the boarding pass. A reminder to check in was sent exactly 24 hours before flight time. There were also boarding reminders via the app.
At the airport, there was a separate premium line with no one waiting. The person working, who Jeff believed was a contract employee rather than United personnel, was excellent. There was really no line for economy passengers either, for that matter.
On-time. 10/10.
The flight boarded, departed, and arrived right on time.
Food and beverage. 7/10.
Breakfast of choice had been preordered and was served just over an hour before arrival in Denver. It was good.
Entertainment. 9/10.
Entertainment on board this flight was via seatback or via personal devices in conjunction with the United Airlines app. Sound-reducing earphones were provided.
The space provided, including the legroom, and the overall comfort was significantly better than these far newer and more modern planes. But, as we've said, narrow-body offerings can't be compared with widebody planes when it comes to comfort, especially in lie-flat First-Class seating on flights to Hawaii. Our two favorites in that category are the Hawaiian Airlines A330 and the United B787 Dreamliner.