Beat of Hawaii flew round trip between Hawaii and the mainland last week on United. Here's what we found on United Airlines' Hawaii economy and Economy Plus offerings. Both flights were on the same plane, a Boeing 737 MAX 8. We've flown eight flights with United to and from Hawaii since summer. That included the exceptional Polaris business class and the disappointing United first class.
Prior to this summer, team Beat of Hawaii had not flown on United Airlines for years. Beat of Hawaii paid in full for this trip. The flight cost from Lihue to Los Angeles was $193 per person each way. Jeff also purchased an extra seat, a trick we recently wrote about. That means two passengers shared a row of three seats. Honestly, it was incredible and at a fraction of the cost of first class, which in this case would have been more than $1,000 each way. In the future, we would be willing to take regular economy seats and purchase the extra middle seat, especially when on sale. That's true even with less legroom than Economy Plus but no middle seat passenger.
Via a status match with another airline, we were also able to get extra legroom, Economy Plus, at no additional cost. For those who don't know, status matching lets premium flyers on one airline request temporary matching status with a different airline.
What we liked and didn't on United Airlines' economy and Economy Plus.
On a positive note, the Boeing 737 MAX 8 was brand new and in great condition. The economy seats were surprisingly quite comfortable for the duration of the flights, one of which was about five hours and the other almost six hours. And in terms of the extra legroom in Economy Plus, it was fabulous, significantly exceeding the legroom even in that aircraft's first class. Add to that a superb entertainment system, on-time performance, and baggage handling.
On the negative side was among the most limited levels of customer service as measured by few water or beverage services and perhaps the worst free snacks we've yet encountered.
Why Economy and Economy Plus reviews are combined.
Jeff originally planned to fly regular economy and thus would not have been able to review the Economy Plus product on this flight. As mentioned above, through a status match, we were able to fly Economy Plus without paying for the extra legroom. We'll show you below what the cost would have been for the extra legroom seats.
Editor Jeff was able to check out a regular economy seat later in the flight. And note that there is no other difference, other than the legroom, between Economy and Economy Plus. We enjoyed comparing the products.
Cost: Economy 9/10.
We ended up paying more because we bought regular economy and not basic economy. The price was okay. Fares vary by when you fly, and the amount paid was fair for what was offered. Total price paid was $457 per person round trip. The cost for basic economy would have been $60 less each way. To buy Economy Plus extra legroom brought the price to a whopping $831 roundtrip. One of the benefits of the status match was the complimentary upgrade to Economy Plus, a value of $187.
Cost: Economy Plus 8/10.
Despite the superb legroom it provided and the complimentary blanket, we did not like how much it cost beyond regular economy. It was $187 more each way. Sadly, that is not out of line with what other carriers are charging, as ancillary fees such as seats continue to escalate. As we have mentioned when reviewing other airlines' Hawaii flights, some additional offerings, whether an additional snack, drink or checked bag, for example, might have helped improve our perception regarding the value. By way of comparison, when we did a Hawaiian economy review to the west coast, we paid $142 for their ExtraComfort extended legroom seat.
Customer service: N/A.
We had no contact with United Airlines regarding the reservation, as none was needed. Their app performed extremely well for everything from seat assignments, check-in, entertainment, baggage monitoring, and other options.
Check-in: 10/10.
The online check-in process for both flights was extremely easy, and in both cases, we were checked in within a minute or two.
Boarding: 10/10.
United is very well organized in terms of boarding. For boarding groups one and two, passengers get in line behind those numbers. After that, the other boarding groups are called. It was orderly and hitch-free.
On-time Performance: 10/10.
The airline has demonstrated excellent on-time performance, and they did not disappoint on these flights. In our eight recent flights, every one was on time. Boarding started about 30 minutes prior to flight time. The boarding door was closed on time, and the flight departed the gate at the moment indicated.
Food and beverage: 1/10.
This is a shortfall for United when compared with recent economy offerings we've experienced to and from Hawaii on Alaska, Delta, Hawaiian, and Southwest. The entire service consisted of two beverage services and two water services. The most ridiculous of 1/4 ounce snacks were offered twice. They frankly weren't worth wasting the packaging on. There was food for purchase, which we did not try, in generic-looking United boxes. Beverages were offered in full cans, with cups and ice. There is recycling of the aluminum cans.
Of the airlines we've flown with in economy in the past year, we're surprised to report that Southwest, the airline that makes no qualms about not offering food, provided the most generous free snack service and a delicious and generous bespoke cookie and beverage service prior to landing. When it came to paid food, in our experience, Alaska has been the best. Regarding beverages, Hawaiian has been the best for us, offering not only beverage services, but also inviting passengers to come to the galley for additional beverages.
"Read: Classless Southwest Hawaii Review SJC to LIH: Quirky, Unique.
Aircraft condition: 10/10.
The planes were both Boeing 737 MAX 8, and one had just been in service for just four months. The narrow-body planes have single aisles. This is United Airlines' domestic two-class configuration, with 16 domestic first-class seats, 54 Economy Plus seats, and 96 economy seats.
The aircraft has new Boeing Sky Interiors, extra large Boeing Space Bins for luggage, ultra-compact lavatories, and ViaSat KA-band WiFi.
As a side note, the miniature lavatories are dismal in terms of size for anyone who isn't very thin. That has become the norm on new single-aisle aircraft.
Wifi/texting: 0/10.
There is still no WiFi or texting on the entire United Airlines Boeing 737 fleet, either the 737-800 or the 737 MAX 8, both of which fly to Hawaii. To our knowledge, all other United aircraft do have satellite WiFi, which has worked well for us on prior flights. There was confusion on both flights about whether or not there was WiFi, including the United App offering to sell it to us in advance. The cabin crew was also not always clear on the lack of WiFi on that plane.
Flight attendants: 10/10.
The United Airlines flight attendants have been consistently kind, friendly, and attentive. They even, at times, seemed embarrassed that they couldn't do or offer more for the passengers.
If you care, there's certainly nothing "Hawaiiana" about United, in spite of how long they've been flying here. Their product is completely location-free, which we've found to be true, flying with them to and from Hawaii, other places on the mainland, and even to and from Europe. One flight attendant, however, seemed to provide their own Hawaii-themed apron.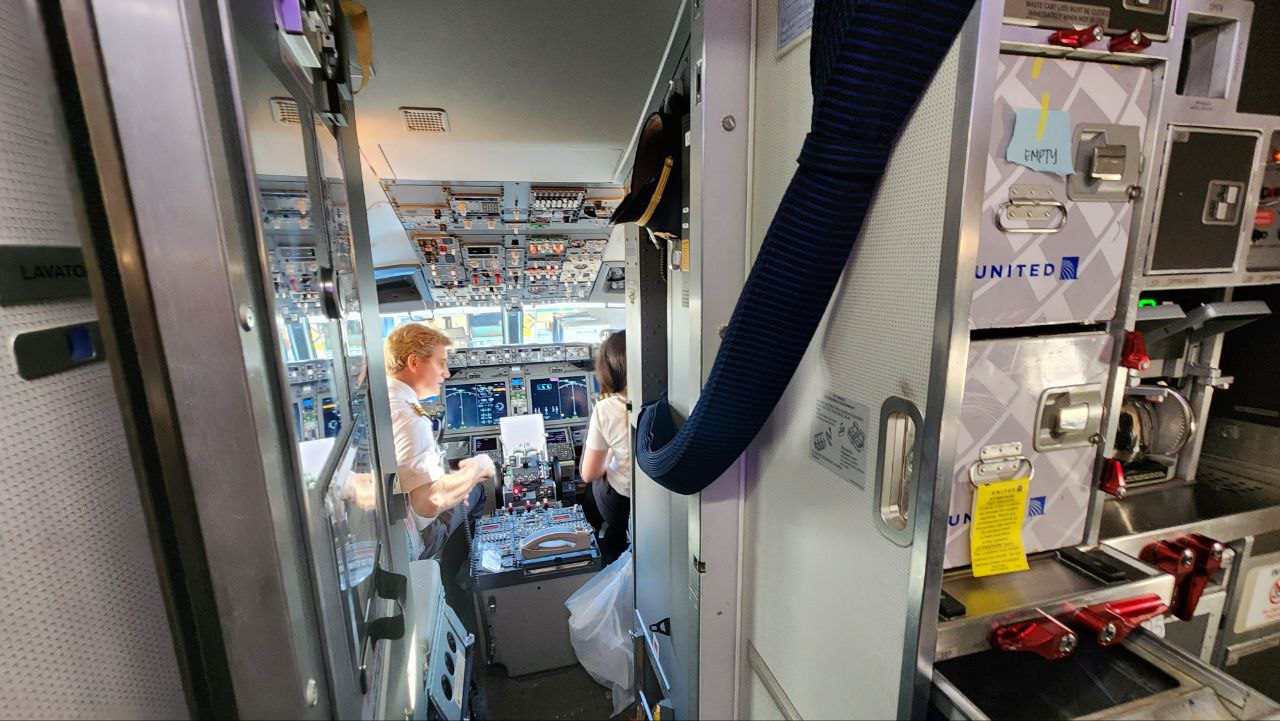 Cockpit crew interaction: 10/10.
There were numerous well-timed, courteous, and professional announcements from the flight crew at various points before, during, and after the flight.
Seating and comfort (economy): 6/10.
Overall, the plane is very tight. Seat pitch in economy is poor, and for passengers, the height of BOH editors Jeff and Rob, knees are jammed into the seat in front. Editor Jeff stands at 6′ tall and Rob at over 6'4″. The economy cabin is comprised of 96 Collins slimline seats, including a 4-way adjustable headrest, a device holder, and a 10″ HD touchscreen display. Seat pitch is extremely tight at just 30.3 inches, with 2″ of recline.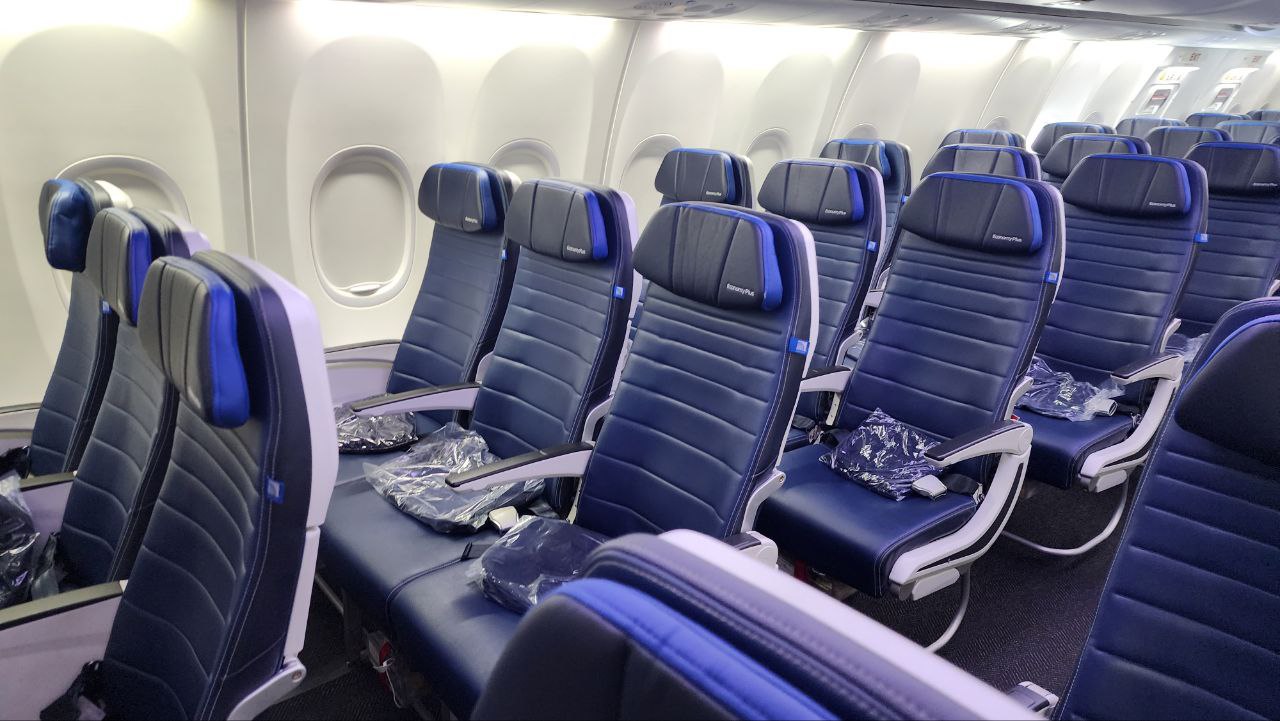 Seating and comfort (Economy Plus): 10/10.
Economy Plus are seats designated with blue-grey accents and branding on the headrests. It is comprised of 54 Collins slimline seats, each with a 4-way adjustable headrests, device holder, and a 10″ HD touchscreen display. The seat pitch is listed as up to 38.8 inches, although in row 7, it was even more by our observation. Seat recline is 3″.
Power: AC/USB 9/10.
All guests are provided USB and A/C power, which is great. Unfortunately, we've found, as is the case on most airlines, that the USB power is not adequate for good charging of phones, but instead largely just keeps them from discharging further. We carry A/C chargers instead, which worked fine.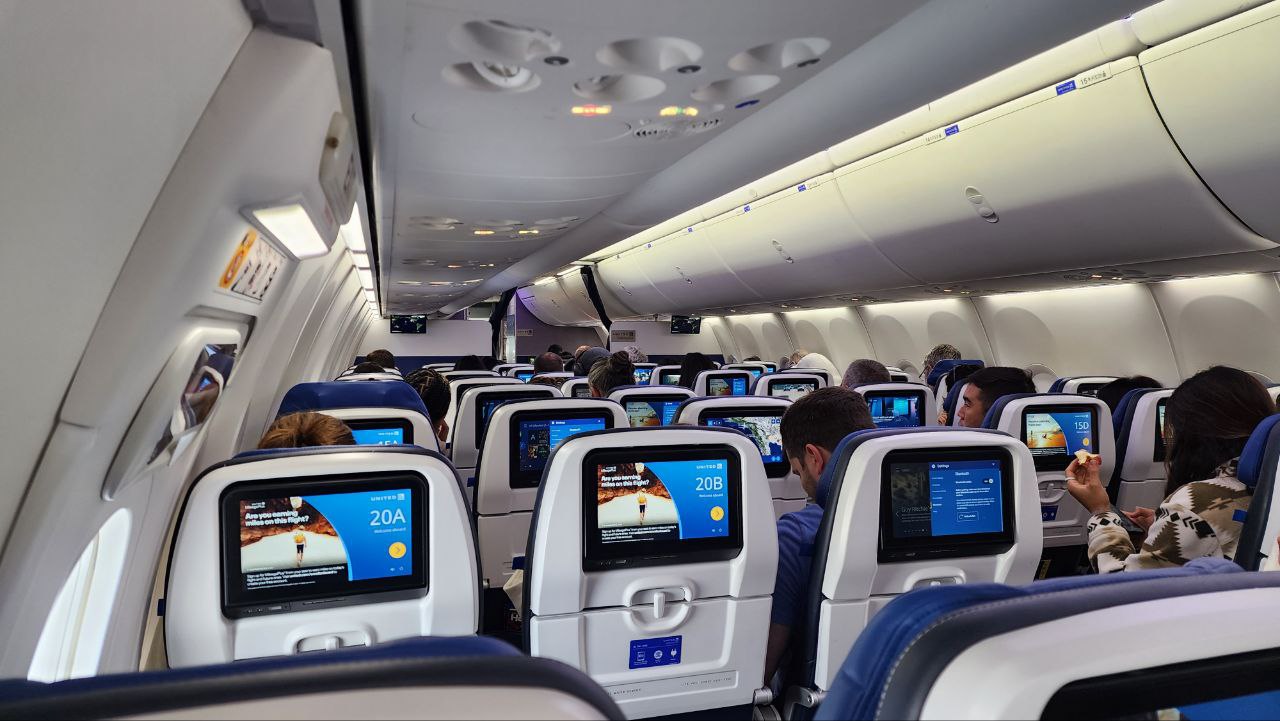 Entertainment 10/10.
Seat-back entertainment throughout the aircraft was a very nice touch, one that's been disappearing from many aircraft. The system had a great selection of movies. It pairs easily with passengers' Bluetooth headsets, which inasmuch as we both have noise-cancelling ones, is great. The seat-back entertainment touch screens are excellent. In addition to TV and movies, the monitors offer flight maps and time to destination throughout the flight. As a side note, on both flights, however, we encountered some annoying static.
Score (economy): 95 out of 120.
Score (ExtraComfort): 100 out of 120.
Have you flown United Economy or Economy Plus to Hawaii? Please share your own review with us and others.