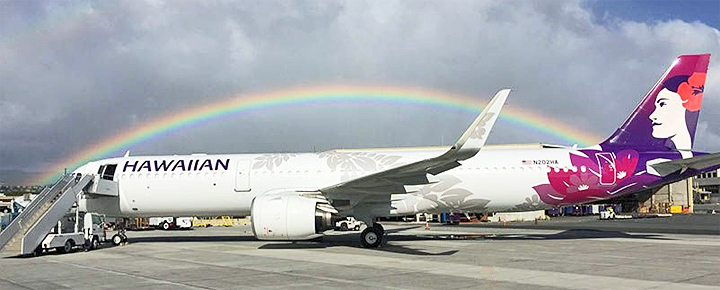 Hawaiian A321 deliveries have resumed. Last Friday the airline received the first of five additional planes scheduled to arrive between now and July. There will also be two more coming this fall, for a total of 9 in the Hawaiian Airlines fleet. "We have been working hard with Airbus and Pratt & Whitney to firm up our schedule." –Alex Da Silva, HA Corporate Communications.
New routes can now resume.
These unforeseen delays meant that new routes had to be placed on hold pending resolution. As Hawaiian becomes comfortable that these planes will really arrive as scheduled this time, we will see the announcement of new routes shift into high gear.
Hawaii airfare sales ahead.
New routes will intensify already unprecedented competition on flights to Hawaii. As a reminder, so far this year we've already had two rounds of brief $99 Hawaii airfares, one from United and one from Alaska. That we haven't seen before (other than from Allegiant). We've also had very regular $350 round trip United Hawaii and Delta Airlines deals from up and down the Pacific Coast. And Hawaiian bargain priced their nonstop flights between LA and Kauai at about $350 RT this spring (some dates still available).
Look for some of the next new A321 routes being from Southern California and the Pacific Northwest. Stay tuned for more on these very soon.
Two prior A321 delays.
The Hawaiian Airlines A321 narrow-body planes were to have been delivered starting late in 2017. That was twice delayed. The latest problem occurred in February, when an airworthiness directive was issued for many A321 planes. That temporarily grounded one of the two existing planes already at Hawaiian, as well as halting arrival of those that were in the delivery queue. That delay was based on issues with the new engines.
A321 from our experience.
We flew on the Hawaiian Airlines A321neo inaugural flight back in January. While we miss the wide-body, we loved it overall, and plan on many more flights on that plane.
Disclosure: We receive a small commission on purchases from some of the links on Beat of Hawaii. These links cost you nothing and provide income necessary to offer our website to you. Mahalo! Privacy Policy and Disclosures.