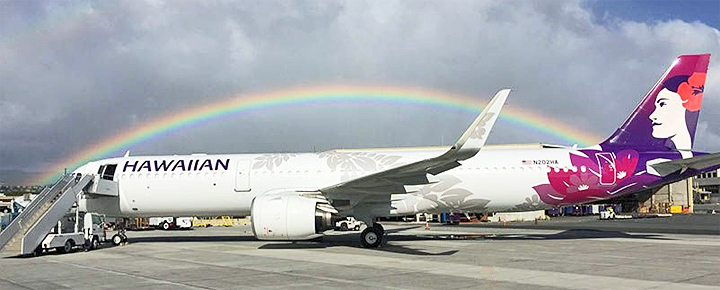 Update today on the customer impact of flight changes associated with engine issues and delivery of Hawaiian Airlines' new Airbus A321neo fleet. We have received many comments, questions and emails regarding this and how it impacts upcoming Hawaii flights that many of you have scheduled or are planning.
Here is what we have learned since last Friday about aircraft changes:
The Pratt & Whitney engine problems will only impact additional aircraft deliveries. Hawaiian is still scheduled to have 9 of these planes in service this year.
Hopefully the aircraft delivery issue will be resolved within the next 30-60 days.
Importantly, Hawaiian Air's current fleet of two A321neo aircraft are both flying. One was out of service temporarily as we previously reported. It has since been fitted with new engines that are not subject to the airworthiness directive.
Hawaiian will continue to use existing A330 and soon to be retired B767 planes to complete some flights until A321 deliveries resume.
Read about the airworthiness directive which was the cause of the issue, and the potential for mid-air failure of certain Pratt & Whitney engines fitted on the A321neo.
Flights to Hawaii that are Impacted.
Additional flights between San Francisco and Honolulu this summer have been cancelled.
New Oakland/Kona flights have been cancelled. At least until further announcement.
Oakland/Lihue flights deferred from April 11 to July 17.
Portland/Honolulu A321 flights will use A330 until November (was to have been A321 starting March)
Long Beach to Honolulu A321neo flights will start as scheduled on June 1.
Two Things to Do Now.
1. Check reservations online to determine if you will be on a different flight or a different aircraft.
Hawaiian Airlines said "guests already booked on these flights will be re-accommodated…." We've been advised by visitors, however, of issues they've encountered adjusting their reservations. Since hundreds of flights were impacted, this is undoubtedly causing quite a headache and taking some time to get sorted out to everyone's satisfaction.
2. If the plane type has changed, so has the seating. Check to be sure that your party is still sitting together. Economy, Extra Comfort and first class configurations by aircraft are as shown below.
Economy seating configurations:
Airbus A321neo. Economy seating is 3 x 3 except for a few select rows.
Airbus A330. Economy seating is 2 x 4 x 2.
Boeing 767. Economy seating is 2 x 3 x 2.
First class seating configurations:
Airbus A321neo. First class seating is 2 x 2.
Airbus A330. First class seating is 2 x 2 x 2.
Boeing 767. First class seating is 2 x 2 x 2.
Extra Comfort seating configurations:
Airbus A321neo. Rows 11, 12, 14, 16, 17, 33, 45, 35.
Airbus A330. Rows and seats vary by aircraft configuration. Check seat map for your flight or contact Hawaiian Airlines.
Boeing 767. Not offered.
Additional Hawaiian Airlines' Flight Announcements on Hold.
Until this aircraft delivery issue is resolved, we do not expect to see any further A321 flights announced. As you know, the reason for the A321neo fleet is in part to allow Hawaiian to fly new routes that were not previously feasible with their wide-body fleet. We had been expecting imminent announcements of more flights starting in spring and summer.
One of the main reasons this is of concern is that these new routes are important in creating competition, reduced prices and airfare wars.
Prior Announcements from Hawaiian Airlines.
The company indicated earlier this month: "Hawaiian Airlines was informed yesterday by Pratt & Whitney that a small number of its later model A320neo and A321neo engines have experienced problems in flight significant enough to warrant an FAA Airworthiness Directive requiring temporary suspension of service for those engines." Those issues also temporarily removed ETOPS (over-water) certification for trans-Pacific flights, on planes fitted with those engines.
Hawaiian said it has been working with Airbus and PW to "understand the longer-term implications of this situation."
At the time of the announcement, Hawaiian indicated that some flights designated for the new fleet would operate instead on legacy B767 and A330 aircraft.
Disclosure: We receive a small commission on purchases from some of the links on Beat of Hawaii. These links cost you nothing and provide income necessary to offer our website to you. Mahalo! Privacy Policy and Disclosures.