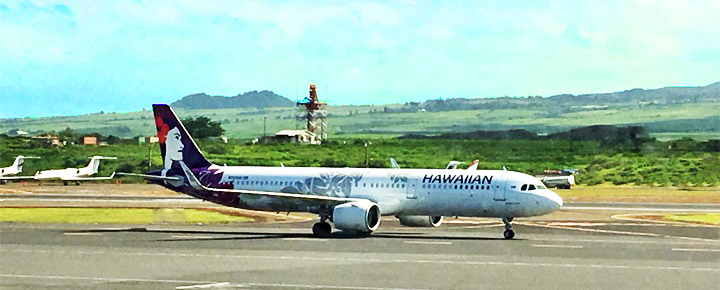 We've just learned that a potentially serious A321neo engine issue has resulted in an emergency airworthiness directive from the European Air Safety Agency. The problem was serious enough that it could create the possibility of an in-flight dual engine failure. As a result, affected planes with Pratt & Whitney engines must be removed from service within 3 flights. Also, ETOPS (over water) operations are no longer permitted. Planes are to be grounded until at least one of the engines is replaced.
What this means for flights to Hawaii.
On checking schedules, we found that only one Hawaiian Airlines A321neo aircraft needed to be grounded and replaced temporarily with legacy Boeing 767 and Airbus A330 planes.
We could not confirm whether any other A321neo planes flying to Hawaii could be affected. Alaska Airlines appears to be using another brand of engine in their A321neo jets. American Airlines will not be taking delivery of their neo order until next year.
Statement from Hawaiian Airlines
We reached out to Tara Shimooka, spokesperson for Hawaiian Airlines. She indicated that an affected plane was taken out of service upon news of this concern. She subsequently provided the following:
"Hawaiian Airlines was informed yesterday by Pratt & Whitney that a small number of its later model A320neo and A321neo engines have experienced problems in flight significant enough to warrant an FAA Airworthiness Directive requiring temporary suspension of service for those engines. The problems are associated with engines produced after a specific date.  We determined that one of our A321neo aircraft carries these later-model engines and, although we have not experienced any related issues with our engines, we immediately removed the plane from service.
We are working with the engine manufacturer to replace the affected engines and to understand the longer-term implications of this situation. In the meantime, we have not made changes to our flight schedule. Our daily non-stop flights between Maui and Portland and Oakland previously served exclusively by A321neo aircraft will be served using a combination of B767 and A330 aircraft in addition to our A321neo aircraft that is not affected by the FAA directive. If we receive information from Pratt & Whitney that suggests we will not be able to fly future schedules we will of course notify passengers right away."
Kudos on Hawaiian Airlines' Safety Record
Hawaiian continues to have a fantastic safety record. There has never been a fatal accident or hull loss since they began flying nearly 90 years ago.
They have had some incidents, however, that include those listed on our post regarding Hawaiian Airlines Safety Record.
In addition to safety, Hawaiian Airlines also often ranks very highly in on-time performance, least cancellations, and superior baggage handling. We can attest to those based on our own experience over decades.
Our A321neo Experience and Other Reflection
As you know, we flew on the Hawaiian Airlines A321neo inaugural flight. We loved it frankly, and look forward to many more flights on that plane.
Problems of new planes entering fleets isn't something unique to the A321neo. We recall the plethora of issues that impacted and grounded Boeing 787 Dreamliners when they came into service. That plane has become a global workhorse, and is among our favorite airplanes to fly.
Disclosure: We receive a small commission on purchases from some of the links on Beat of Hawaii. These links cost you nothing and provide income necessary to offer our website to you. Mahalo! Privacy Policy and Disclosures.