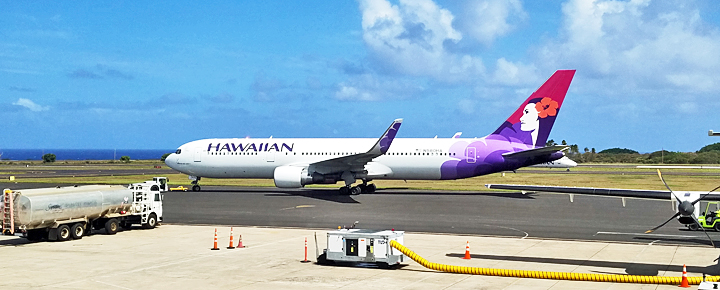 As you may have heard, Hawaiian Airlines was involved in a near miss (called a "loss of separation") at Maui's Kahului airport last week. The incident resulted from another pilot who mistakenly thought his flight had been approved for takeoff.
What happened is as follows. Hawaiian Airlines flight 155 (Boeing 717) had been cleared by air traffic control for departure from Maui. ATC warned Hawaiian about another plane preparing for departure. The pilot of the other plane, Makani Kai flight 825 (Cessna Grand Caravan), thought in error that it was his flight that had been cleared for takeoff on a another runway.
The air traffic controller saw that the two planes were attempting to take off on intersecting runways and advised the Makani Kai flight to turn to avoid a collision with the Hawaiian Airlines plane.
Controllers alerted the Hawaiian jet, but the plane's pilot had already independently initiated a right turn to avoid a collision.
Maui airport does not have ground radar monitoring as most major airports do (including HNL).
The FAA is continuing to investigate the incident.
Hawaiian Airlines Safety Record.
Hawaiian has an incredible safety record. They have never had a fatal accident or the loss of a plane hull since their founding in 1929.
They have had some incidents, however, that include the following:
2003 aileron trim-caused rapid 35 degree roll (no injuries)
1998 engine fire (no injuries)
1991 door failure on take-off (no injuries)
1988 engine failure (no injuries)
1982 smoke in cabin incident (2 injuries)
1980 engine fire (3 injuries)
In addition to safety, Hawaiian also often ranks at the top when it comes to on-time performance, the fewest cancellations, and best baggage handling. We have actually never had a bag lost, have had only one flight cancellation and very few delays when flying Hawaiian in hundreds of flights.
Disclosure: We receive a small commission on purchases from some of the links on Beat of Hawaii. These links cost you nothing and provide income necessary to offer our website to you. Mahalo! Privacy Policy and Disclosures.