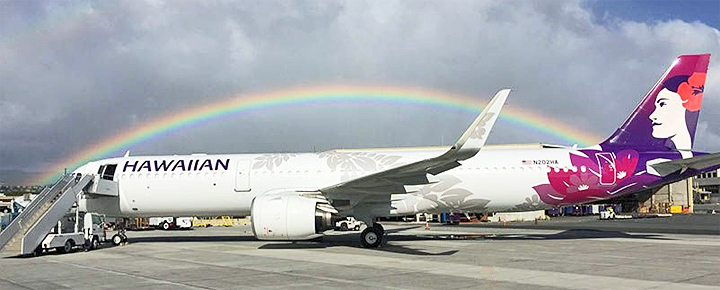 New routes and inaugural flights were announced today that will utilize Hawaiian Airlines' new fleet of planes. This isn't just a new plane for Hawaiian but an entirely new way of doing business using smaller single-aisle planes.
The new 18 aircraft fleet, the first plane of which has already been delivered, will start to enter service starting this month. The planes feature a silver maile leaf lei around the fuselage in addition to the iconic Pualani tail image.
More New Routes, Sale, Inaugural | Hawaiian Airlines A321neo
First, the company is launching daily non-stop service between San Diego and Maui starting May 1. That route is on sale starting today from $199 each way from May 1 to 24.
Today Hawaiian also introduced A321neo service on seasonal flights. Those include service between San Francisco and Honolulu, and Oakland and Kona. Hawaiian will also be adding seasonal summer flights between Los Angeles and Maui and between Honolulu and Tokyo, supplementing existing daily service on each route.
"We are delighted to offer travelers more options to visit our islands next summer." — Peter Ingram, HA executive vice president.
The routes announced today are in addition to four routes previously announced using the new Hawaiian Airlines A321neo single aisle jets.
The new routes have already created a stir in the industry, even before Southwest Airlines Hawaii flights begin. In addition, United Airlines Hawaii flights are set to expand significantly starting this month while Delta will start nonstop service between Seattle and Lihue in direct competition with Alaska Airlines.
Why Beat of Hawaii is excited about the new A321neo fleet.
With these planes come some of the best opportunities for improved pricing in the Hawaii air market. Specifically, these new planes allow Hawaiian to be more cost effective, and compete strategically for the first time on many existing and new routes. They will battle with both Alaska Airlines and the legacy carriers' American, Delta and United. Those companies already use smaller, right-sized 737 and Airbus fleets. Previously, Hawaiian only flew wide-body planes which severely limited viable routes.
Other Routes That Will Feature A321neo starting this month
Hawaiian plans to have crew familiarization flights for the A321neo starting December 19. You'll find the planes flying between Honolulu and Kauai, Maui and Kona for three days, then again for six days starting December 26. Check flights on these routes if you want to be one of the first to try out the new aircraft.
Previously announced routes on Hawaiian Airlines A321
Oakland to Maui. Hawaiian's inaugural A321 service between the West Coast and Hawaii starts January 8 on its existing Oakland to Maui service. Check for competitive pricing on this route.
Portland to Maui. Nonstop daily service starts January 18, 2018. Check for competitive pricing on this route.
Los Angeles to Kona. Nonstop daily service starts March 11, 2018. Plane will initially be 767 until A321neo takes the route sometime next summer (not yet showing on schedule).
Oakland to Lihue. Nonstop daily service starts April 11, 2018. Check for competitive pricing on this route.
Get our updates and we'll let you know when all of these route are on sale.
Learn more about the new Hawaiian Airlines A321neo fleet and what you can expect: Hawaiian Airlines' New Fleet | Routes, Design, Seating, Entertainment
Updated 12/04/17.
Disclosure: We receive a small commission on purchases from some of the links on Beat of Hawaii. These links cost you nothing and provide income necessary to offer our website to you. Mahalo! Privacy Policy and Disclosures.