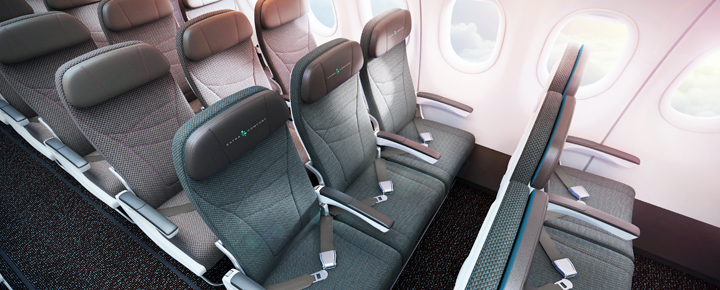 Hawaiian Airlines today announced the cabin design of the new Airbus A321 fleet. It will soon reign dominant in the skies between the west coast and Hawaii. Here's a glimpse of what you can expect in terms of routes, cabin layout, seating, entertainment and other amenities.
Which flights to Hawaii. This new fleet will be the primary workhorse for flights between North America and the four primary Hawaiian islands. On all but the most dense of routes (for example largest cities to Maui and Oahu) these will replace both the retiring Boeing 767 fleet as well as the A330 fleet.
Hawaiian Airlines may attain cost savings of 30% to 40% per flight using the A321.
The specifics of which existing and new flights will use the new A321 fleet are expected to be announced later in 2017. These planes will allow Hawaiian Airlines to be more cost effective, compete strategically with Alaska Airlines' smaller 737 fleet and provide many new routes.
Even Mexico City May Be Coming: New routes will undoubtedly include flights from the Pacific Northwest, Western Canada, Bay Area, Southern California, Las Vegas, Phoenix, and Papeete among others. There is also the possibility of new flights to Hawaii from Denver, Salt Lake City, Albuquerque, and Dallas.
Delivery. The fleet of 18 aircraft will be delivered starting in early 2018. They are less than one year away. The deliveries will occur over a period of two years.
Cabin layout. Each aircraft will accommodate 189 passengers with 16 premium, 45 extra comfort and 128 economy seats. The cabin design will feature a fresh and clean, modern aesthetic. Premium (business class) cabin will have recliners, rather than the lie-flat seats on the A330 fleet. The extra comfort cabin will have 5 or more extra inches of legroom. All seats include USB charging while extra comfort and premium seats will also have electric outlets.
Cabin design. Fabric and materials inspired by traditional Hawaiian handcrafts. Signage is to be in English and Hawaiian. There will also be customized design featured even in lavatories. The cabin is said to feature an LED mood lighting system.
In flight entertainment.  A big change here inasmuch as this will be offered on traveler devices only. A phone/tablet app can be downloaded to personal devices before boarding in order to enjoy complimentary movies, TV and content about Hawaii. Holders for phones and tablets are being built into the tray tables or backrests.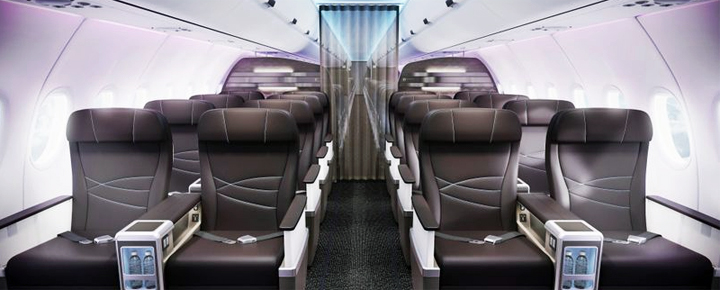 Disclosure: We receive a small commission on purchases from some of the links on Beat of Hawaii. These links cost you nothing and provide income necessary to offer our website to you. Mahalo! Privacy Policy and Disclosures.