We're going to share how we were able to fly in Alaska Airlines First Class for barely $200 more than in economy. That's a great deal, the "hack if you will," and we'll tell you how we did it and what the entire experience was like.
First, by introduction, as you saw when we recently compared Southwest and Hawaiian flights interisland, we never know how these reviews will go. And flying Alaska First Class has been one of editor Jeff's favorite choices to the mainland since the airline first started flying to Hawaii. He finds it familiar and comfortable, albeit not truly luxurious. If he'd been a guessing person, he'd have expected to write a somewhat different review. But on this flight, it was not in the cards to work out exactly as planned.
You can generally count on consistency in this product above all else, both to Hawaii and elsewhere. There is nothing "Hawaiiana" about the service, but it is authentic with a distinctive Northwest flair.
The flight reviewed was AS 301 on Thursday, September 1, 2022, from LIH to SJC.
Boarding. No scoring.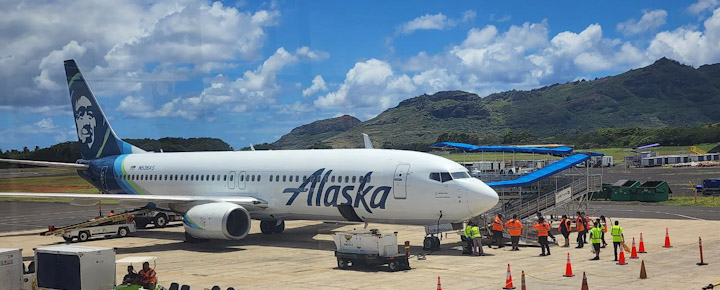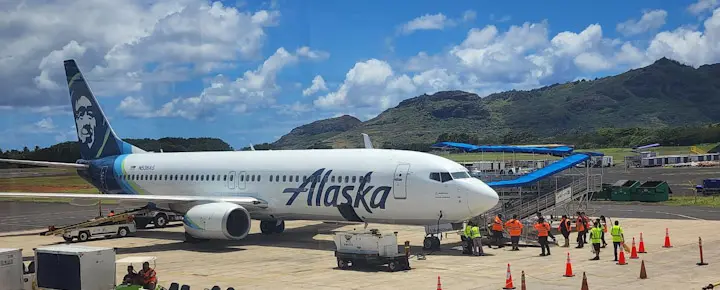 Here things started to go awry, and it wasn't the normal process, as seen from the photo above. First, for whatever reason, there was no jet bridge available. So boarding was via stairs down to the ground between gates 9 and 10, then up via a ramp onto the aircraft. Given the few passengers, however, it went pretty fast. BTW, the Southwest flight to SJC that shared the same area boarded normally at gate 9. While we can't attribute the stair boarding process to a problem of Alaska's making, it was nonetheless undesirable. Since we don't know who was responsible for this, we will leave this section scoreless. If we had scored it, we would have given it 7/10.
Things That Could Have Improved:
WiFi/texting. 0/10.
Alaska says that nearly all of its fleet is satellite WiFi equipped, and they offer unlimited WiFi for $8. Even while free texting was announced by the flight crew, in the end, there was neither. Their website says, "Most of our flights offer internet access inflight." Knowing there would be WiFi, Jeff planned to write this review online in flight but instead wrote it offline using docs. Ugg.
Greeting on Board. 0/10.
Jeff walked on soon after boarding started. There were two flight attendants in the forward galley. Neither one greeted him, which is unusual for the generally warm and friendly Alaska crew. They continued jovial talking amongst themselves. Wanting to let that go by, he waited to see if they would greet other First-Class passengers subsequently. But that never happened either, and the first interaction with the flight crew wasn't until ordering drinks following departure.
Cockpit crew interaction 6/10.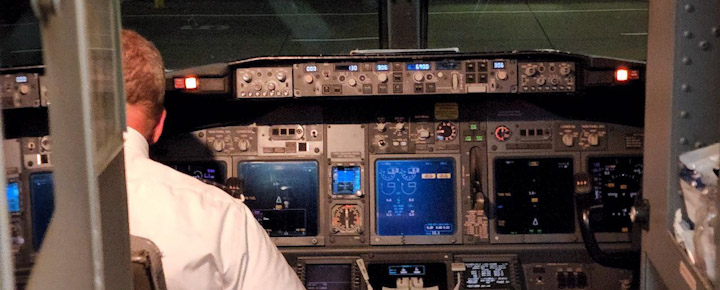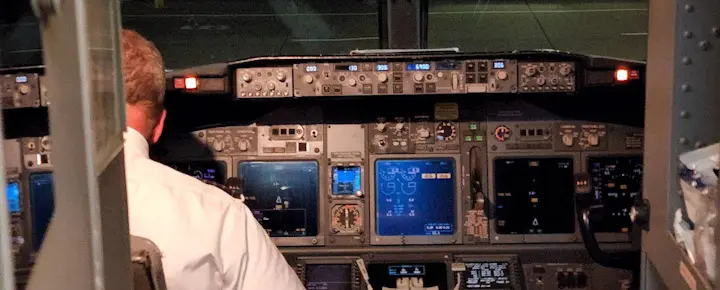 There was no welcome announcement from either the pilot or the copilot. There were no announcements by them after departure either. The only time passengers heard from them were the two times seat belts were required due to turbulence and with an update and weather report just before landing.
Flight attendants. 8/10.
The main First-Class flight attendant was pleasant, attentive, and hard-working throughout the nearly five hours aloft. Other than the lack of greeting and not calling passengers by name, she would have scored a 10. The other attendant, who wasn't the primary person in First Class but assisted many times, had a rather dour demeanor and never engaged with anyone as far as Jeff saw. He appeared far more interested in his cell phone. While that's okay in economy to a degree, it isn't in First Class, where service is a signature component.
Seating and comfort. 8/10.
The First-Class seats are dated. Compared with the current narrow body offerings from Hawaiian and other airlines, however, the space, including legroom, was adequate, comfortable, and seems overall comparable. Wide-body planes with lie-flat First-Class seating on flights to Hawaii are typically dramatically better. One note is that the First-Class cabin shares its restroom with economy.
There was an electrical outlet and USB power at every seat. A blanket in a sealed bag was at every First-Class seat, but there was no pillow. 
Aircraft condition. 8/10.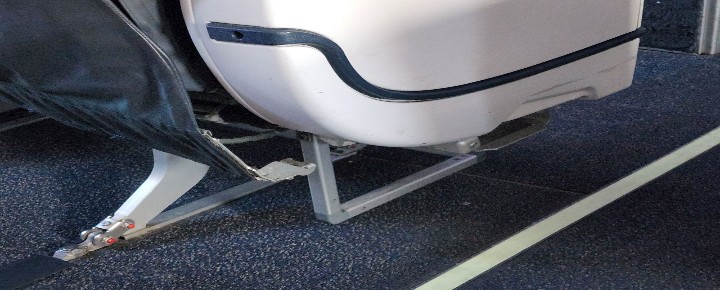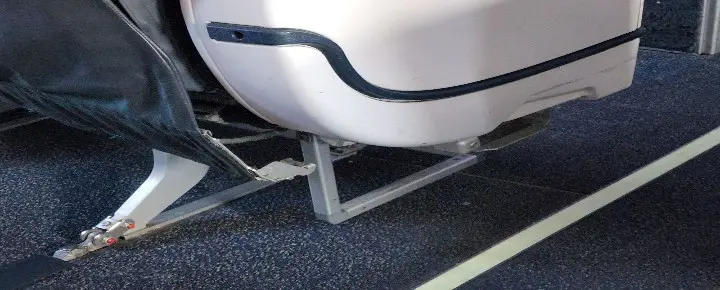 The 737-800 was also clearly dated and appeared worn. However, the large "space bin" luggage bins, which are pretty new, were great. The front flight attendants' jump seats were broken and inaccessible. As a result, the flight attendants blocked the aisle seats in row 1 for them. That required some jockeying of passengers. Jeff also noted that the back corner of the first-row seat was broken, as pictured.
What worked well:
Cost. 10/10.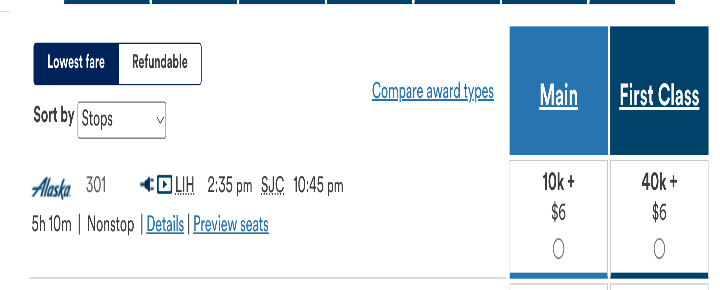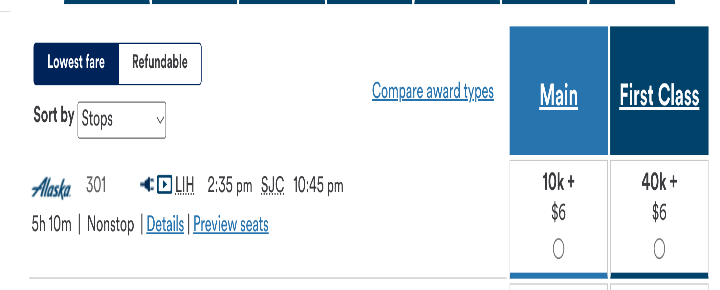 Jeff used Alaska Air miles for the trip, and the First Class was available at the lowest price Alaska offers, which is 40k. That's equivalent to $400 based on the estimated value of one cent per mile,  a value derived based on our experience. For any First-Class ticket to Hawaii, that is very reasonable and you'll see them going for up to 90k across the airlines. It's an especially great value since Jeff earned those miles shopping with their branded credit card and by flying on other Alaska flights.
Read: Upgrades on Flights to Hawaii | Tips and Tricks That Work.
Reservation process. 10/10.
Purchasing tickets online was easy and familiar. So was selecting and changing seat assignments. Everything worked fast and flawlessly. Meals can be ordered online in advance from their app, and Jeff selected an unusual teriyaki chickpea bowl. The only other option offered was chicken. On a side note, it does seem that when pre-ordering meals, more choices might be included. Jeff checked seats and meal options several times between the day of booking and the flight but made no changes. All good.
Customer service. 10/10.
Jeff decided to call and ask a question about mileage redemption, and there too, Alaska did a great job. Professional, courteous. The call was answered quickly by a representative in Boise. Good customer service.
Check in online and at the airport. 10/10.
This was smooth and seamless using the Alaska Airlines app for the boarding pass. A reminder to check in was sent exactly 24 hours before flight time.
At the airport, there was a separate First-Class line with no one waiting. The person working, who Jeff believed was a contractor rather than an Alaska employee, was excellent. There was really no line for economy passengers either.
On-time. 10/10.
The inbound fight left San Diego nearly 30 minutes late. So the departure from Lihue was also set to be slightly late. But in the end, and due in part to the extremely light passenger load, the plane departed right on time. PS. Jeff did just what we suggest you do. He checked the inbound flight's departure time as the first indication of whether his departing flight might be late. He also checked the Mytsa app before heading out to avoid airport delays. Great job.
Service. Let's face it, when you're paying extra for First Class on a flight to Hawaii, it's half about the extra space and half about the service provided.
Food and beverage. 10/10.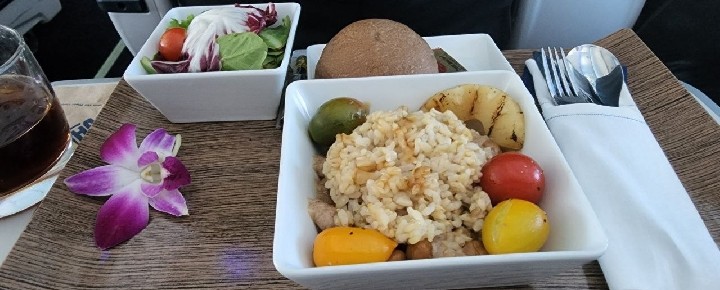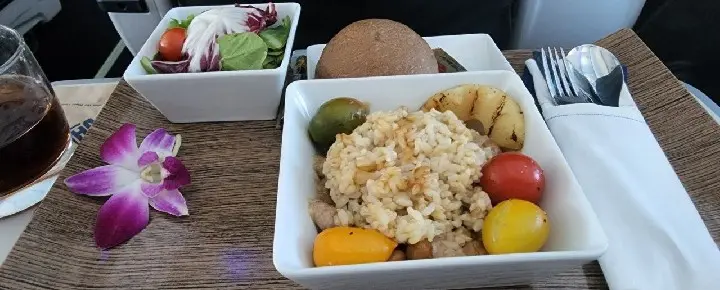 The meal pictured here was fine. Completely serviceable and adequate in every way and as good as we've found for domestic First Class. The entire meal, except for dessert, was served on one tray. That appears to be a Covid holdover, and we greatly prefer the meals being served in courses as is traditional. The entree followed a traditional beverage and warm nuts service. Real silverware and a cloth napkin were provided. 
Complimentary alcoholic and non-alcoholic beverages were offered many times throughout the flight.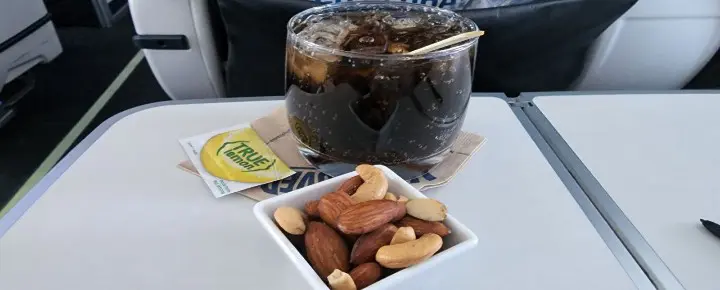 About two hours into the flight, an unusual and delicious handmade ice cream dessert was served. It was excellent.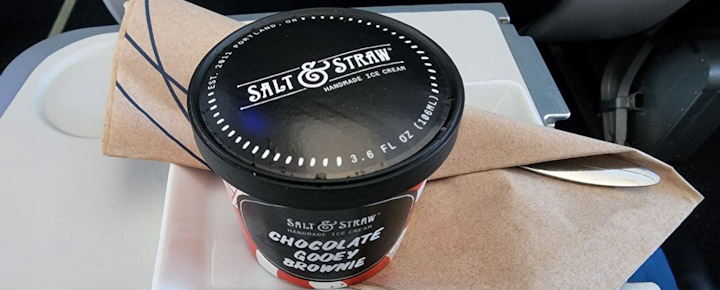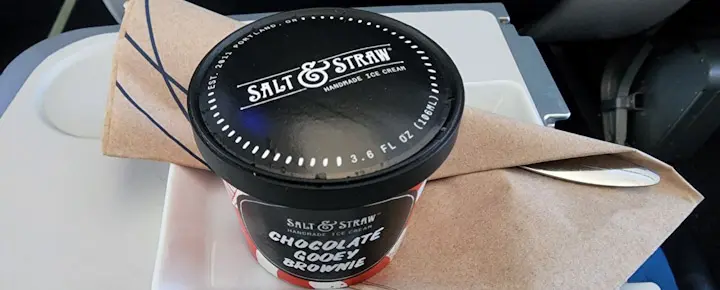 One hour before landing the flight attendant brought around a self-serve snack basket with a variety of bars, cookies, chips, and other snacks. It was a nice touch and Jeff chose the tasty Lesser Evil popcorn. The flight attendant returned with the second round of snacks and this time made the suggestion of Karma toasted coconut cashews. The simple suggestion was an appreciated and elevated gesture of kindness that harkens back to the essence of First-Class airline travel.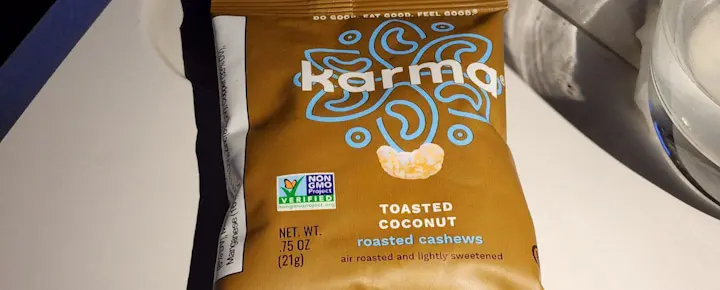 Entertainment. 10/10.
Entertainment on board Alaska flights is all via personal devices in conjunction with the Alaska Beyond app. The variety was large, and to be honest, Jeff didn't watch but one TV show. Some prefer seat-installed entertainment screens, but on a domestic flight, for us that's not a big deal.
Baggage claim. 10/10.
The baggage claim in San Jose was extremely fast – less than 10 minutes. Alaska has a 20-minute bag claim guarantee which we have had to use before, but this time it all worked flawlessly.
Total review score: 110 out of a possible 140.
Teaser.
The return flight the following day was not on Alaska Airlines. That review will be published next.