Good news today for Hawaiian Airlines; the delivery suspension of the Boeing 787 Dreamliner and their upcoming aircraft, has just been lifted. This is excellent for the Hawaii Bellwether, as they are about to take delivery of their first new plane, which will dramatically alter their fleet for the first time in over a decade.
The stoppage began unexpectedly in January when an issue surfaced on a fuselage part that required further analysis to the FAA's satisfaction. It was related to the "787 forward pressure bulkhead." For the past two months, while manufacturing continued and deliveries did not, airlines wondered how long this might take, although the manufacturer didn't expect it to be extended. Concerns were exacerbated by the plane's multiple previous manufacturing and delivery problems and delays. Boeing said, "There is no immediate safety of flight concern for the in-service (Dreamliner) fleet."
A few months ago marked the 10 year anniversary of Dreamliners. To this day, the 787 is a game-changer that will move Hawaiian Airlines into a new era.
The FAA approved the resumption of 787 deliveries next week.
The FAA's requirements have been met, and no further delay or remediation to existing aircraft is required.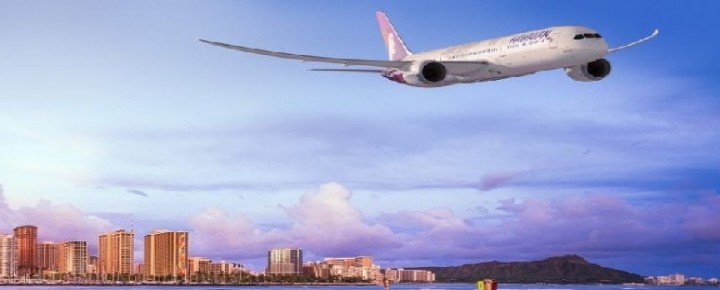 Hawaiian notified of delivery dates.
Next up, Boeing is communicating with airlines awaiting delivery, including Hawaiian Airlines, to integrate its first plane into its network planning.
Hawaiian recently upped its order for fleet-changing Dreamliners.
Hawaiian Airlines and Boeing Co. recently agreed to increase the number of planes and change their delivery schedule. While Hawaiian had originally purchased ten Dreamliners with options for ten additional aircraft, that was revised to an initial order of twelve aircraft.
Tentative delivery schedule for Hawaiian Dreamliners.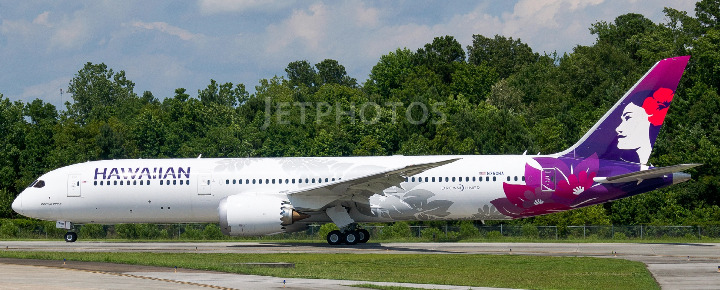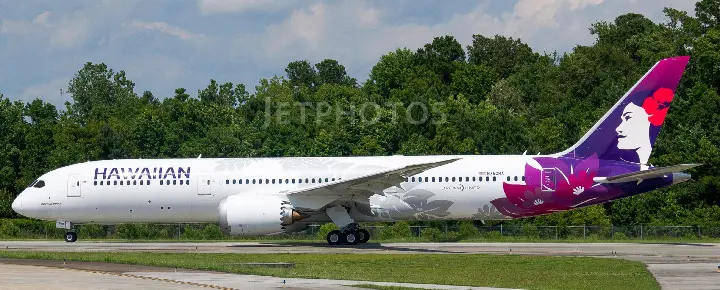 Hawaiian last said that deliveries of their first Boeing 787-9 could start as soon as October or as late as December. The remaining planes will be arriving through 2027. Three more planes are set to be delivered next year. The latest schedule includes a delay of two-plus years from the original delivery plans they first announced.
The question remains whether any further delay could result from larger orders awaiting deliveries. See Will Hawaiian Dreamliners Get Trounced By Huge UAL Order?
Why Hawaiian Airlines Dreamliner will change things so much.
When the planes arrive, they will not replace Hawaiian's ten-year-old Airbus A330-200 fleet of 24 aircraft. The Dreamliners can go greater distances while providing more luxury, overall comfort, and fuel economy than the current planes. We look forward to seeing those planes on a variety of existing and new routes since the plane can fly up to 14 or more hours and 7,635 miles distance. We suggest those may include:
Honolulu to New York
Honolulu to LA
Honolulu to San Francisco
Honolulu to Sydney
Honolulu to Tokyo
Honolulu to London (new)
Honolulu to Southeast Asia (new)
Double suites are just one feature of Hawaiian Airlines' Dreamliners.
With these planes, Hawaiian will be better equipped to target the premium Hawaii travel market paradigm. The new business class seats are a significant improvement compared with the A330 widebody fleet, which was the airline's first foray into lie-flat seating and didn't provide all passengers with direct aisle access as has become the industry standard. They are the first customer for a new suite from Adient Aerospace, pictured below. The center seat combination is referred to as a "Cabana Suite."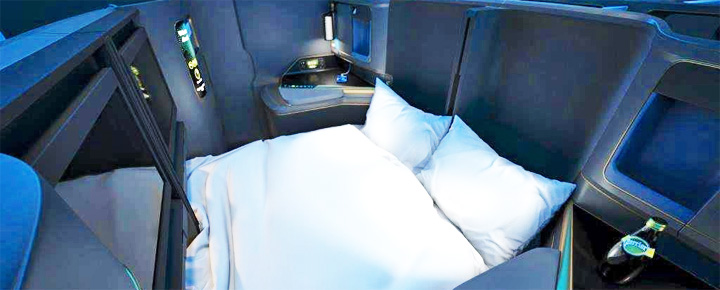 Awaiting economy configuration and the possibility of premium economy.
There hasn't been any announcement of their economy seating plans and configuration, although we know the hard product will emanate from Ascent. While Hawaiian had said there would be no premium economy cabin, we think that will change. They would be the only airline flying to Hawaii that does not have a premium economy offering. That, too, is becoming the industry standard on widebody aircraft.
Hawaiian Airlines Dreamliner interior. 
New Hawaiian Airlines 787 Interior
Original announcement: Up to 20 New Hawaiian Airlines Boeing 787 Dreamliner