Hawaiian Airlines has two new fleets starting up, and both have exciting developments to report. The first is the long-awaited and multiple-times delayed Hawaiian Airlines Boeing 789 Dreamliner, which just got much closer to its arrival in Honolulu. And the second fleet can best be described in one word: Amazon. Let's look at both.
Hawaiian Airlines' Dreamliner has arrived At Boeing's Paine Field in Everett, WA.
The aircraft has been seen at multiple places on the mainland, the last of which was in storage in San Antonio. It flew for the first time about two years ago before being stored there during Covid. But last week, the new Dreamliner made the flight west to Everett, which is probably the last stop before Honolulu.
We checked in with Hawaiian when the plane took the "ferry flight" west to inquire whether that meant that the arrival date might be sooner than Hawaiian had previously anticipated.
In emails with Hawaiian's spokesperson, BOH said, "Saw that your first new Dreamliner N780HA moved yesterday from storage to Paine Field. Does that mean you are about to take delivery?"
Hawaiian responded: "We still expect to have the first 787 delivered to us in January."
Hawaiian Dreamliner at Boeing Everett factory.
We need further information about what work may be completed at the Boeing factory. Situated on the northeast corner of Paine Field, the factory includes the world's largest building at 472,370,319 cubic feet.
Once the plane arrives in Honolulu, you'll see it parked nearby the Hawaiian terminal. After that, it will move into training followed by service, which will initially be on west coast routes. Thereafter it may fly both internationally and to New York. Beat of Hawaii intends to fly one of the inaugural flights and report back on the new plane.
The new fleet, first intended to consist of ten aircraft, has been expanded to twelve, which is significant for a regional airline of Hawaiian's size.
Hawaiian Airlines' first Amazon cargo aircraft has left Hawaii.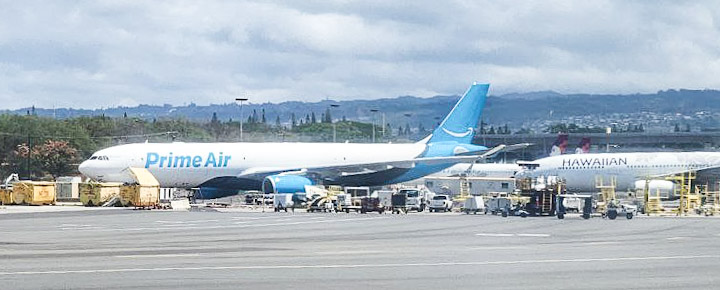 Another new aircraft fleet is entering service at Hawaiian at about the same time, in an entirely different venture. That plane departed HNL last week and arrived at Cincinnati.
A new Hawaiian/Amazon partnership will be coming to fruition sometime between October and December. The first Airbus A330-300, with the Prime Air Amazon logo, arrived at Honolulu Airport early in July.
We spotted it soon after it landed in Honolulu. The plane is named "Momentum." Like the Dreamliner aircraft Hawaiian is getting, the Amazon/Hawaiian plane sat parked nearby the Hawaiian Air passenger terminal at HNL during its Hawaii familiarization and maintenance time.
Hawaiian and Amazon are leveraging each other's strengths in this novel joint air cargo operation. When first announced, we said, "This is an entirely new and innovative direction for Hawaii's largest private employer."
The agreement covers a fleet of ten aircraft that Hawaiian will both operate and main for the next eight years, or longer. Hawaiian will need 160 pilots in order to fulfill this new agreement.
While the Airbus A330-300 freighter fleet is very familiar to Hawaiian, albeit a different model variant than the twenty-four Airbus A330-200 jets the company uses for passenger flights, the plane type provided another apparent synergy between the companies.
Hawaiian is setting up its mainland base for pilots and other personnel. These planes are to be based at Cincinnati Airport. Hawaiian will maintain the Amazon fleet here in Hawaii and likely in Cincinnati. Hawaiian's external maintenance resources, the same as with their passenger jets, will also be employed. Those are done at a division of Singapore Airlines in Clark, Philippines.
Lead photo credit Jennifer Schuld on Twitter.