Ala Moana is the ultimate Hawaii shopping center and a perennial favorite of the masses. It's a great place to shop, and a fabulous Honolulu park and beach too. In a word, you can't help but love it.
When I visit Ala Moana Shopping Center, which is within walking distance of Waikiki, three of my favorite stops, among countless others, remain Shirokiya, Book-Off and the Honolulu Coffee Company. I'm happy just thinking about it. If you love to shop or eat, you'll enjoy Ala Moana. It's the world's largest outdoor shopping center and features nearly 300 stores including 70 food options.
This fascinating Japanese department store has recently been largely transformed into a Japanese dining extravaganza. You'll find everything from Japanese confections and tea to an enormous selection of prepared foods that can be eaten there or taken away. If you're not familiar with Shirokika, imagine a whole department store that is a Japanese food buffet. There's a $1 beer garden now, and they also still sell the traditional Japanese goods, massage & healthcare equipment and supplies, toys and stationery as in years past.
Within Shirokiya you'll find another of my favorite Honolulu Haunts. Book-Off is a great place to find paperbacks and hard covers, often for only one dollar. Pick up a great read for your Hawaii vacatation. It's not easy to locate Book-Off unless you're familiar with the Shirokiya store which is located near Macy's. You'll find Book-Off tucked away on Shirokiya's first floor.Even though this is one of their relatively small locations, Book-Off remains Japan's largest used bookstore chain.
Before you head out the door, consider a stop for dessert on the first floor at Saint-Germain Bakery, which first opened at Ala Moana over 30 years ago.
Here's another regular stop whenever I'm at Ala Moana. It has been around for over a decade, and they roast and brew terrific Coffee. Their third floor location is comfortable and a nice respite from shopping. I do miss the roaster that used to sit in the middle of the store.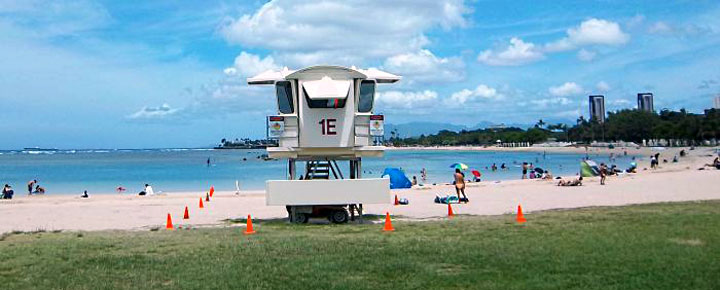 Directly across the street you'll find the renowned Ala Moana Beach Park. With a bathing suit stowed in your car, you'll be ready for a dip when you've had your fill of food and shopping. This is my favorite place to swim in Waikiki. The beach is long and reef protected. A perfect place where you'll find local families and visitors alike. While you won't be alone, it's big enough that the crowds shouldn't be an issue. Not in the mood for a swim? No problem, it's a beautiful place to walk at any time of day. A walk around Magic Island, is, well, magical.
Your Favorites
Where do you head to at Ala Moana?
---