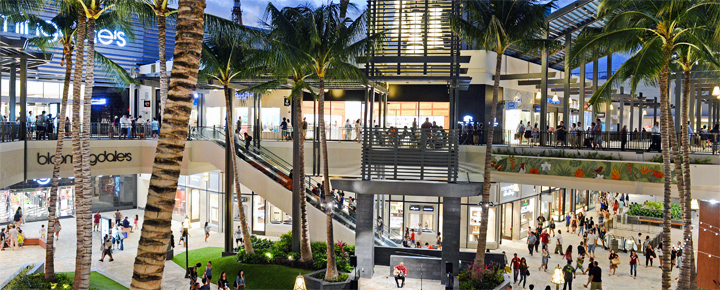 Ala Moana is the ultimate Hawaii shopping center and a perennial favorite of the masses. It's a great place to shop, and a fabulous Honolulu park and beach too. In a word, you can't help but love it.
When we visit the nearly 2.5 million square foot Ala Moana Shopping Center, which is within walking distance of Waikiki, we have countless favorite stops, including among others the Honolulu Coffee Company. If you love to shop or eat, you'll enjoy Ala Moana. It's the world's largest outdoor shopping center and features 340 stores including nearly 100 food options.
The shopping center constantly remaking itself, including most recently the new 650,000 square foot Eva Wing. Previously occupied by Sears, this includes Bloomingdale's and a new Nordstrom store plus Ala Moana Center's multi-level 650,000 square-foot expansion is now open! The Ewa Wing Expansion includes the opening of a 167,000 square-foot Bloomingdale's department store, large format retailers, dining, entertainment, 200,000 square feet of inline retailers and an additional 1,000 parking spaces in the Mauka Ewa Parking Structure. The project also includes the newly opened 186,000 square-foot Nordstrom department store and soon a 47,000 square-foot Foodland Farms grocery store.
Here's another regular stop whenever I'm at Ala Moana. It has been around for over a decade, and they roast and brew terrific Coffee. Their third floor location is comfortable and a nice respite from shopping. I do miss the roaster that used to sit in the middle of the store.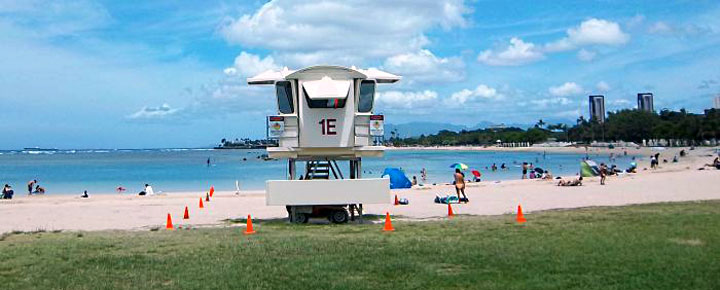 Directly across the street you'll find the renowned Ala Moana Beach Park. With a bathing suit stowed in your car, you'll be ready for a dip when you've had your fill of food and shopping. This is our favorite place to swim in Waikiki. The beach is long and reef protected. A perfect place where you'll find local families and visitors alike. While you won't be alone, it's big enough that the crowds shouldn't be an issue. Not in the mood for a swim? No problem, it's a beautiful place to walk at any time of day. A walk around Magic Island, is, well, magical.
Your Favorites
Where do you head to at Ala Moana?
Disclosure: We receive a small commission on purchases from some of the links on Beat of Hawaii. These links cost you nothing and provide income necessary to offer our website to you. Mahalo! Privacy Policy and Disclosures.