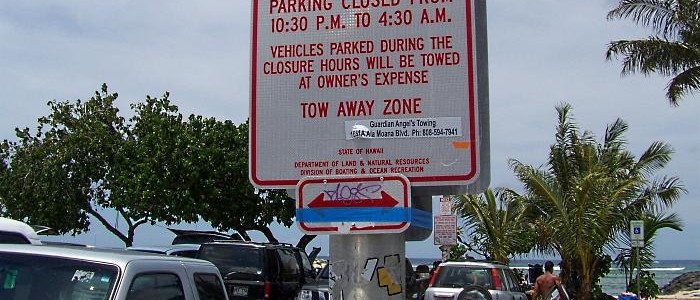 Did you know that parking in Honolulu is up there in price with New York City? If so, it will come as no surprise that our second most popular post ever is Free and Cheap Waikiki Parking. Obviously I'm not alone is my disdain for the sky high parking rates that can wreck a Hawaii vacation.
Recently I took a drive through Waikiki specifically to see what had changed since the last post, and here's my update:
If you find parking at either end of Waikiki rather than in the middle, you'll do better in terms of free and cheap.
Free parking near the Zoo
If you're going to be at the far end of Waikiki, near Kapahulu and the Honolulu Zoo, then free parking is almost always available. Not only that but you can park 24 hours a day, so it works well if you're staying at a nearby hotel. The free parking is located on Monsarrat Ave, which is easy to find using Google Maps.

The parking lot at the Zoo, on the other hand, has now become more costly. It will run you $1 per hour, up to $24 per day. On the plus side, there's a modern day parking machine that takes credit cards or cash, and dispenses tickets you place on the dashboard.
Free parking near Hilton Hawaiian Village
Behind the Illikai and the Hilton lagoon, there's a parking lot that offers completely free parking. It does not work for overnight parking however as it closes at 10:30 pm.
Free parking along Ala Wai Canal
There's been construction along the Ala Wai Canal near Ala Moana Shopping Center, a long time favorite free parking spot of mine. Last month dozens of free parking spaces were restored. This month, some of those are again blocked by construction. It's always a crap shoot here anyway, as to whether or not you'll find parking. People sometimes hang out in their cars waiting for someone to leave. Parking is available 24 hours a day.
$10 a day parking at Aston Waikiki Banyan
There's always parking for $10 per 24 hours at the Waikiki Banyan. It's a good deal if you find yourself near Ohua Street, near the center part of Waikiki.
Do you know of any other free or cheap Waikiki parking I can add to the list?
If so, please add them right here.
Subscribe to our email updates.