First, the good news. Yes, free parking Waikiki is still possible, and at least for now, it can even come with the exquisite view pictured here. Tracking where to find it, along with cheap parking Waikiki, has been a passion at Beat of Hawaii for years.
Last week we scoured Waikiki parking again using these tricks. It's easy to save as much as $50 or more per night in hotel parking garages, which is no chump change.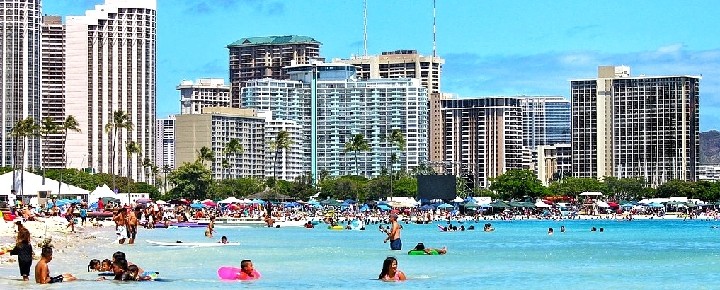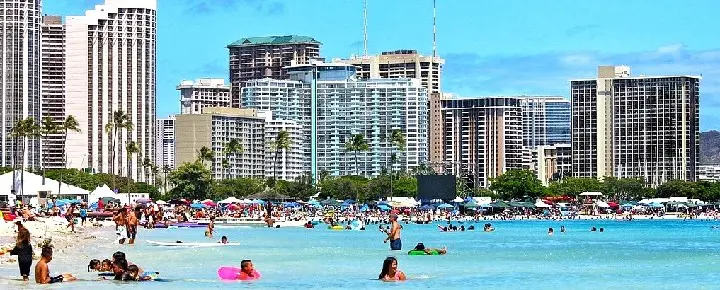 You won't find public parking per se at Waikiki Beach other than as listed below. Garages can be expensive, and some involve a walk from the parking lot when heading to Kuhio Beach Park, Queen's Beach, or the other Waikiki beaches. But there's still much free Waikiki parking to be found.
Whether staying at a hotel in Waikiki or just parking there for the day, read on to save enough money for an evening on the town!
Honolulu never upgraded 3G parking meters. Oops. They stopped working.
A problem has arisen that prevents credit cards from being used to pay for parking in Honolulu. The city has known about Verizon shutting down its old 3G network for three years but didn't rectify the problem promptly. As of January 4, parking meters in Honolulu stopped accepting credit cards. So it's time to travel with quarters in hand. We always did then when visiting Honolulu, and we will return to that practice.
More than 2,200 meters in Waikiki and downtown Honolulu areas have been impacted. Mysteriously some meters appear to be still working, but that will also come to a fast end. Quarters can be used, although we're told the meters might stop taking coins too.
This parking meter dilemma will go on for months or longer.
It has been estimated that it will take up to six months (which, in Hawaii terms, is always longer) before credit cards will be accepted for parking again.
No parking citations (at those meters) during this mess.
The police department has agreed to no longer issue parking tickets for meters that are so affected. So for now, even those meters appear to offer free parking. Until they don't.
Be aware, however, that coin-only meters will continue to operate as before, and if you don't have money in the meter, you will be cited.
Free parking at Ala Wai Boat Harbor could be eliminated.
There has been abundant free parking at the Ala Wai Boat Harbor area near Hilton Hawaiian Village. A new proposal, however, is to convert that to digital metered parking.
For the time being, you'll still find a lot of free parking behind the Ilikai Hotel, the Hilton's Duke Kahanamoku lagoon, and nearby Waikiki beaches. But remember, these free Waikiki parking lots have a 6-hour maximum. Look at Google Maps for location. The lots tend to get crowded, and people wait for others to leave.
In addition, there's a paid parking lot here that's open 24 hours a day for $1.00 an hour (no in/out privileges). So if you are staying in that part of Waikiki, you can park at the free lot during the day, and this one can work overnight. By comparison, when staying and parking at nearby Prince Resort, valet parking will cost you $52.
Tip: The parking lot on the right side (towards the airport) has many more spaces and fewer people queuing for them. While others sit in their car waiting, park there, and you'll already be at the beach.
Free parking Waikiki + cheap parking Waikiki update.
There are still some easy alternatives to paying more expensive parking fees in Waikiki. Below are seven of our favorite places to park in Waikiki, followed by three tips not to be missed.
We're talking about Honolulu having some of the most costly parking rates in the country. Our updated list starts at the Ala Moana side of town and heads up to Waikiki's Diamond Head side. Please let us know your tips too. Also, things can change rapidly, so be aware of signs regarding parking regulations and prices.
1. Ala Moana Beach Park.
If you're staying at hotels near Ala Moana, there's free all-day but no longer overnight parking alongside the park on Ala Moana Park Drive. Always be sure to read signs carefully. We're guilty of getting a ticket here ourselves by not reading.
Tip: It gets very busy on weekend days with beachgoers at Ala Moana. A suggestion is heading to the mall for covered free parking during mall hours.
2. Ala Wai Canal.
Except for certain times, Mondays through Fridays, get there before the crowds, and you may find free parking along the Ala Wai Canal (no parking on weekdays from 8:30 AM to 11:30 AM). Continue on Ala Wai Boulevard until you are on the opposite side of the canal from the convention center to find free spaces available 24 hours a day. It can happen; we recently found open spaces at around 10:00 AM on the weekend. Image below. When it works, it works. Don't count on it, though. So have a backup plan.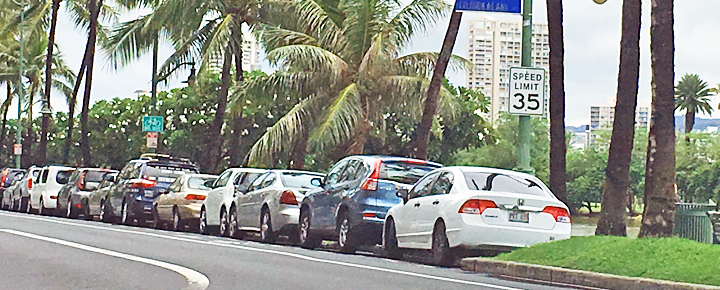 3. Waikiki Shell.
On the Diamond Head side, at the Waikiki Shell, you'll find free unlimited parking, which is almost always available on Montserrat Avenue. You can park overnight, too. Do watch for signs indicating occasional closures for special events. We've parked overnight here many times over the years without issue.
Tip: This works great for day parking and overnight parking at nearby Waikiki Hotels. See the location on Google Maps.
4. Diamond Head Road area.
There's abundant metered parking all along Diamond head road at Kapiolani Park. The fee is 50 cents per hour, and it's free on Sundays and before and after parking regulation hours. You can park overnight.
5. Kaioo Drive and Wai Nani Streets.
Located at opposite ends of Waikiki, these streets still have free parking.
6. Side streets off Kalakaua Avenue and Kuhio Avenues.
Here you'll find metered parking with a range of prices starting at $1 per hour.
Additional tips.
1. Parking meters are a trip. First, read signs carefully, as we have had tickets here and there in Waikiki when not doing so. Also, they aren't enforced on Sundays! Some meters previously took credit cards, but not all. So it's highly recommended that you come with a bag of quarters. We always do!
2. Check resort and hotel self-parking fees. One hotel, Waikiki Banyan, still offers reasonable paid parking for non-guests at $30 per 24 hours, including in/out privileges.
3. When parking in any lot, be it independent or at a hotel, check rates and availability first. Determine if parking is on an in-and-out basis rather than just one entrance. That can make a huge difference. There can be variable rates depending on the times of day you enter and exit.
We stumbled upon this recently, which looks to be promising. Parkopedia offers a parking search and reservation service. You can search for parking locations in a specific area, get pricing and availability, and even reserve and pay for parking.
By entering the specific dates and times you intend to park, together with the neighborhood, you'll be presented with a map of parking options with full details of what it will cost for your stay. Please let us know if this works for you.