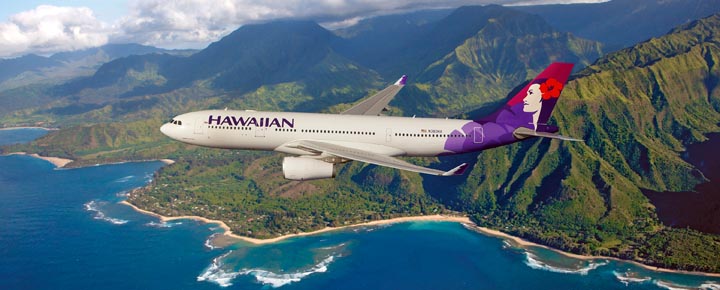 Latest today (December 5, 2016) from New York on Hawaiian Airlines and if the company's pilots are finally heading towards a work stoppage. Then read on for our take on this and whether it is still possible to buy trip insurance covering the strike potential.
Today APLA (pilots' union) representatives at the company's annual investor meeting in NYC again warned of the potential of a strike.
"If the company forces us to carry out a strike, it will severely impact travel and tourism to and within the islands. Travelers should make sure they have alternate plans for Hawaiian travel this winter." — Captain Hoon Lee, chairman of ALPA's Hawaiian Master Executive Council.
Lee further indicated that negotiations have broken off, and that the National Mediation Board has no further meetings scheduled. However Beat of Hawaii notes that the NMB has not yet moved to "establish a legally required 30-day cooling-off period prior to any pilot strike or lockout." The union, as you may recall, previously asked that the pilots be released from mediation.
Negotiations ceased in November when, according to the pilots' union ALPA, Hawaiian Airlines didn't offer a competitive contract. ALPA says the company wants them to work at a discount compared with other airlines even though Hawaiian financial performance outshines its competitors. This after more than a year of negotiation in which pilots have been seeking a nearly 50% overall increase in their contract value.
Is a strike imminent? We are continuing to apprise you of this latest development. At Beat of Hawaii we remain wholly unconvinced, however, that these difficult negotiations and clamorous posturing will ultimately result in a strike. We are continuing to make reservations and fly on Hawaiian Airlines ourselves.
Previously, the pilots' union authorized payment of $2 Million to help fund preparation and support for a potential strike. According to the union, the strike vote of the company's 627 pilots resulted in 98% voting and of those 99% authorized a strike "if contract talks do not result in a new collective bargaining agreement."
What's next? We await a NMB ruling on whether they believe additional efforts will help. If not, they will offer to arbitrate the dispute. If either pilots or Hawaiian Airlines decline to arbitrate, a 30-day cooling off period could commence after which a strike or lockout is possible. This process still seems likely to continue for at least the next couple of months or potentially much longer.
Should you purchase travel insurance? It is still possible to buy travel insurance covering this possible strike interruption. Should the strike become an eventuality, that will no longer be the case.
Whether to buy trip insurance is a completely personal decision. We're choosing to do so more frequently now than in the past for multiple reasons. This fall for example, we risked missing a flight and a cruise when the possibility of a hurricane threatened service interruptions. Trip insurance would have added peace of mind and in the end cost no more than the airline change fees we subsequently incurred.
How does this impact your decision to fly with Hawaiian Airlines?
Note: we continue to update this page as changes warrant.