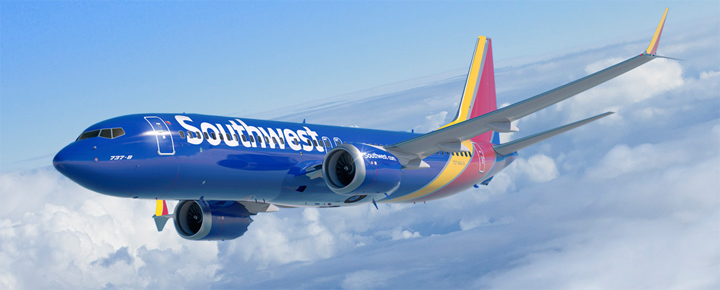 As of January 1, 2018. With SWA Hawaii flights on the way soon, here are the latest updates:
Next announcement. We expect SWA to announce the specifics of their Hawaii flights shortly, perhaps as early as this month! Cities served may include Oakland, Los Angeles, San Jose, San Diego, Las Vegas, and Phoenix. Service on the first of these routes could begin in summer 2018, or that may come later in the year. It largely depends on how final ETOPS certification and other logistics pan out. We should also start to see some Hawaii test flights in the not too distant future.
Aircraft. Flights are set to start on existing 737-800 aircraft, as are being used by other carriers on flights to Hawaii. They will then transition to their new 737 MAX 8 and perhaps 737 MAX 7. The latter brings cities like Denver and beyond into range.
Inter-island. Connecting flights from outer islands are a likely start for inter-island. For example, routes such as Oakland/Honolulu/Lihue/Oakland. That could mean one-stop to some islands and the opportunity for some inter-island only service as a teaser if nothing else.
Overnight flights. There will be no red-eye flights at the outset. Those may come later.
Southwest service offerings. Those will be unchanged when they fly to Hawaii. That accordingly to CEO Gary Kelly. They include:
1. Two free checked bags.
2. No seat assignments. There is an early boarding option for $15, which should prove to be extremely popular on flights to Hawaii.
3. No meals for sale. Only drinks and snacks as is customary for the airline.
4. No charger ports. You'll need to bring a charged battery and perhaps a charger pack. We use the Anker ones, which have been the most reliable.
5. In flight entertainment. It will be available on your own devices only. Fee based satellite WiFi either at launch or subsequently.
SWA Hawaii True Inter-Island Service
CEO Gary Kelly said recently: "Step one, of course, is getting from California to Hawaii." Regarding inter-island flights, it "has been down our priority list, but we will have serious consideration of that." While they may or may not start with these, Kelly stated that this is something that the company will continue to evaluate.
Beat of Hawaii expects some form of SWA Hawaii inter-island flights to happen, although no one can say just when and how it may work. Most likely, Southwest inter-island will well start as connecting flights between islands then to/from the mainland.
The fact is, short hops in the just over 100 mile range, are routine for SWA. There is nothing that prevents or regulates SWA's ability to fly inter-island and all indications are that the state of Hawaii will in fact encourage it. That's especially true with the recent demise of Island Air.
SWA Hawaii Overnight/Red-Eye Flights
Kelly stated today that while they may offer overnight flights in the future, "we don't really desire to fly red-eyes right now." "For our style of operation, it would complicate things.
Overnight service will definitely come to SWA Hawaii  flights in the future, out of logistical necessity, once they have more experience here.
Prior Hawaii flight announcement
The company announced Hawaii flights this past October 11 via Twitter, stating that tickets would be for sale in the upcoming year, with flight start dates and routes still to be announced. The company is still completing ETOPS certification for flights to the islands. Los Angeles Times is stating that service will be to Honolulu, Kona and Kauai. Undoubtedly Maui will be part of the plan.
"On average, our fares will be lower than theirs or bring down the market price. That's called the 'Southwest Effect'" — Andrew Watterson, SWA.
We continue to expect Hawaii flights to start with San Diego, Los Angeles, Oakland, Sacramento and San Jose.
What led up to these recent announcements
1. Southwest Hawaii plans rapidly accelerated in recent months. As a result, we learned the company had intended to announce Hawaii flights in August. That was apparently delayed due to Hurricane Harvey.
2. SWA has a group dedicated to Hawaii service. That group, including senior company executives, held meetings in Honolulu in March 2017 with state officials, including the governor and heads of tourism.
3. SWA's appearance at and sponsorship of a Hawaii tourism conference in September 2017 was clearly indicative of their unwavering commitment to Hawaii flights.
4. Southwest Hawaii flights seem to be taking aim squarely at Alaska Airlines. In August, the airline began increasing flights at California airports. That expansion in Alaska territory may also foretell which cities are most likely to launch Southwest Hawaii flights first. The cities on their scope remain as indicated above. Also mentioned are Las Vegas and Phoenix. Las Vegas is interesting inasmuch as Allegiant just terminated its flight from there to Honolulu.
The "Southwest Effect."
So exactly what impact can we expect to see in terms of Hawaii airfares once SWA is a reality? A 2016 Northeastern University study based on 2010 data found that when they enter a market, a whopping 24% drop in airfares can be anticipated.
Previous news on Southwest Hawaii Flights.
Earlier in 2017, SWA CEO Gary Kelly addressed the subject of when will Southwest Hawaii flights commence.
"We're deciding what our plans are for 2018 and Hawaii is important to us." – Gary Kelly, SWA CEO.
While not specifically confirming or denying that flights would start in 2018 at that time, subsequent comments confirmed we could bank on Southwest Hawaii flights in the near future. The company is already starting to take delivery of their new Hawaii capable fleet. More specifically, the first 737 Max 8 started flying on October 1. The company will have 14 of the new aircraft flying before the end of 2017.
Additional hurdles were recently cleared prior to Southwest Hawaii flights being announced.
1. SWA made significant progress, though not completion, of ETOPS. That's the twin engine, over water certification required for Hawaii flights. This remains an area for more work to be done.
2. The airline's reservation system was archaic and did not support Hawaii flights. The legacy system also did not allow for overnight flights, varying schedules by day of week, or bookings beyond six months. In an update recently released, this was addressed.
Late in 2016, two additional issues were resolved. Pilots at SWA settled their 4 year dispute and ratified their contract. That was important because the previous contract did not allow for the planes needed for flights to Hawaii. It was followed by the company flight attendants ratifying their contract. The union contracts were two of the primary obstacles to entering Hawaii service.
Here's what needs to happen next, before the first SWA planes land here.
SWA will complete ETOPS preparation needed for trans-Pacific flights.
Flights will start from mid 2018 to early 2019 after in-service testing of existing 737-800 and new 737 Max 8 aircraft to confirm performance for Hawaii routes. Service is planned to start on existing 737-800 aircraft unless SWA changes their mind on that.
What Delayed Southwest Hawaii Flights. 
Pilot and flight attendant labor disputes continued to plague SWA for years. So did the reservation system issues.
Acquisition of AirTran was far more complicated and time consuming than originally thought.
Competition and discounting between west coast cities and Hawaii has remained strong on Hawaiian and Alaska. This was further complicated with Virgin America's entry into flights to Hawaii from both San Francisco and Los Angeles and then by their acquisition by Alaska. Opportunity for the higher airfares that typically attract a new player like SWA were diminished, especially on the company's target Bay Area and Southern California routes. Pricing stability has returned which is positive for Southwest's plans.
Virgin America beat SWA to Hawaii. This could not have come as a surprise to SWA, however, since Virgin publicly indicated their intentions years earlier.
Complications that occurred with ETOPS certification. ETOPS has proven to be more problematic for SWA, even in shorter over-water distances compared with Hawaii.