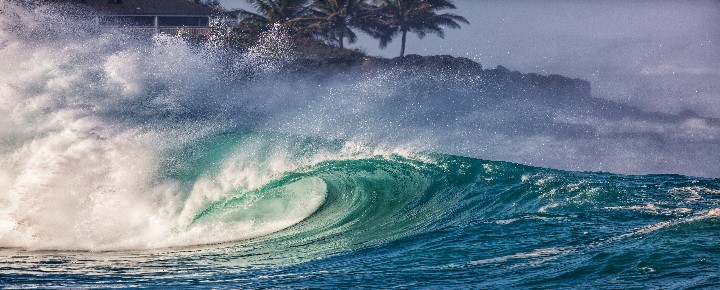 Aussie surfer Mikey Wright placed 17th in the 2020 Billabong Pipeline Masters last month on Oahu and became a hero overnight on New Year's Eve with a daring rescue at Ke Iki Beach on the North Shore. While on the lawn of the residence where he stayed, he saw a swimmer in distress and jumped the fence to save her.
Mikey's sister, Tyler, filmed the rescue (see below) before aiding her brother. Tyler is also a famous surfer who won the Maui Pro at Pipeline. In the video, you'll see the camera get dropped for a bit as both of them run towards the surf. The good news is that Mikey and the swimmer he rescued are fine.
View this post on Instagram
This is a reminder to make Hawaii beach safety your New Year's resolution when you come back to the islands. Recently we told you about seven of the best beaches in Hawaii. This New Year's hope is that today's update to our Hawaii beach safety tips will help you enjoy all of our beaches injury-free. We bring this to the forefront because of the endless spate of ocean accidents and drownings in Hawaii.
The risk to visitors is 10x that for residents.
Remember that visitors in Hawaii drown at an exponentially greater rate than residents, with snorkeling being the most common activity associated with visitor drownings. On average, one visitor dies this way each week here in the islands. We also wrote about Hawaii drownings related to full face masks. Check that out, including fascinating comments about the differences between specific masks.
The state of Hawaii Department of Health (DOH) recently launched a new ocean safety website to help. It was designed to help raise awareness of risk factors and increase protection for all of us. This includes information on lifeguarded beaches, ocean conditions, and warnings, plus which beaches have the most injuries and other ocean accident data. DOH coordinator Bridget Velasco said, "Keeping everyone who goes to the ocean safe is a top priority."
Your Beat of Hawaii editors are avid long-distance swimmers but use caution ourselves. The slogan, "if in doubt, don't go out," is true for everyone. It is easy to think that you are more powerful than the ocean, but that is never the case. Our advice is only to snorkel when the surface is smooth and be mindful of your distance from the shore. Even though we are experienced swimmers, we normally follow the shoreline rather than swimming straight out. As anyone will tell you, swimming in a controlled environment like a pool is not the same as being in the ocean.
Top Ten Hawaii Beach Safety Tips.
Issues can include strong currents, wave surges, and seasonal variations in ocean conditions, among others. Be alert, do not turn your back on the ocean, and follow these suggestions for your Hawaii vacation:
1.  Minimize risk by being highly aware and highly respectful of the dangers of ocean conditions.
2.  Choose to swim at Hawaii beaches which are lifeguard protected. Also, look for rescue station tubes at many beaches.
3.  Follow Hawaii beach warnings and closures.
4.  Check with a lifeguard if in any doubt.
5.  Observe the water for some time before entering to look for larger waves appearing in groups.
6.  Review ocean safety brochures which are provided in visitor accommodations.
7.  Visit ocean safety websites, including the new one referenced above and the Hawaii Beach Safety website from the Hawaii Lifeguard Association. Check for frequent updates on Hawaii surf conditions and warnings for all islands.
8.  Understand rip currents and how to deal with them.
9.  Avoid painful jellyfish stings – read our 2020 Hawaii jellyfish update and calendar.
10. Don't get caught on wet rocks where unexpected waves can suddenly appear. Also, look for hidden underwater rocks at beaches.
Can This Happen to You?
Drowning can happen to anyone at any beach, no matter how famous you are or how good shape you think you're in. In fact, over 170 visitors have died in Hawaii over the past 3 years, likely more than half of whom drowned. There were 84 drownings in the latest year studied. Other accidents were mostly attributable to hiking and car crashes.
Hawaii beaches are accessible year-round, so you can always find a beach that's suitable for you. Remember that surf conditions change with and as do the seasons. For example, if you visited Hanalei Bay in summer, you found a mostly calm surface for swimming. In the winter, however, the surf at Hanalei can be a dangerous 30 feet or more.
Some of the Deadliest Hawaii Beaches.
Surprisingly, the deadliest beaches may not be those that first come to mind. Many drownings occur at some of the smoothest water beaches where visitors were snorkeling or swimming.
Hanauma Bay – Oahu
Waikiki Beach
Black Rock – Maui
Kahanamoku Beach and Lagoon – Oahu
Molokini – Islet off Maui
Some of the Most Dangerous Hawaii Beaches.
Dangerous beaches in terms of injury but not mortality include the following. If your beach isn't listed, it doesn't mean you shouldn't have concerns:
Makena Beach – Maui
Hapuna Beach – Big Island
Sandy Beach – Oahu
Brennecke Beach (Poipu) – Kauai
La'aloa Beach – Big Island
We saw this first hand at Hapuna Beach when people entered the ocean on a day with high surf and red flag conditions. Some people tried to snorkel and were pushed against the rocks as lifeguards came out to help.
Remember to be safe with extra caution. We want you to visit Hawaii again and again!
Beat of Hawaii photo.
Post updated 1/2/21.
Disclosure: We receive a small commission on purchases from some of the links on Beat of Hawaii. These links cost you nothing and provide income necessary to offer our website to you. Mahalo! Privacy Policy and Disclosures.