There's no doubt that social media can be a great resource for finding things to do in Hawaii. But there's a negative side too. It can also contribute to behavior that is dangerous or even deadly. This is all coming to light as international news swooped in to amplify last week's report on the drowning at Electric Beach.
Was this Hawaii visitor's death related to social media?
Countless incidents, at least in part related to social media, have plagued Hawaii, including near deaths, trespassing, emergency rescues, and more. On Instagram, we see where others have gone and what they've experienced, but we don't necessarily understand the risks.
For example, the beach where the latest Hawaii snorkeling drowning victim died is widely loved and promoted on social media, including Instagram and Facebook. But it has a dangerous side too.
Prior drownings at Electric Beach point to problems.
One of the issues at Electric Beach (Kahe Point) is that it has no permanent lifeguard station. Another issue at Electric Beach is its popularity among visitors that came with the rise of social media. And lastly, conditions there can be dangerous.
Incomplete information on social media rarely speaks to the hazards and safety issues encountered. What visitors don't see are prior Electric Beach news headlines like these: "Soldier Resuscitates Man After Drowning at Electric Beach," "Woman In Critical Condition After Nearly Drowning at Electric Beach," and then "Snorkeler Dies After Electric Beach Drowning."
Due to this tragedy, the City of Honolulu may prioritize having a lifeguard station at Electric Beach later this year. Honolulu currently has more than 40 lifeguard-stationed beaches. In the meantime, lifeguards sometimes patrol there, which is not enough.
Electric Beach is a unique environment. Warm water enters the ocean from large cooling pipes from the power plant. That brings enormous wildlife to the area, including turtles, tropical fish, rays, and sometimes dolphins. At the same time, dangerous currents are frequent in the area. And for that reason, it is not considered a good place for beginners.
Encouragement of dangerous activity is seen in photos.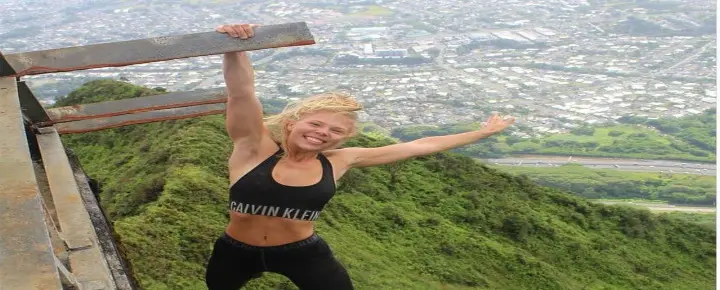 Are there any doubts that dangerous behavior in Hawaii can be encouraged by social media? That includes hazardous selfies like the one above, as people share their adventures with followers, family, and friends.
Hawaii is without a doubt among the world's most Instagrammable places.
And clearly, visitors flock to places in Hawaii, seeking out adventure and unique opportunities. What happens, however, is that visitors see idealized imagery that encourages thrill-seeking and visiting places that good sense might have deterred.
For those relying on social media as their Hawaii travel guide, the potential hazards of such places are not apparent. There can also be the sense that if those people snorkeled there and it looked so incredible and problem-free, why should I worry? And the desire for friends' comments and other accolades can also lead to a diminished sense of self-protection.
Hawaii visitors, please exercise caution!
We sincerely hope that out of this tragedy, some better sense of exercising appropriate caution and becoming more familiar with Hawaii's environment and safety issues will result.
When Stephen Phan, age 49, drowned on June 1 at Electric Beach, no lifeguard was present. Those at the beach assisted with lifesaving efforts until first responders arrived. Sadly, the couple's belongings and rental car were stolen in a virtually unheard-of Hawaii event.
A GoFundMe page has been set up for Stephen's family. The page said, "We are all shocked, in disbelief, and heartbroken at the loss of such a great man as Steven."
Our condolences to the family. May Stephen's memory be a blessing.