Standing at Poipu last night for sunset (pictured here), we were reminded of the tragedy on Thursday. That's when a 66-year-old visitor died while bodyboarding. Another California bodyboarder, age 77, died under similar circumstances late in June at Poipu. Also, a Utah visitor, age 62, died while snorkeling at Poipu on April 14. That's three deaths in just 4 months.
Why do chronic visitor drownings plague Poipu Beach?
Poipu Beach can be both calm and wild, sometimes at the very same time. The small and centrally-situated, reef-protected area is generally the safest. But by the time you go out by the Waiohai, or to the other end of the park at Brennecke's Beach, it can often be a totally different situation.
We also don't know the level of swimming ability, physical condition, or ocean experience of the three recent victims. They had age in common. We aren't aware of their travels and how long they may have been on Kauai since flying, which may or not be an issue. Read: Don't Snorkel In Hawaii After Flying. But here are some things to think about before going into the ocean that can help keep you safe.
As the seasons change in Hawaii, so do surf conditions. For example, Poipu is relatively calm during the winter but not so in the summer. So a beach with perfect swim conditions during one season may be turbulent in another.
Check the Safe Beach Day website, sponsored by the Hawaiian Lifeguard Association, before going out. Their Kauai map today (August 5) shows hazardous conditions on most beaches except for the North Shore. Keep this in mind if you plan to swim away from the shore, snorkel, or surf.
Ask a lifeguard for recommendations on how to enjoy a beach safely. They can tell you how far out to go and where dangerous conditions are.
Have a realistic idea of your ocean experience, conditioning, and swimming ability. Remember that the ocean is stronger than you are, and there are currents and riptides you may not see from shore.
Pariticipate in ocean activities with a buddy, not alone.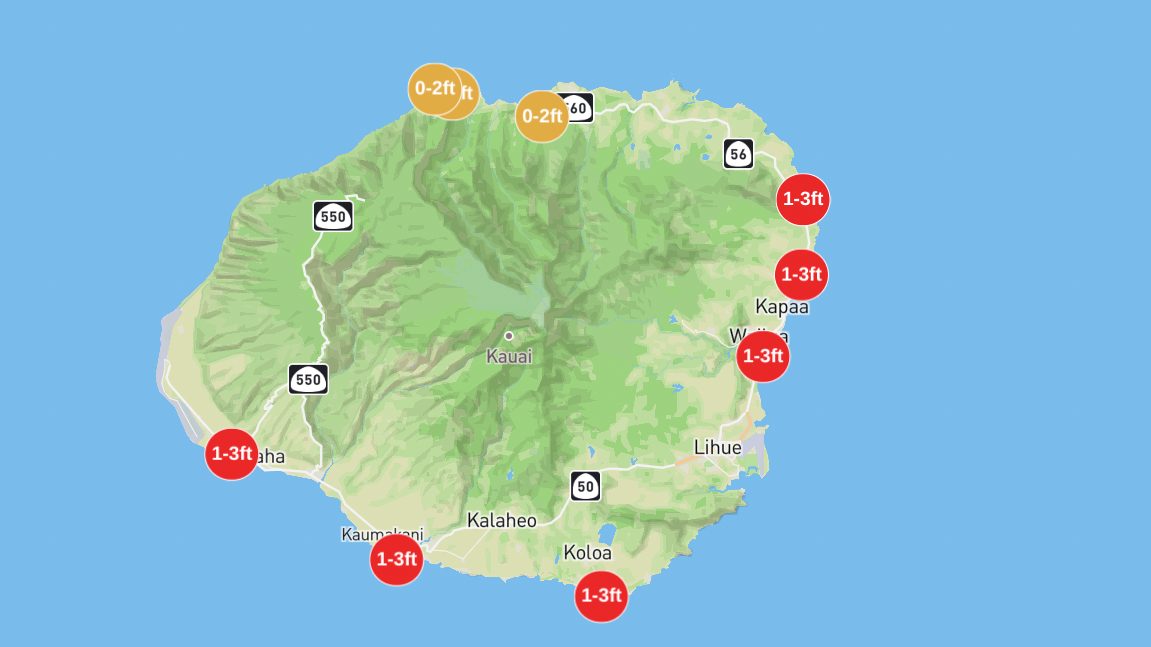 Drownings are the third leading cause of death for Hawaii visitors.
The drowning rate for visitors is more than eight times higher than for those who live here. Kauai has the highest rate of fatal ocean drownings. We can't say how many times we have seen rescues at Poipu over the years, and a Kauai emergency room doctor friend commented to us about that very fact.
"The rate of fatal ocean drowning for non-residents in Hawaii is about eight times higher than for residents. Kauai has the highest ten-year rate (/100,000) of total (resident and non-resident) fatal ocean drownings (82.5), followed by Maui (64.6), Big Island (51.8) and Oahu (27.2)."

State of Hawaii, Department of Health
Of Kauai's 70 beaches, fewer than one dozen beaches are lifeguard protected. Poipu Beach is one of those with life guards. More than 300 people have drowned on Kauai since 1970. In that period, the victims had an average age of 46, and 9 times more men than women died. Three-fourths of all drownings were visitors.
We remember these last three visitors who drowned.
Ramon Manalo, from California, died in August. He was found lifeless in the water just off the Marriott Waiohai Beach Club, pictured here last night at sunset. Others on the beach called for help, and lifeguards at the nearby tower came on scene to help. They were assisted by fire personnel, who helped arrange for ambulance transport to Hawaii Pacific Health's Wilcox Hospital. He was pronounced dead at the hospital.
AMR personnel continued medical treatment while transporting Manalo to Wilcox Medical Center, but they were unable to revive Manalo. He was later pronounced dead by a doctor at Wilcox Medical Center. An autopsy report is pending.
Judith Bailey, from California, died in June. She was snorkeling at Poipu Beach Park. Bailey was spotted by lifeguards, who provided help prior to the fire department and ambulance first responders arriving. She, too, was pronounced dead in the same hospital on Kauai.
Leonard Boteilho of Riverton, Utah, died in April. He was found by bystanders face down in the water shortly after 10 am. while snorkeling. Boteilho was brought to shore by fellow swimmers who began CPR prior to the lifeguards' arrival.
May their memories be a blessing and their deaths a reminder to exercise care in the ocean.