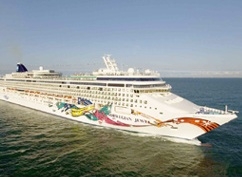 This is by far the best deal we've seen on the 7-day inter-island NCL Price of America cruises.  If you want to pay slightly more, for only $599, you get an outside cabin and for $699, a balcony cabin.  Prices are per person, double occupancy.
When you compare this with the cost of inter-island transportation costs and hassle, meals and hotels, it clearly becomes the least expensive way to see all of the major islands, albeit briefly.
This is a great introductory trip for a first time Hawaii visitor.  If you've ever been on this cruise, we'd appreciate your comments.
Departures are available on October 17, 24, 31 and November 7, 14, 21, 28.
Itinerary:
Sat       Honolulu
Sun      Kahului, Maui
Mon     Kahului, Maui
Tue      Hilo, Big Island
Tue      Kilauea Volcano Cruising
Wed     Kona, Big Island
Thu      Kauai
Fri        Kauai
Sat       Honolulu